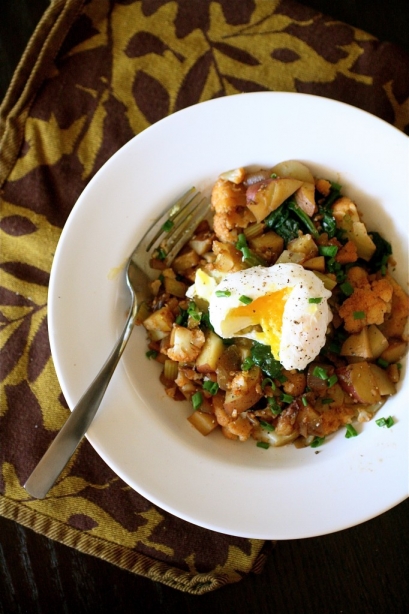 I'm having a love affair with cauliflower.  Suddenly, I'm realizing that I've missed out on this wonder food for years.  I've always avoided it-the dreaded, mushy, white brain-like-looking goo that I remembered from my teenage years of working in a hospital cafeteria.
Not anymore.  I've realized that it's a phenomenal substitute for lots of things-it's filling, low in calories, and actually quite a flavorful addition to any meal.  My first true experience was the Buffalo "Chicken" Cauliflower, which pretty much blew my mind.  I was ready to try another recipe featuring it: this time a "hash".  But not a hash drenched in high-calorie fat and fried potatoes (there's a little bit of potato in this recipe here because I had a few on hand, but you can totally omit if you like), like what I envision when I think of a hash.
Oh no, this is a hash that is loaded in vegetables and good for you.  The original recipe calls for some bell pepper (which would have been pretty awesome), but I didn't have one on hand, so feel free to add one in (just add the bell pepper when you add the potatoes in).  I loved the addition of spinach, but you could add in any type of green leafy vegetable here. Omit the egg if you are looking for a vegan option.  Add mushrooms, add red pepper flakes, add whatever you like.  It's a hash.
And, one more thing, I'm very excited to announce that I'll be hosting a pretty awesome giveaway within the next month to help launch Millstone Coffee's new website, Bean to Cup Journey.  As a pre-giveaway promotion, Millstone will be giving away lots of coupons for their coffee beginning October 3, via their website  www.Millstone.com.  I support Millstone coffee, especially because of their Transparency in the Supply Chain position.  So, beginning October 3, make sure you head over to their site and get some good coupons…because they will go fast.  And keep checking here to be able to win your very own A-MAZ-ING giveaway in the next few weeks.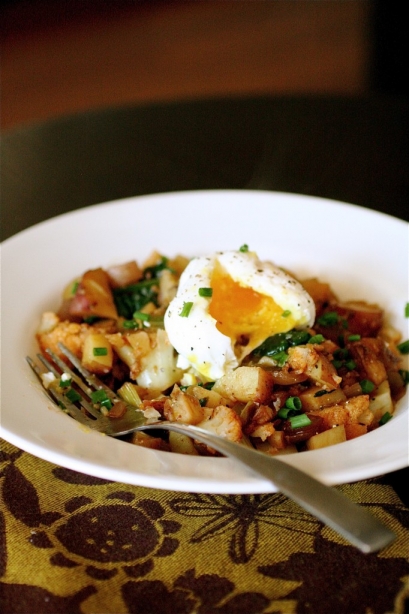 Cajun Cauliflower Hash with Soft Boiled Eggs
Servings:  approximately 4
Ingredients
1 tablespoon extra-virgin olive oil
1 red onion, chopped (about 1 cup)
2 garlic cloves, minced
1 head of cauliflower, chopped (I chopped mine into bite-sized pieces)
2-3 celery stalks, chopped
1 and 1/2 teaspoons chili powder
1/2 teaspoon Cajun spice powder (if you can't find this, substitute whatever spice you like)
Salt, to taste
Pepper, to taste
1/3 cup water
3-4 red potatoes, chopped
2 cups fresh spinach leaves
Chives, chopped, for garnish
4 soft boiled eggs *For a tutorial on how to poach an egg, click here.   To make yours soft-boiled, I let mine cook for approximately 5-6 minutes or so.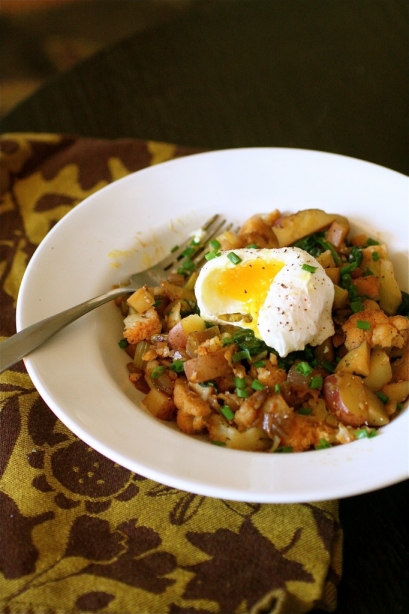 Instructions
1. In a large sauté pan (one that you can cover with a lid), heat the olive oil until shimmering.
2. Add the onion and garlic and cook until softened, about 4-6 minutes.
3. Add the cauliflower, celery, chili powder, Cajun spice, salt, pepper, and water and let cook, covered, stirring frequently, until softened, about 5 minutes.
4. Add the red potatoes and let cook, covered, for about 5 more minutes, stirring frequently.
5.  Add the spinach and cover, and let cook until the spinach is wilted and cooked, about 3-4 minutes.
6. Top with soft boiled eggs, season with salt and pepper, and garnish with fresh chives.
Source:  Adapted from Vegetarian Times.