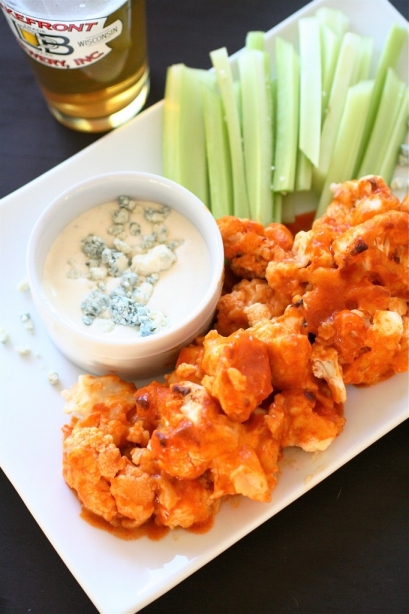 One of the things I love the most about having a food blog is the sense of fearlessness it often brings me when it comes to trying new twists on vegetarian recipes.
Take this one, for example.  Yes, I totally miss "real" hot wings, especially during football season.  Yes, I miss making things with buffalo sauce because it's just so delicious.  But, in an effort to decrease my intake of all things processed (and yes, I know there are some buffalo sauces out there that are riddled with preservatives and additives…I actually tried a new one from Whole Foods this time..Bella's…and I recommend it), I didn't want to go the route of "fake chicken" (READ: frozen, heavily-breaded, tasteless chunks of soy……)
So, when I saw this recipe posted on Pinterest, my first reaction was like, "wait, PETA actually has recipes on their website?" and then, a "oh holy Hallejuhah.  This is worth a try!" So, whether or not you are a PETA fan, they have some recipes on their website that are both vegetarian and vegan-friendly.
This recipe was originally vegan, so I morphed it back into a vegetarian version because of the things I had on hand at the time.  I was actually a little skeptical of this recipe, to be honest with you, but I was blown away.  For one, the breading on the cauliflower is outstanding (I liked the additional tanginess of the buttermilk), and it totally makes the dish.  And another thing, I had never roasted cauliflower before (I'm usually not a huge fan), but the aroma of it cooking had me waiting at the oven door.  The texture?  Awesome.  The flavor?  Super awesome.
So, if you are looking for a football season-friendly (or really anytime-friendly) veggie version of a finger food classic, I would hands-down recommend this one.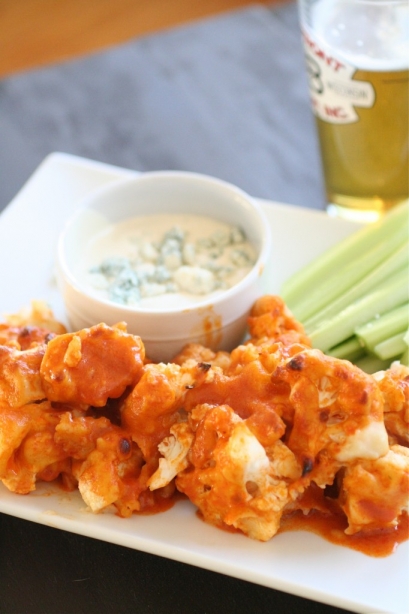 Buffalo "Chicken"-Vegetarian Style
Servings: enough for at least 3-4 people
Ingredients
1 head cauliflower, cleaned and cut into bite-sized pieces
1 cup buttermilk
1 cup all-purpose flour
2 teaspoons garlic salt
1 cup buffalo sauce
1 tablespoon unsalted butter, melted
For serving:  Bleu cheese dressing, celery, etc.
Instructions
1. Preheat the oven to 450 degrees.
2.  In a large bowl, whisk together the buttermilk, flour, and garlic salt, whisking until mostly smooth (it's ok if there are a few lumps left).
3. Very gently (cauliflower can be pretty delicate), place the cauliflower in the bowl and lightly toss to completely coat with the buttermilk mixture.
4. Place the cauliflower in a shallow baking dish and bake for about 15-18 minutes or so (watch it, it may start to brown up quickly on you.)
5. Meanwhile, combine the buffalo sauce and the melted butter in a small bowl.
6. Carefully remove the hot cauliflower from the oven and pour the buffalo sauce mixture over it, stirring gently to coat it as best you can.
7. Return the cauliflower to the oven and bake for another 5-8 minutes or so. Let cool slightly and serve immediately.
Source: Adpated from PETA.