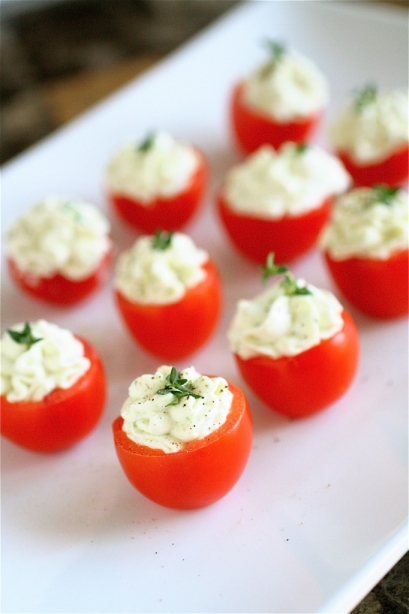 It's Memorial Day Weekend.  (And if you are from Indianapolis, like me, it's Race Weekend.)
Here are some super simple appetizers that can be thrown together in about 20 minutes or so.  If you like tomatoes and cucumbers, then you are set.  There's a lot of versatility in these as well.  You can tweak and adjust both the consistency and the flavor combinations for these little bite-sized bits of summer flavor.
A word to the wise:  make sure you invert the tomatoes after removing the pulp to drain for a few minutes.  Also make sure that you blot the chopped cucumber well to remove excess water (if you aren't short on time, I would actually let it sit in a fine mesh sieve or colander over some paper towel to get the excess moisture out-this will help a lot with making sure that the consistency isn't too watery…).  Throw everything together in a food processor, and you're set.  I would also advise chilling these right before serving time-they are best cold, in my opinion.
I hope wherever you are, you are having a great weekend!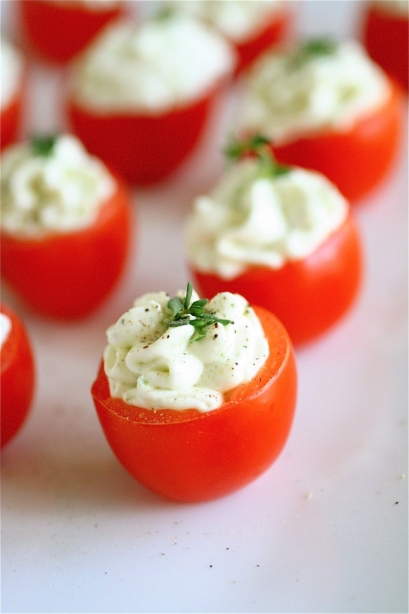 Cherry Tomato Bites
Servings: 24 tomato bites
Ingredients
24 cherry tomatoes, tops sliced off and pulp removed (I used a 1/2 teaspoon to remove the pulp.)
One 8-ounce brick of cream cheese, softened but still cool
1 tablespoon mayonnaise
1/3 cup cucumber, peeled and chopped (about 1/2 one medium cucumber)
1 tablespoon green onions, chopped
4 teaspoons Ranch seasoning (or your favorite combination of herbs)
Salt and pepper, to taste
Fresh herbs or green onions, to top each one, if desired
Instructions
1. In the bowl of your food processor, combine the cream cheese, mayonnaise, cucumber, green onions, Ranch seasoning, and salt and pepper.  Process until smooth, scraping down the sides of the bowl a few times to achieve an even consistency.
2. Slice a very thin layer off the bottom of each tomato (this will help them sit up straight on your serving platter.)
3. Transfer the cream cheese mixture to a pastry bag fitted with your desired tip.
4. Pipe the filling into each tomato, and garnish with fresh herbs, if desired.
5. Chill until serving time.  Enjoy.
Source:  Adapted from Taste of Home.