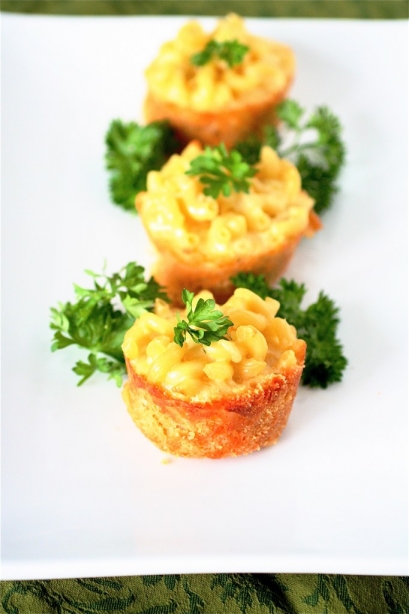 I'm relatively new to the blogging world.  New to who's who in the blogging world, the traditions, the etiquette, and the community. At first, I was incredibly intimidated by the other bloggers out there-there's so much talent, so much experience, and so much genuine love, and I was hoping I could keep up with it all.
But, there have been a few bloggers who have welcomed me whole-heartedly into this part of the world, and Josie, from Pink Parsley, has always been one of them.  I've grown to love Josie's blog, seeing her fantastic rendition of many Southern classics, her classic and inviting photography, but, best of all, feeling like I know her when I have never met her in person.  Josie has an incredible love for her family, and it shows in the posts she writes and shares about being a mother and celebrating the lives of her daughter, Caroline, and her husband.  I was so happy when Josie announced that another bundle of joy was going to be soon joining her life…and this time, it would be a little boy.  You can feel her joy emanating from the words she writes about it.
When Annie, the hostess, asked me to be part of Josie's virtual baby shower I was honored, because to me, Josie epitomizes what it means to be a "good" food blogger.  Love for food, love for authenticity, love for capturing the "emotion" of the food, and love for being herself by telling her life story through her recipes.  Josie has been a rock of support for many food bloggers out there-she's been a great blogging friend.
As part of the "shower", we were asked to contribute a dish that we would love to have at an actual shower (and, even though we are not all in person, we are still all celebrating for Josie!).  I wanted to put a little bit of a Southern swing to my contribution in honor of Josie, and, for some reason, Southern food (to me) equates with the ultimate comfort food.  Which basically equals macaroni and cheese.  But I wanted it in a portable, shower-friendly food…and I tried to up the flavor and creaminess factor by adding in some Boursin cheese along with the classic white cheddar.  And, to add a little bit more to the cheesiness (no pun intended), I topped it with a little parsley, also in honor of Pink Parsley. This recipe makes about 8 muffin-sized pies, but I was thinking that you could convert it to a mini muffin pan and decrease the baking time for a true finger food/larger get-together.  I thought these turned out incredibly well-the Ritz cracker crust was heavenly, and the addition of the Boursin cheese definitely made these little pies extra creamy.
While we are not all there with you physically, Josie, know that we love you and cannot wait to meet the little man!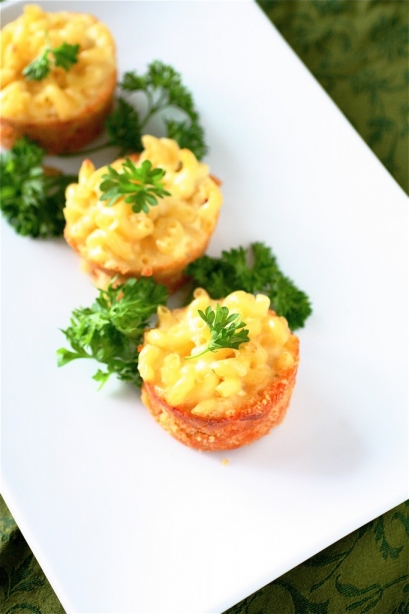 For a round-up of other drool-worthy contributions (by amazing and supportive bloggers) to Josie's virtual shower, please check out Josie's and Annie's (our lovely hostess with the mostest!) websites:
Mini Mac and Cheese Pies
Servings: 8
Ingredients
1 and 1/2 cups Ritz crackers, crushed**I used one whole sleeve and used my food processor to crush the crackers
2 cups white cheddar cheese, grated and divided
4 tablespoons unsalted butter, melted
4 and 1/2 cups cooked elbow macaroni (about 8 ounces uncooked)
One 5.2-ounce container of Boursin Garlic and Herb cheese
2 tablespoons unsalted butter, cold
2 large eggs
1/2 cup milk
1/4 cup sour cream
1/4 teaspoon salt
Pinch red pepper flakes
Parsley, for garnish, optional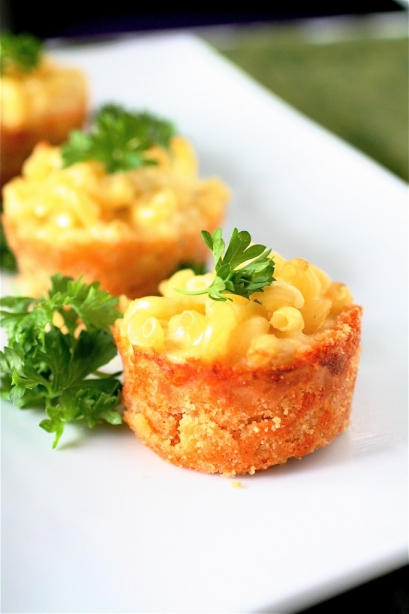 Instructions
1. Preheat the oven to 350 degrees.
2. Generously spray 8 cups of your muffin pan with cooking spray.
3. In a large bowl, combine the crushed Ritz crackers, 1 cup of the shredded white cheddar cheese, and the melted butter, mixing well until the mixture holds together and resembles coarse sand.
4. Divide the mixture among the 8 muffin cups and, using your fingers or the back of a spoon, firmly press the crust into the bottoms and up the sides of each muffin cup.
5. In another large bowl, combine the cooked (and still hot!) macaroni with 1/2 cup of the shredded white cheddar, the Boursin cheese, and the butter, mixing well.
6. In a small bowl, combine the eggs, milk, sour cream, salt, and red pepper flakes, mixing well.
7. Add the egg/milk mixture to the cooked macaroni, mixing until all the ingredients are melted and smooth.
8. Place about 2-3 tablespoons of the macaroni mixture into each muffin cup (you will probably have a little leftover macaroni-I did.  Save this and bake it separately, if desired.)
9. Top each muffin cup with the remaining white cheddar.
10. Bake the mac and cheese pies until lightly golden on top, about 20-25 minutes.
11. Let cool slightly before removing from the muffin pan, garnish with parsley, and serve immediately.
Source: Adapted from The Deen Bros. Take it Easy, via Epicurious.