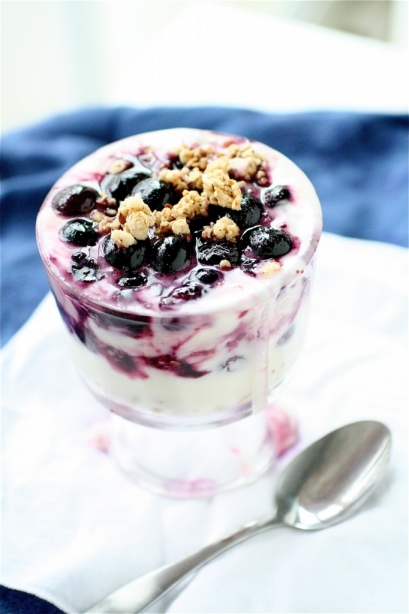 Want another blueberry recipe?  Well, you got one!
I'm a huge fan of yogurt.  Greek yogurt?  Yes.  Yogurt from goat's milk?  Yes.  Regular, straight from grass-fed cows yogurt?  Absolutely. I eat yogurt at least once a day, which is why I am always looking for fun ways to spruce up one of my already-favorite foods.  And this recipe does just that.
Seeing that I live in the maple syrup capital of the United States, I was definitely hoping to try this one out.  I have never been a fan of maple syrup, but that was until I tasted the real stuff.  The real stuff out here is thick, sweet and definitely has a more substantial flavor than the bottled brand I would buy back in the Midwest.  I would highly recommend using the best quality maple syrup you can for this recipe-it truly makes a difference in the flavor, and I find that a little goes an incredibly long way.  And, of course, you can use those in-season blueberries for another healthy breakfast option.
I decided to go with a granola instead of the cookies that the original recipe called for.  I also decided to use up some vanilla yogurt in the fridge in lieu of whipped cream.  With only 5 ingredients and less than 10 minutes of prep/cook time, this was a great on-the-go breakfast treat. Feel free to add whatever add-ins you like: nuts, flax seed, or other fresh berries.
This is how to start your day off right!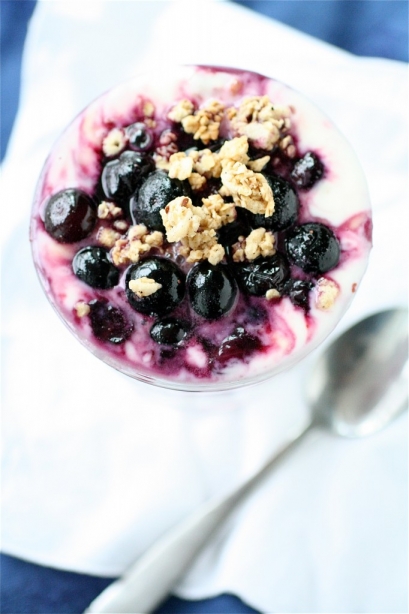 Maple Blueberry Parfaits
Servings: 2
Ingredients
1 cup fresh blueberries, plus another 1/2 cup
1/4 cup high-quality maple syrup
1/2 teaspoon fresh lemon juice
1/2 cup granola, homemade if you have it
1 cup vanilla yogurt
Instructions
1. In a medium saucepan over medium heat, combine 1 cup of the blueberries with the maple syrup.  Cook, stirring occasionally, until the blueberries have burst, about 5-8 minutes or so.
2. Remove the saucepan from the heat and set the pan in a prepared ice bath to cool down the mixture slightly.
3. Add the remaining 1/2 cup of fresh blueberries and the lemon juice, stirring to combine.
4. Layer the vanilla yogurt, granola, and blueberry mixture, one at a time, so that nice layers form.  Top with some granola and enjoy.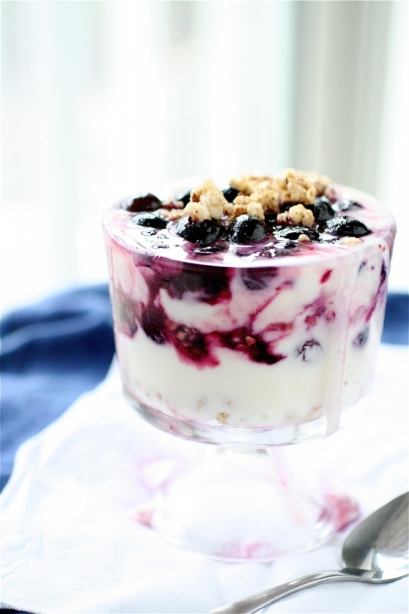 Source:  Adapted from Gourmet, July 2009 via Epicurious.