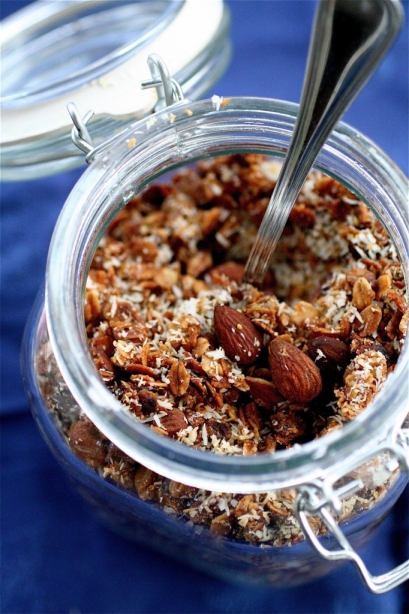 I'm about to get sappy on you.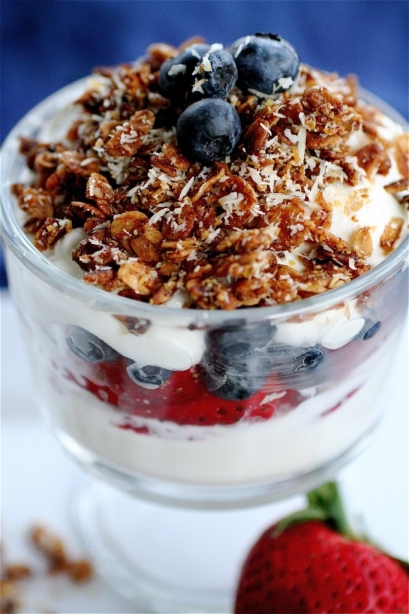 There are a great many things in my life right now that are wonderful: a new baby for a dear friend, healthy and "energetic" nephews, two cats (one skinny, one fat) and a dog that (appear to) love me unconditionally, and great professional and personal opportunities in my very near future.  I'm tying up a lot of old loose ends and looking not at the past but at the joys of life around me….right now.  This food blog has been a key ingredient in my recipe for finding happiness (whoah…I apologize for the extreme obnoxious cheesiness…)  But I mean it.  To the friends I have made through this blog-the Facebook friends, the Twitter friends, the readers, the subscribers: meeting/emailing/tweeting/etc you has been one of the best parts of the blog.  I mean it.
Group hug.
No, really.  And, what does this have to do with granola?  Really nothing.  Except that Greek yogurt is one of the things in life that makes me happy.  Granola and fresh fruit make it pretty good, too.  Granola is healthy, full of versatility, adds a little unexpected crunch to things, and almost everyone I have ever met likes it.
Make it how you want it, but make sure it makes you happy.
So, what do you like in YOUR granola?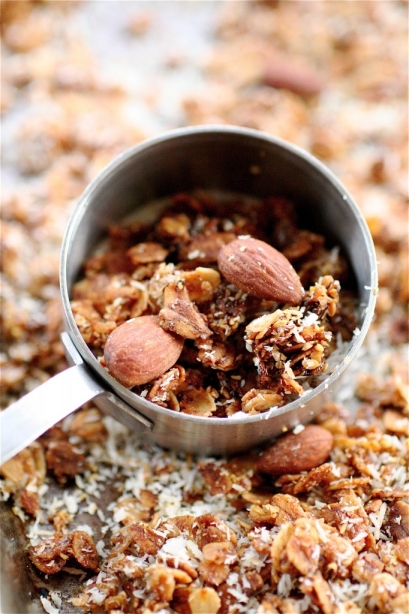 Coconut Granola Crunch
Servings: 12 cups granola
Ingredients
2/3 cup packed light brown sugar
1/2 cup canola oil
1/2 cup honey
2 teaspoons vanilla extract
2 teaspoons sea salt
2 teaspoons ground cinnamon
1/4 teaspoon freshly grated nutmeg
4 cups rolled oats
1 cup whole unsalted almond
1 cup ground flax seeds
2 cups unsweetened flaked coconut
Optional: various dried fruits

Instructions
1. Position an oven rack in the lowest position, as well as a rack in the center position.
2. Preheat the oven to 325 degrees.
3.  In a large bowl, mix the sugar, oil, honey, vanilla, sat, cinnamon, and nutmeg with a large spatula.
4. Add the rolled oats and stir to combine.
5. Divide the oat mixture between two rimmed baking sheets and, using your spatula, spread the oats out uniformly on each pan.
6. Bake the granola for 15 minutes, and remove the baking sheets from the oven.
7. Add 1/2 cup of the almonds to each baking sheet, stir to combine, and return the baking sheets to the oven, switching and rotating their positions.
8. Bake for another 5 minutes, and remove the baking sheets from the oven.
9. Add the flax seeds evenly over the granola, combining well.
10. Return the baking sheets to the oven, rotating and switching positions again, and bake for another 10 minutes.
11.  Remove the baking sheets from the oven and add the coconut (1 cup per baking sheet) to the granola, mixing well.
12.  Return the baking sheets to the oven one last time, rotating and switching the baking sheets, and bake for an additional 5 minutes.
13.  Remove the baking sheets from the oven and let cool completely on wire racks.
14.  Serve with Greek yogurt, fresh fruit, or dried fruit as desired.

Source:  Adapted from Sur la Table