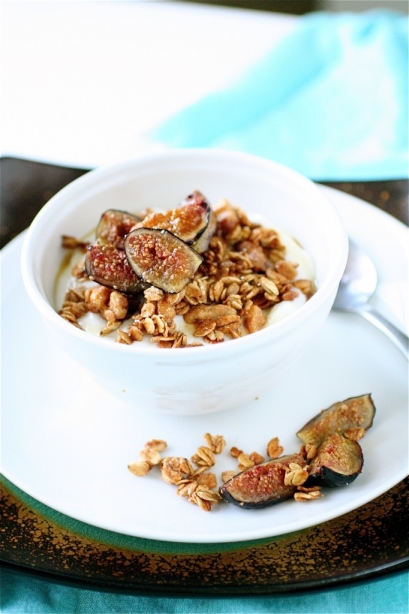 Aren't figs beautiful?  Yeah, I know.  Random thoughts by Shanon.  But, they really are.  Before this post, I had never really cooked with figs before.  They just seemed foreign to me.  But, I have always loved things flavored with them.  I've picked them up at markets, only to put them down again, not knowing what the heck I wanted to do with them.  I was having a secret crush on them at my local market, actually-always stopping to look at them and wonder what I wanted to do with them…and when.
On a recent flight that consisted of rapid digestion of multiple food magazines that had been piling up on my coffee table, I came across this recipe from Cooking Light.  Granola?  Check.  I've made that before.  Greek yogurt?  Ummm, I only have TWO huge containers of it in my fridge because I am constantly worried that I may run out of it.  Figs.  Hmmm.  The directions sounded simple enough.  Another healthy breakfast combining good quality protein and fruits.  My self-imposed quest for exposure to as many fruits and vegetables as possible seemed do-able with this breakfast.  I was sold.
This is a must-do recipe.  If you are short on time, use pre-made or store-bought granola.  But, don't skip out on the figs.  That caramelized sweetness will forever be etched in my brain as a fantastic victory recipe-one that is bound to appear on my breakfast (or dinner) table again very soon.  I hope it will be one of yours, too.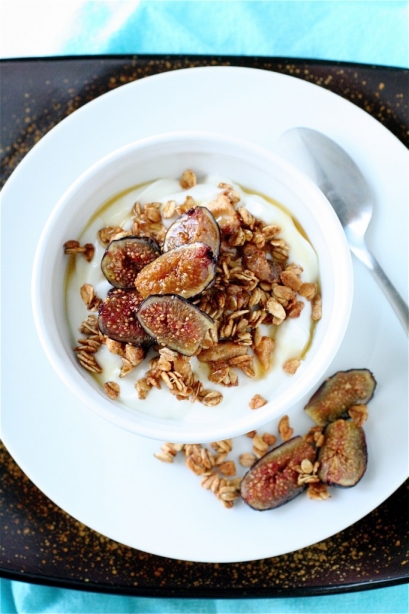 Granola with Honey-Scented Baked Figs
Servings: approximately 4 large servings
Ingredients
For the granola:
1 cup old-fashioned rolled oats
1/3 cup walnuts, chopped
1 large egg white
1 and 1/8 teaspoons vanilla extract, divided
2 tablespoons packed brown sugar
3/8 teaspoons ground cinnamon, divided
Pinch sea salt
Pinch ground nutmeg
2 tablespoons maple syrup
For the figs:
2 tablespoons honey
Handful fresh figs, stemmed and quartered
3 cups Greek yogurt, or as much as you desire (I use 2%-it keeps me fuller for longer……)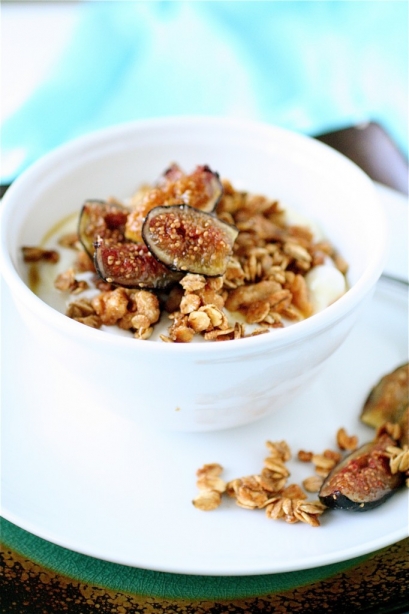 Instructions
1. For the granola: Preheat the oven to 300 degrees.
2. In a small bowl, combine the oats and the walnuts.
3. In another bowl, combine the egg white and the vanilla.
4. Using an electric hand mixer on medium-high speed, beat the egg whites until they are thick and foamy.
5. Add the oat mixture to the egg whites and gently stir to combine.
6. Add the brown sugar, 1/4 teaspoon cinnamon, pinch of salt and nutmeg to the bowl and mix to thoroughly combine.
7. Spread the mixture in an even layer onto a foil-lined baking sheet (make sure to generously spray the foil with cooking spray first!).
8. Bake for 25 minutes, stirring the granola halfway through the baking time.  Remove from the oven and let cool.
9. For the figs:  Increase the oven temperature to 350 degrees.
10. In a large bowl, combine the  2 teaspoons of honey and the remaining 1 teaspoon of vanilla extract, mixing well.
11. Add the figs to the bowl, and toss gently to thoroughly coat.
12. Arrange the figs, cut sides up, on a foil-lined baking sheet.
13. Sprinkle the figs with the remaining 1/8 teaspoon cinnamon and sea salt, to taste.
14. Bake the figs until the juices bubble, about 10 minutes or so.  Remove from the oven and cool.
15. To assemble the dish:  Add your desired amount of Greek yogurt to each bowl. Top with granola, figs, and drizzle with additional honey, if desired.
Source: Barely adapted from Cooking Light, September 2011