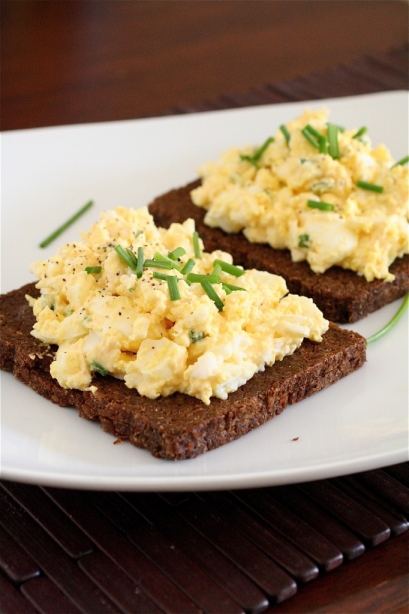 I'm suddenly realizing the value in taking the pressure off things.  And when I say things, I mean "me".  My best mentors and friends will laugh and tell you that I run on a high voltage engine.  I'm not sitting down.  I'm moving.  I'm learning, I'm writing, I'm cooking, I'm letting my hair down, I'm always moving forward.  I'm trying to equally distribute the energy to all things in my life. I'm in an amazing field in medicine, learning from patients and people every day.  I am learning that there are some not-so-nice people in the world who will find any excuse to bring you down, and I am learning that I am strong enough to not care anymore.  I've been swamped with looking for a job, brushing up on my medical skills, writing projects, and trying to sane the whole time.  In the midst of this, I learned my dad was having, yet again, heart troubles.  Being in the medical field (and in pathology, at that), I know all too well the ugly side of what bad hearts look like.
But my dad?  No.  This is not in the plans to satisfy my inherent need to control all things around me.  I can't let him be hurt.
I went home to Indiana a week ago.  I, quite frankly, needed to reboot.  I missed my family and friends that so confidently ground me and bring me back to my center.  I couldn't help but hug my dad just an extra bit harder and tried not to cry when I saw him the first time.  When he and I drove home from dinner together that night with the convertible top down, late summer sunset all around us, the smell of trees and corn and open air, I was thankful that I could be there to spend the time with him, and I realized that I would do absolutely anything for this man.  His silly sayings, his animation, his logic and common sense.  He has done so much for me through the years, and I just love him so so much.
Thankfully, he has had the necessary procedures, and I know that he is in great medical hands.  My mind has been elsewhere for the past few days.  I've been worried, I've been scared.  I've had a million emotions running through me.  I've been distracted.  I haven't felt like cooking or blogging or telling you how great something tastes.  I've lost a little mojo.  My engine is stalling.  Whenever my mom calls to tell me how he is doing, I get angry.  I lecture him.  I tried to clean out their fridge when I was home.  I'm like an octopus in a straight jacket when it comes to my dad's health.
But, it's all we can do, right?  At some point, you just have to let go of the control and let things be.  My dad can take care of himself (granted, he might need a little boost sometimes), and I need to let that go.
But I am beginning to feel inspired again.  We've been discussing ways to get him back to the energetic man that once would chase my older sister and I around the house, playing hide and go seek. I'm looking for recipes that he can still enjoy without a lot of unnecessary preservatives, additives, and chemicals.  I've dusted off some of my favorite non-fiction books about sustainable food, eating well, and being responsible about dietary choices. I'm re-reading and re-educating myself about the good and not-so-good choices out there. You are, after all, what you eat.
Seeing that every time I come home, my dad asks for my deviled eggs, I decided to make a spin-off version of egg salad, using no mayo.  You could probably adapt this somehow to a vegan version with tofu and vegenaise, but I stuck with plain old Greek yogurt (my fave) and added in some fresh chives and played around with spices.  The beauty of this egg salad is that you can truly make it your own, using whatever you have on hand.  I'm coming to the conclusion that eggs pretty much go with anything.  And I really enjoyed this version. The Greek yogurt adds a little tanginess and the smoked paprika gives a nice touch to the dish.  I used pumpernickel bread because that's what was on special around here, but use any kind of bread (preferably whole grain).  And, no, egg salad is not the most beautiful of dishes, but it's something that can easily and cheaply be mastered in your own kitchen.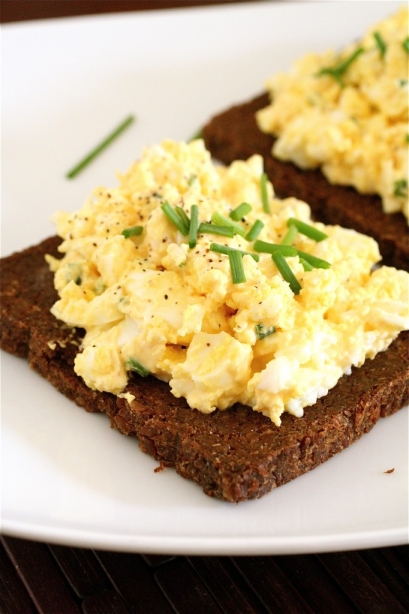 Open-Faced Egg Salad Sandwiches
Servings: 2 sandwiches
Ingredients
2 tablespoons Greek yogurt (I used 2%)
Pinch smoked paprika
Sea salt and ground pepper, to taste
1 tablespoon fresh chives, chopped, plus more for garnish
2 thin slices of the bread of your choice
Butter, for lightly spreading onto the toasted bread
1 clove of garlic, peeled
4 large eggs, hard boiled, cooled, and peeled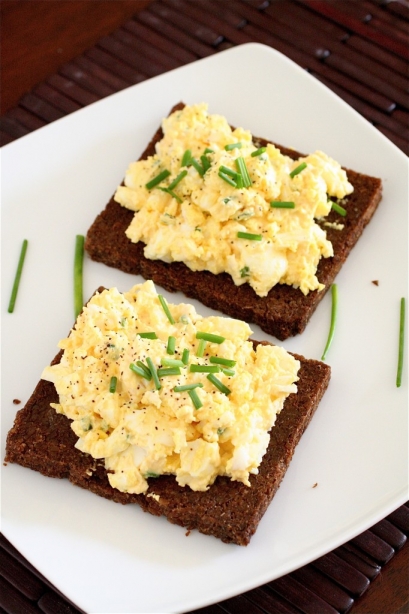 Instructions
1. In a small bowl, combine the Greek yogurt, smoked paprika, salt and pepper, and chives.  Mix well, and set aside.
2. Toast the bread to your liking and lightly brush each slice with butter.
3. Gently rub the clove of garlic onto the buttered bread slice.
4. In a medium bowl, combine the eggs and lightly mash with a fork.
5. Add the yogurt mixture to the bowl and mix to gently combine.
6. Place some of the salad onto each slice of bread, and garnish with extra chives, if desired.
Source:  Adapted from Super Natural Every Day by Heidi Swanson.