Sometimes Scout will wake me up at 5 am to go outside on the weekends.  She stands at the side of my bed, staring at me with her big brown eyes, and then she will shake her whole body (I'm pretty sure she knows that this is the loudest sound she can "innocently" make, besides barking…but barking would be too obvious, right?)  So, we go out, and then I usually will try to fall back asleep…which inevitably ends up with me starting to think (usually about food), and then I just decide to get up and cook.  This happened to me recently, and since it was so early and I couldn't begin the bijillion errands I had planned for the day, I hovered around my pantry for a bit, trying to decide what I could make with the ingredients I had on-hand.  I couldn't decide, but I knew I wanted breakfast.  I quickly looked through the recipes I had bookmarked…and voila!  Pumpkin pancakes.  Easy to make?  Yes.  Ready in 20 minutes?  Yes.  Pretty much the best pancakes I have ever had?  Um, yes.
These pancakes are the softest, moistest pancakes I have ever had.  I tried to make them a little more healthy by adding in some whole wheat flour, which seemed to really add a nice flavor to them.  The pumpkin flavor is subtle, but it's definitely there.  I just topped mine with some maple syrup, but I am betting that these would be really good with some toasted almonds or cinnamon on top.  I halved the original recipe, and I ended up with about 6 pancakes total.  So if you are looking to serve more than two people, double this.
Happy Fall!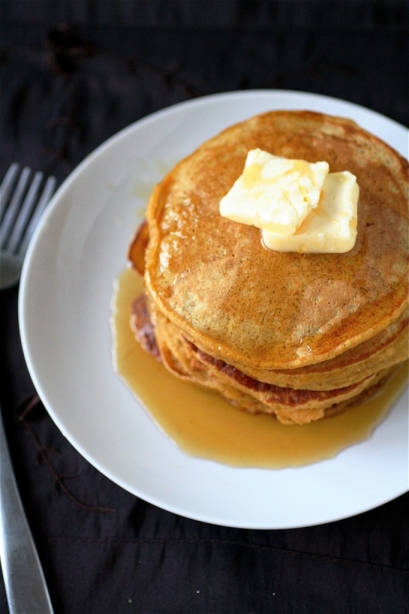 Pumpkin Pancakes
Servings: 2
Ingredients
1/4 cup all-purpose flour
1/4 cup whole wheat flour
1 tablespoon sugar
1 teaspoon baking powder
1/2 teaspoon pumpkin pie spice
1/4 teaspoon salt
1/2 cup skim milk
1/2 cup pumpkin puree
2 large eggs, separated
2 tablespoon unsalted butter, melted
1/2 teaspoon vanilla extract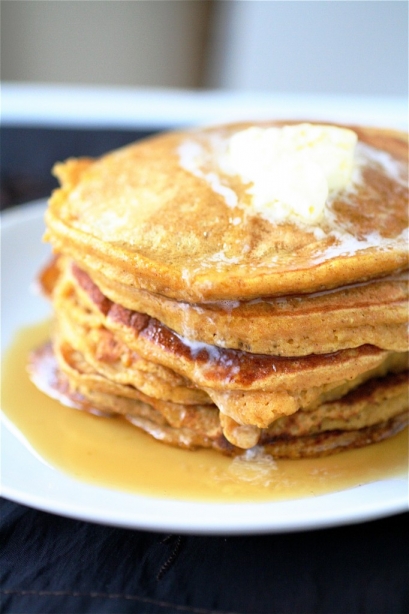 Instructions
1. In a large bowl, whisk together the flours, sugar, baking powder, pumpkin pie spice, and salt.
2. In a separate bowl, combine the milk, pumpkin puree, egg yolks, melted butter, and vanilla extract together, mixing well until smooth.
3. Add the wet ingredients to the dry ingredients, mixing with a spatula until just combined.
4. In another small bowl, using an electric hand mixer (or whatever you have on hand), beat the egg whites until thick and stiff.
5. Gently fold the egg whites into the pancake batter, mixing until smooth.
6. Meanwhile, heat a frying pan over medium heat.
7. Lightly spray the pan with cooking spray, and, in 1/4-cup increments, cook each pancake until lightly browned on each side, about 1 minute per side.
8.  Repeat with the remaining batter.
9.  Top with your favorite syrup, and enjoy.
Source:  Adapted from Bon Appétit, via Epicurious.