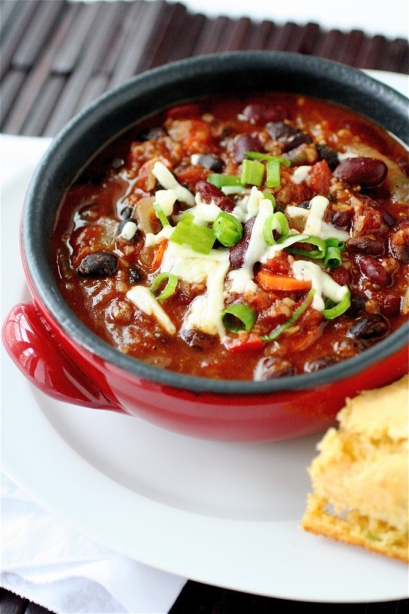 Oh, hey, Fall.  Apparently you have decided to make your entrance to the New England area, haven't you?  After a spell of half-gloomy, half-rainy days (and don't forget a lovely cameo by Hurricane Irene), the days have gotten cooler and shorter and…well…honestly..simply beautiful.  I've been doing a lot of hiking out here recently with my girl Scout, and I still can't get over how beautiful it is.  Now that the leaves are starting to change colors, the scenery has come alive with the greatest hues of red, orange, and bright yellow.  I know the best is still yet to come, but it's like nothing I have ever seen.  Last year when I announced that this year would be my year-long vacation, I wasn't kidding.  A girl could get used to this sort of scene. (Although, I will get back to you about this in the middle of January…ok?  Ok.)
Of course, a traditional fall (and football) food is chili.  And, for me, that means another easy and meat-free 100% vegan base recipe (I added the cheese on top, well, because you know that I will never ever leave my cheese, but this is completely optional, yet highly recommended).  I found this version, and I was immediately drawn to it for a couple of reasons.  Yes, it's packed with protein in the form of two different versions of beans (black and kidney), but it had the sneaky addition of bulgur in it, adding an immense amount of fiber and filling me up on a lot less calories than traditional chili.  Bulgur is a form of wheat, a whole grain actually, so it packs a lot of protein and iron as well (I bought it in bulk at the local market).  I also love that carrots and red bell peppers are snuck into the dish without being overbearing.  I love being sneaky with vegetables.  I cut back on the amount of spice here, but I actually found that the heat was enough for me.  If you want, up the amount of jalapeno pepper by one or two, but don't say I didn't warn you.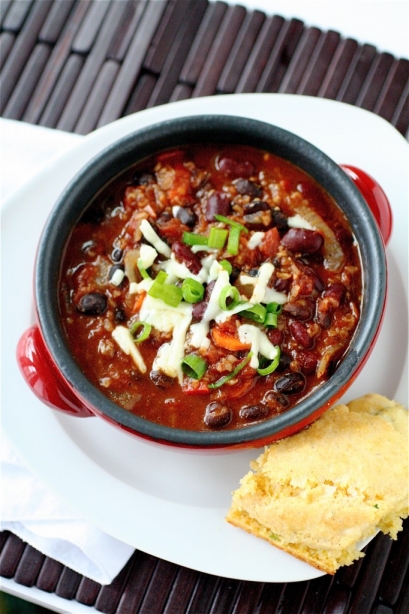 Spicy Two Bean Chili
Servings: about 6
Ingredients
2 tablespoons extra-virgin olive oil
1 yellow onion, chopped
2 carrots, peeled and thinly sliced
1 large red bell pepper, seeded and chopped
1 large jalapeno, seeded and minced
One 28-ounce can of crushed tomatoes
3 cups water
Two 15-ounce cans of kidney beans, drained and rinsed
Two 15-ounce cans of black beans, drained and rinsed
1/2 cup bulgur
2 tablespoons white vinegar
5 garlic cloves, minced
2 tablespoons chili powder
1 and 1/2 teaspoons cumin
1 and 1/2 teaspoons ground coriander
1/2 teaspoon ground cinnamon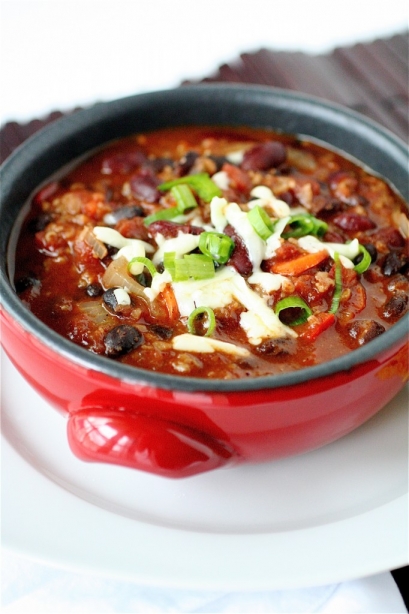 Instructions
1. In a large Dutch oven or pot over medium heat, heat the olive oil until shimmering.
2. Add the onion, carrots, red bell pepper, and jalapeno, stirring occasionally until translucent and softened, about 8 minutes or so.
3. Add the crushed tomatoes, water, kidney and black beans, bulgur, vinegar, garlic, and spices to the mixture, stirring until combined.
4. Bring the mixture to a boil and then reduce the heat to medium-low.
5. Simmer, uncovered and stirring occasionally, at least 20 minutes or so.  Garnish with cheese, scallions, or the toppings of your choice.  Enjoy.
Source: Slightly adapted from Bon Appétit, via Epicurious.