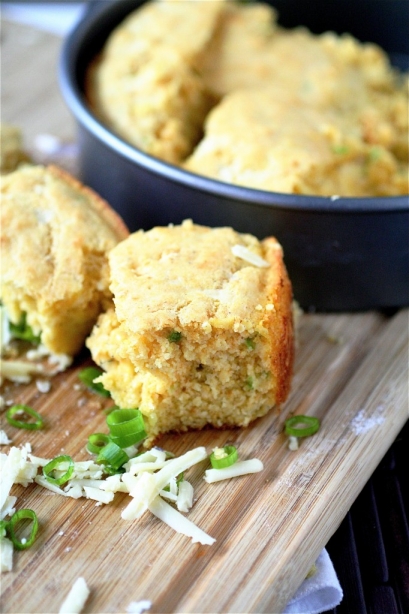 I suppose it wouldn't be right if I didn't post a cornbread recipe to go with the chili I posted the other day.  I mean, because chili and cornbread go together like peas and carrots, right?
Here's the deal.  I love a good traditional sweet cornbread, but I was looking for a savory version this time.  And I wanted something cheesy.  Like, melt in your mouth, ooey-gooey, cheesy, buttery cornbread.  And, yes, this one fits that bill.
I went ahead and splurged with the cheese here.  Since I live by the Cabot Creamery, I decided to take advantage of their "reserve" extra (extra) sharp cheddar here.  Like, it's so sharp that it crumbled (think almost like blue cheese) when I removed the wax rind from the cheese.  It definitely packed a punch in the way of cheese, and it melted down so incredibly nicely.  There were nice little pockets of cheese in the middle of the cornbread…I ended up just crumbling the bread on top of the chili.  The scallions definitely add a little boost of flavor, too, but I am guessing that you could add bits of whatever herb you have on hand.  Anything goes well with cheese…and corn.
And, can I just say, once again, that I absolutely love this time of year?
Cheddar and Scallion Cornbread
Servings: about 8 servings
Ingredients
1 and 1/4 cup cornmeal (not stone-ground)
3/4 cup all-purpose flour
1 tablespoon sugar
2 teaspoons baking powder
3/4 teaspoon salt
1/2 teaspoon baking soda
4 ounces extra (or extra-extra sharp) cheddar cheese, grated
2-3 scallions, thinly sliced
2/3 cup whole milk
2/3 cup buttermilk
2 large eggs
3 tablespoons unsalted butter, melted
Instructions
1. Preheat the oven to 425 degrees.
2. Generously grease a round 9-inch cake pan; set aside.
3. In a large bowl, whisk together the cornmeal, flour, sugar, baking powder, salt and baking soda.
4. Gently fold in the grated cheddar cheese and scallions, mixing until combined.
5. In another medium bowl, whisk together the milk, buttermilk, eggs, and melted butter.
6. Add the wet ingredients to the dry ingredients, whisking until just combined.
7. Bake until a tester inserted into the center of the cornbread comes out clean, about 18-20 minutes.
Source: Gourmet via Epicurious.