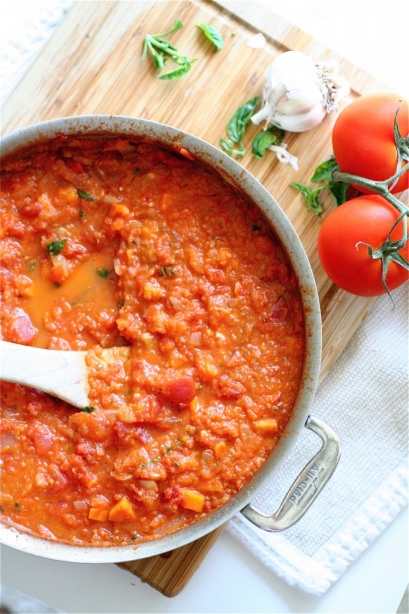 The last few fresh tomatoes of the season are quickly disappearing in my area.  And I still couldn't stop myself from over-buying some on one of my recent trips to the market. So, what to do with a few last tomatoes?  Tomato sauce, of course. Something basic that could be used in almost any type of pasta dish-fancy or not.  I looked at a few recipes, and while some promised the convenience of only a few ingredients or a short amount of preparation time, I knew I had a whole sunny afternoon in the kitchen at my disposal.  This recipe was actually ready in about 45 minutes-once I had cleaned and prepped my veggies, which was nice. I wanted to find a sauce that I could develop a strong flavor during the cooking time.  Enter this recipe.  I liked the fact that it has a few other vegetables in it which add a little bit of texture (and extra vitamins!) and flavor to the sauce.  I also liked the fact that I got to pull out my immersion mixer on this one (one of my favorite kitchen gadgets-if you don't have one, carefully puree the sauce in a blender instead.)  I kept some on hand for weeknight pasta dishes, but I used the majority of this sauce in a fantastic baked ziti (recipe soon to follow).  I did not try freezing any, but I believe that this sauce will freeze well if stored properly.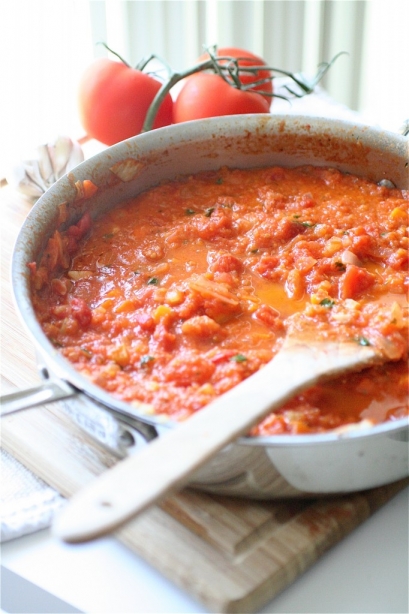 Basic Tomato Sauce
Servings: about 4-5 cups sauce
Ingredients
1/4 cup extra-virgin olive oil
1/2 large Vidalia onion, finely diced
1 carrot, peeled and finely diced
1 celery stalk, finely diced
3 cloves garlic, sliced thinly
4 fresh tomatoes (variety of your choice), peeled and seeded, then diced***To easily peel a tomato, cut a shallow "x" on the bottom of each tomato.  Drop each one into a pot of boiling water for about 15-30 seconds.  Immediately plunge each tomato into a bowl of ice water (to stop them from cooking). The skins should easily peel once cooled.
One 28-ounce can of chopped tomatoes, with juice
1 bay leaf
2 or 3 sprigs of fresh thyme
Salt and pepper, to taste
Fresh basil, optional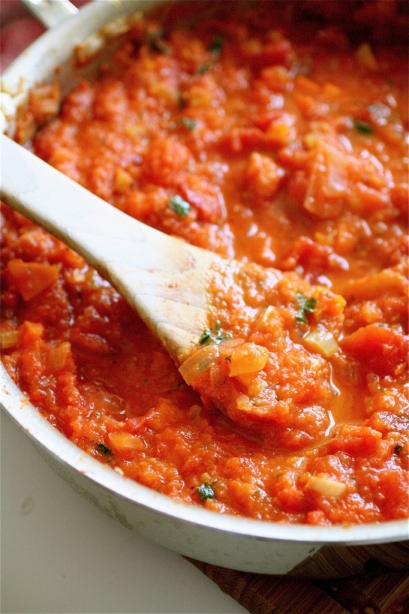 Instructions
1. In a large and deep sauté pan (or saucepot) over medium heat, heat the olive oil until shimmering.
2. Add the onion, carrot, and celery and cook, stirring occasionally, until soft and lightly golden, about 8 minutes.
3. Add the garlic and stir until fragrant, about 1 minute.
4. Add the fresh and canned tomatoes, bay leaf, and thyme sprigs, and mix well.
5. Season to taste with the salt and pepper.
6. Cook, uncovered, until slightly thickened, about 20 minutes or so.  Make sure to stir occasionally!
7. Remove the sprigs of thyme and bay leaf.
8. Very carefully, using your immersion mixer (or a blender in batches), blend the sauce to your desired consistency.
9. Garnish as desired with fresh basil.
Source: Adapted from Williams-Sonoma's Pasta.