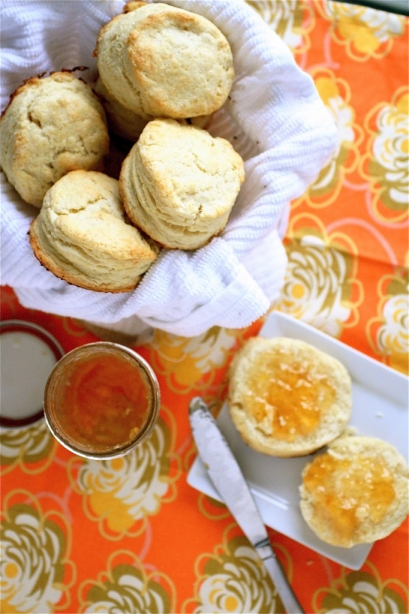 Let me tell you a little bit about biscuits.  When they are done correctly, they can be the best things on earth.  But if done poorly, then, you can end up in a world of crumbly flour chunks, stiff dough, and bland doughy tastes, and this is certainly not a good place to be.
I've been on a hunt lately for a good, simple biscuit recipe.  No flavors, no add-ins, no limitations on what I could pair these little guys with when I come home from work and decide to pull one out from the freezer.  I wanted a biscuit with a little bit of sweetness to go well with jams and honey to have with tea on the weekends, but I also wanted a solid biscuit that could hold its own as a side to a gravy or savory soup.  Enter the cream biscuit.  Now, I know I have posted a variation on the cream biscuit before, but this one, while simple, is not a Plain Jane by any means.  This one has substance, that hint of sweetness, and is able to go with anything I pair it with: egg and cheese biscuit sandwiches, cinnamon and sugar, or even biscuits and gravy (vegetarian-style, by the way…post coming soon.)
So, if you have a little time to spare and some extra cream on hand, these little guys are worth the short amount of time it takes to make them.  Three cheers for biscuit versatility!
And, P.S. On a personal note, I just wanted to wish my parents, Rick and Georgia, a Happy Anniversary!  Congratulations on 36 years of marriage.  Love you both!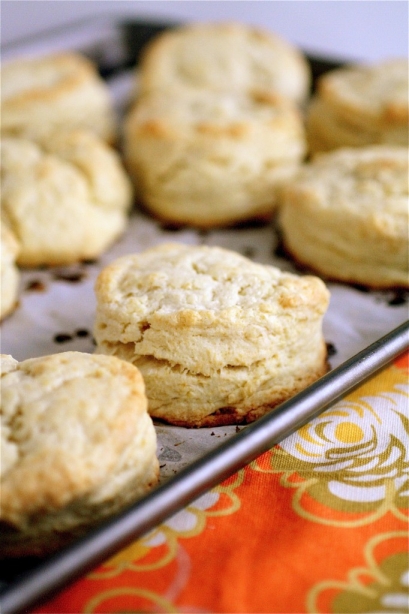 Cream Biscuits
Servings: approximately 12 biscuits (using a 2-inch biscuit cutter)
Ingredients
4 cups all-purpose flour
2 tablespoons sugar
1 and 1/2 tablespoons baking powder
1 tablespoon sea salt
1/2 cup (1 stick) chilled butter, cut into 1-inch pieces
1 and 1/2 cups heavy whipping cream, plus more for brushing the tops of the biscuits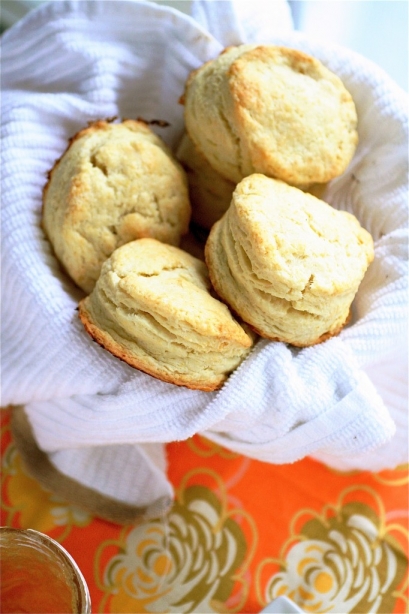 Instructions
1. Preheat the oven to 375 degrees.
2. Line two rimmed baking sheets with parchment paper; set aside.
3. In a large bowl, whisk together the flour, sugar, baking powder, and salt, mixing thoroughly.
4. Using your fingers, gently blend the butter pieces into the flour mixture, squeezing each piece of butter until you have several pea-sized pieces.
5. Add the 1 and 1/2 cups of cream to the dough, and, using a wooden spoon, stir until the dough comes together in a cohesive ball, adding more cream if necessary.
6. Transfer the dough to a cleaned and lightly floured surface and, using a rolling pin, roll the dough to a thickness of 3/4″.
7. Using a biscuit cutter (or the open end of a glass cup, like my grandma used to), cut the dough into biscuit rounds, re-forming and re-rolling the dough as necessary.
8. Brush each biscuit generously with cream.
9. Bake the biscuits until golden brown, about 25-30 minutes.
Source: Directly from Bon Appétit, November 2011 via Epicurious.