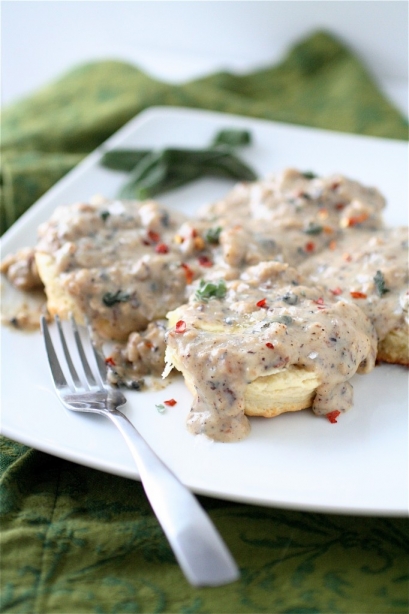 Yep, you read the title correctly.  It's biscuits and gravy time.  A vegetarian biscuits and gravy, I might add.
So, coming from the Midwest, I was raised on this stuff.  Healthy?  Not so much?  My ultimate comfort food?  Yes.  And, sadly enough, it's one of the things I miss the most about being meat-free.  I grew up on holidays, eating this for breakfast, watching my mom make the roux and add the sausage-just waiting for my serving so I could gulp it down with some fresh orange juice.  I would beg her for this stuff-even for celebratory dinners as a kid.  It's what I wanted.
Now, I am a firm believer that one must know how to make a good gravy, regardless of the fat source (meat or not).  Don't mess around with a woman (or man) who knows how to whip up a good gravy.  There's a lot of power behind gravy-making-you need the right amount of fat, starch, and liquid for it to turn out palatable. It's a magical concoction of deliciousness (in moderation, of course).
When I saw that Courtney posted a homemade biscuits and sausage gravy recipe, I couldn't help but stare at the computer screen and drool a bit.  While I had made vegetarian versions of biscuits and gravy before (think: last Christmas morning when I made it for my mom and dad, and my dad literally licked his plate clean…and then suddenly realized that he had just eaten a vegetarian version and was slightly shocked by how much he-the ultimate meat man-had liked my version), I was ready to tackle another batch with some new seasonings.  First things first, this gravy is not for those who are keeping track of calories.  (It's gravy, people).  Instead of fat from meat, I opted for a butter base (yes, I know, how terribly delicious).  I made up for the "lack of meat flavor" by adding in some fresh sage and different seasonings.  And while I am not usually a fan of substitute meat, the soy sausage protein I used in lieu of the real thing actually tasted really good with all the additional seasonings.  It tasted cleaner, lighter, and a little bit more earthy than what I remember.  Topped on my cream biscuits, this was a great comforting breakfast (and dinner for the next few nights.)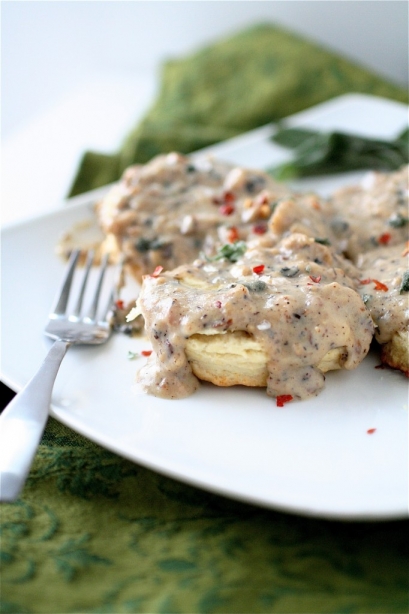 Biscuits and Gravy
Servings: approximately 4
Ingredients
1 14-ounce package of vegetarian sausage *I used GimmeLean brand
4 tablespoons unsalted butter
4 tablespoons flour
4 cups milk (any %)
1/8 cup fresh sage, chopped, or to taste
Red pepper flakes, to taste
Salt and pepper, to taste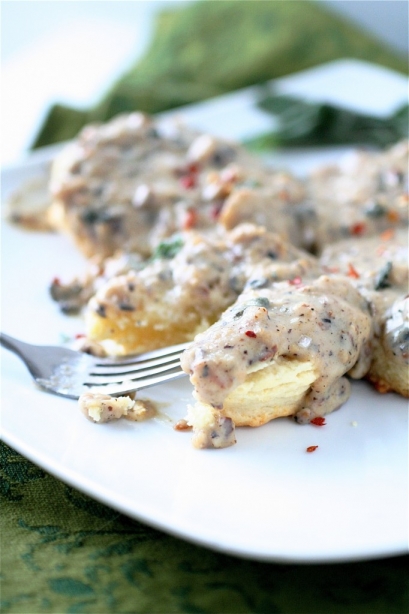 Instructions
1. In a large and deep (at least 2 inches) sauté pan, cook and brown sausage as directed on the package label, place the sausage in a bowl and set aside.
2. Using the same pan you used to cook the sausage, over medium heat, melt the butter.
3. Add the flour, and using a spatula, scrape up any browned bits from the bottom of the pan, stirring constantly.
4. Once the roux is golden brown, slowly add the milk to the roux and whisk constantly until the gravy is thickened, about 10-15 minutes.
5. Once thickened, add your cooked sausage, sage, and seasonings to the gravy.
6. Serve over warm cream biscuits.  Congratulations, you just made gravy, my darling.

Source: A Curvy Carrot original