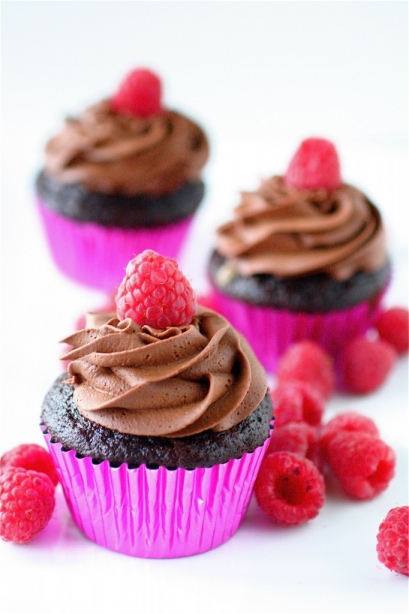 I was trying to think of a great name for these cupcakes to describe how much I loved them.  In fact, these might be my favorite cupcakes that I have ever made.  The mixture of chocolate and raspberries has always been one of my favorite flavor combinations, but this cupcake…this trio of moist, chocolately cake with a velvety chocolate raspberry ganache center and a raspberry chocolate sour cream frosting…well, I couldn't come up with a better name because nothing can describe them.
I made these for my friend, Parisa's, birthday.  Parisa happens to be a chocoholic (my favorite kind of person, in fact).  One of my favorite parts about bringing in birthday cupcakes for my co-workers is the excitement they have in choosing which one they want (I have since upgraded to making an actual menu that they can choose from…which could have been two pages long…so many cupcakes to try!)  I knew Parisa would want chocolate, so we talked about other flavor combinations…and her eyes lit up when I mentioned raspberry.  Done and done.
So, off I went, trying to come up with a cupcake design that would impress even the biggest chocolate lover.  I loved Annie's cupcake base version from a batch she made a while back, so I knew I wanted that as my base.  I knew I wanted a ganache filling to add to the chocolate overload, and I knew I wanted a frosting that was beyond the realm of traditional buttercream.  Something smooth, satiny, and a little savory to cut some of that sweet.  So voila!  Here they are.  By far, these cupcakes were my biggest hit with the residents and nurses (until I made a batch last week that may have topped them..coming soon….)
Would it be inappropriate to describe these cupcakes as sultry and seductive?  Because, honestly, to a chocolate lover, they totally are.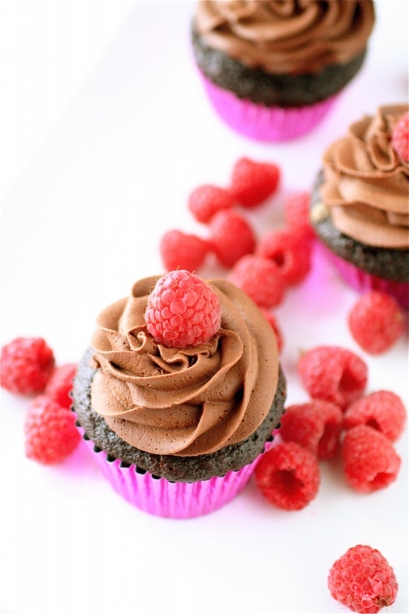 Chocolate Raspberry Cupcakes
Servings: 18 cupcakes
Ingredients
For the cupcakes:
3 ounces semisweet chocolate chips
1 and 1/2 cups hot brewed coffee
3 cups sugar
2 and 1/2 cups flour
1 and 1/2 cup cocoa powder
2 teaspoons baking soda
3/4 teaspoons baking powder
1 and 1/4 teaspoons salt
3 eggs
3/4 cup vegetable oil
1 and 1/2 cups buttermilk
3/4 teaspoon vanilla
For the chocolate-raspberry ganache:
18 ounces bittersweet chocolate, chopped (or chips)
2 and 1/4 cup whipping cream
1 tablespoon seedless raspberry jam
For the frosting:
1 pound semisweet chocolate chips
1 and 1/3 cups sour cream
6 tablespoons seedless raspberry jam
1/4 cup light corn syrup
2 teaspoons vanilla
3 tablespoons unsalted butter, at room temperature
Garnish: fresh raspberries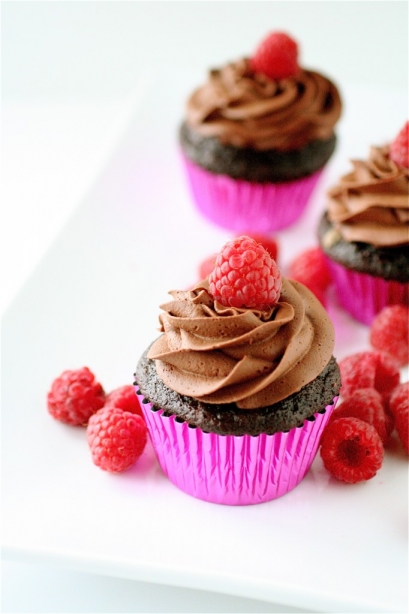 Instructions
1. For the cupcakes: Preheat the oven to 350 degrees.
2. Line cupcakes pans with the liners of your choice.
3. Place the chocolate chips in a medium bowl and carefully pour the hot coffee over the chocolate; let sit for about 1 minute.  Whisk until smooth; set aside.
4. In a large bowl, whisk together the sugar, flour, cocoa powder, basking soda, baking powder, and salt.
5. In the bowl of your standing mixer fitted with the paddle attachment, beat the eggs on medium-high speed until smooth, about 2 minutes.
6. Reduce the speed to medium-low and slowly add the vegetable oil, buttermilk, vanilla, and melted chocolate.
7. Reduce the mixer speed to low and add the dry ingredients, mixing until combined, scraping down the sides of the bowl as necessary.
8. Divide the batter among your liners (I had extra batter, so feel free to make some extra cupcakes….) and bake until a tester inserted into the center comes out clean, about 18-20 minutes.
9. For the chocolate-raspberry ganache: Place the bittersweet chocolate in a bowl.
10. In a small saucepan over medium heat on the stove, gently bring the cream to a slight boil.
11. Remove the cream from the heat and pour over the bittersweet chocolate; let sit for about one minute, then whisk until smooth.
12. Add the raspberry jam to the chocolate/cream mixture and whisk until smooth.
13. Refrigerate until ready to use.
14. For the frosting: In a heatproof bowl set over simmering water, melt the chocolate chips; stir until smooth.  Let cool to room temperature.
15.   Once cooled to room temperature, add the sour cream, raspberry jam,  corn syrup, and vanilla, and beat (using your stand mixer or a hand mixer) until light and fluffy, about 3 minutes.
16.  Add the butter to the mixture and beat until thoroughly combined.  Set aside until ready to use.
17. To assemble the cupcakes: Once the cupcakes are completely cooled, gently cut out a small hole in the center top of each cupcake.  You can discard the removed pieces, but I just end up eating them.  Using a piping bag or a small spoon, gently place a teaspoon or two of the ganache into the center of each cupcake.  Pipe your frosting, as desired, onto the tops of each cupcake.  Garnish with fresh raspberries.

Sources:  Cupcake base from Annies Eats (adapted from Smitten Kitchen, originally from Gourmet.).  Chocolate-raspberry ganache and frosting adapted from Bon Appétit.