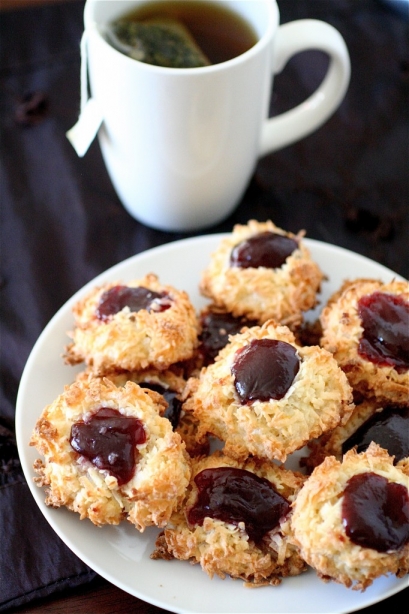 It's cookie time.  Awwww, yeah.
I haven't posted all that many coconut recipes on here yet, which is ironic considering that I do love coconut.  Usually when I make cookies, I go for something with chocolate and/or peanut butter.  But, in a recent effort to clean out my baking shelf in the pantry, the half bag of sweetened coconut caught my eye.  And the leftover jar of raspberry preserves (from these cupcakes) also caught my eye when I attempted to clean out the fridge.  Cleaning out the kitchen is a bonus. Making cookies with these ingredients equals a win-win situation.
These cookies are great for a couple of reasons.  They are simple to throw together-one bowl, a little mixing, and a relatively short baking time.  Another good reason?  Just the idea of toasted coconut makes me think of tropical, sunny weather (a much needed respite from the gray un-wintery winter here in New England).  And one more reason?  While I used raspberry jam (and baked the jam into the cookies), you could probably put anything chocolate or nutty in there (Nutella, what?) after you bake them if you wanted to avoid the jam thing.  Who doesn't love thumbprint-style cookies?  The possibilities are endless.
So what lesson did I learn here?  Breaking out of the usual cookie shell can be a totally good thing.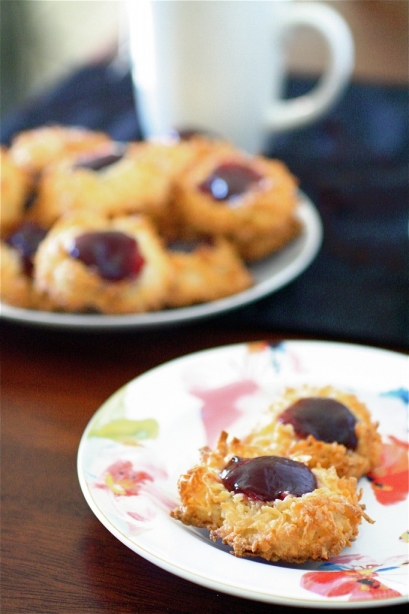 Coconut Jam Cookies
Servings: 12 cookies
Ingredients
1 large egg
1/2 cup granulated sugar
1 teaspoon vanilla
2 teaspoons lemon zest
2 and 1/2 cups sweetened shredded coconut
1/4 cup seedless raspberry jam
Instructions
1. Preheat the oven to 350 degrees.
2.  Line a baking sheet with parchment paper; set aside.
3. In the bowl of your standing mixer fitted with the whisk attachment, beat the egg on medium-high speed until light yellow and smooth, about 2-3 minutes.
4. Switch to the paddle attachment, and, on medium speed, add the sugar, vanilla, and lemon zest.  Beat for 5 minutes.
5. Using a rubber spatula, gently fold in the shredded coconut, mixing until thoroughly combined.
6. Drop the batter in 1-2 tablespoon mounds onto the parchment-lined baking sheets, about 2 inches apart from one another.
7. Using the back of a spoon or your fingers, gently make an indentation in the center of each cookie mound.
8.  Place about 1 teaspoon of the raspberry jam into the center of each cookie mound.
9. Bake the cookies for about 15 minutes, or until slightly golden brown.
10.  Immediately turn off the oven, crack the oven door open slightly, and let dry in the (still warm) oven for a few more minutes.  (The original recipe states another 15 minutes, but I had to rescue my cookies after about 7 minutes because they were still continuing to brown a lot.  Use your best judgement here-oven heats can vary significantly.)
Source: Slightly adapted from Williams-Sonoma.