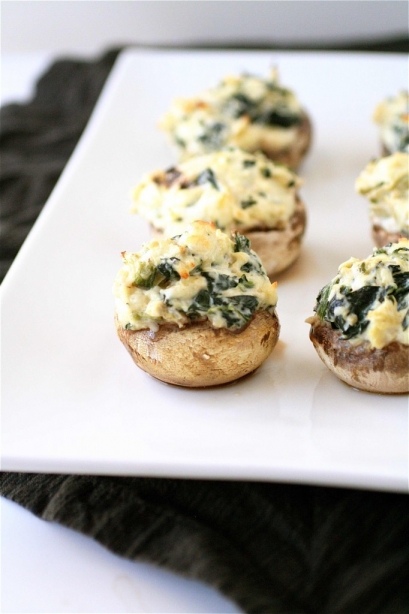 Ah, a nice and easy appetizer for the holiday season.  And while I am big on appetizers in general, I am even bigger on easy WARM appetizers that can be served this time of year.  This one is great for two reasons: it really is simple to throw together (you can make and pre-fill the mushrooms and pop them in the oven when you are almost ready to serve), and the flavors are great.  Who doesn't love spinach and artichoke dip?  But in portable, finger-food friendly form?  Ok.  I'm sold.
While I used full-fat versions of the mayonnaise and the cream cheese, you could substitute in lower-fat versions.  As far as a vegan version of this, I'm sure you could substitute in your vegan favorites for the cream cheese and mayo (I haven't tried this yet, so let me know if you try it and how it works out!)
Have a fantastic rest of your holiday season!
Spinach and Artichoke Stuffed Mushrooms
Servings: 8 large "stuffing" mushrooms**I had leftover filling, please feel free to make extra mushrooms with this recipe
Ingredients
8 large stuffing mushrooms (or mushroom variety of your choice)
4 ounces (1/2 brick) cream cheese, at room temperature
2/3 cup mayonnaise
One 12-ounce jar of artichoke hearts, liquid drained, chopped and squeezed dry
1 cup frozen spinach, thawed and squeezed dry
3 cloves garlic,  minced
1 teaspoon sugar
1 cup Parmesan cheese, grated
Sea salt and pepper, to taste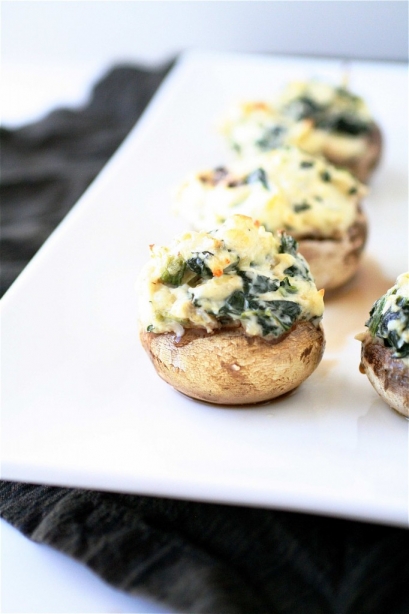 Instructions
Preheat the oven to 350 degrees.
 Clean the mushrooms by gently blotting them with damp paper towel, removing the stems and scoop out the gills.
In a large bowl, combine the cream cheese, mayonnaise, artichoke hearts, spinach, garlic, sugar, Parmesan cheese, and salt and pepper, mixing until completely combined.
Gently fill each mushroom with a heaping tablespoon (or two) of the filling mixture.
 Place the mushrooms on a rimmed baking sheet and bake until the topping is lightly golden, about 15-20 minutes.  Serve immediately.
Source:  Adapted from Eating Well Living Thin.