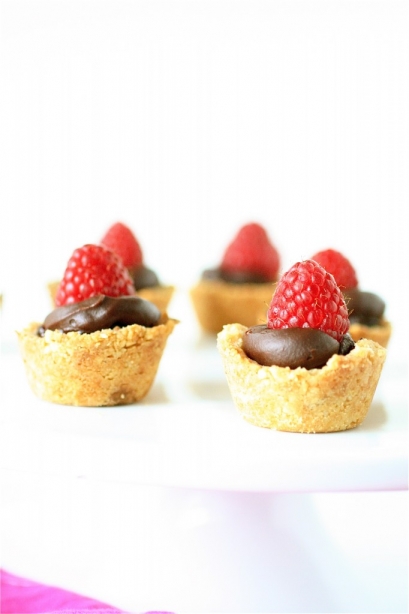 The other night, I was out at a restaurant/bar with some fantastic friends.  All of a sudden, a Frangelico on the rocks appeared.  Subsequently, it was passed around the table and everyone began professing their love for all things flavored hazelnut.  I have to admit, I haven't done too much with them in the way of cooking/baking, but when I do, I always wonder why I haven't played a little bit more with them.
The following night, I was going to spend some time with the same set of friends to begrudgingly watch the Patriots beat the Broncos….(remember, I am originally from Indiana and therefore have blue/white blood running through my veins for the Colts…even if they had a terrible season.)  I wanted to surprise my friends with a little hazelnut love since they had expressed it the night before.  It also was mighty convenient that I had these little treats bookmarked for a pre-Valentines Day post.  Perfect timing.
I find the raspberries completely seductive.  Yes.  I just said that.  But you could sub in any kind of (less seductive) fruit.  I had the raspberry preserves on hand, so it just seemed fitting that I used raspberries for the top.  You could really do anything: blueberries, orange, even candied hazelnuts.  Anything works.
Looking for some more hazelnut love?  Try these.  Or this.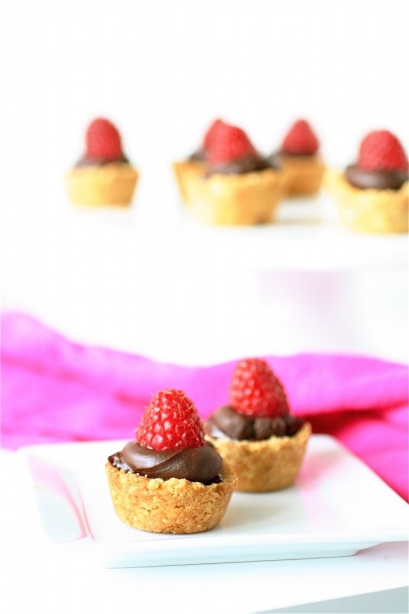 Chocolate-Hazelnut Tartlets
Servings: 24 tartlets
Ingredients
For the shells:
1 and 1/2 cups whole hazelnuts
8 tablespoons (1 stick) unsalted butter, at room temperature
1/4 cup packed light brown sugar
1 cup all-purpose flour
For the ganache:
2 cups high-quality chocolate (use your choice: bittersweet, semisweet, whatever…), chopped
1 cup heavy cream
For the assembly:
1/2 cup seedless raspberry preserves
1 pint fresh raspberries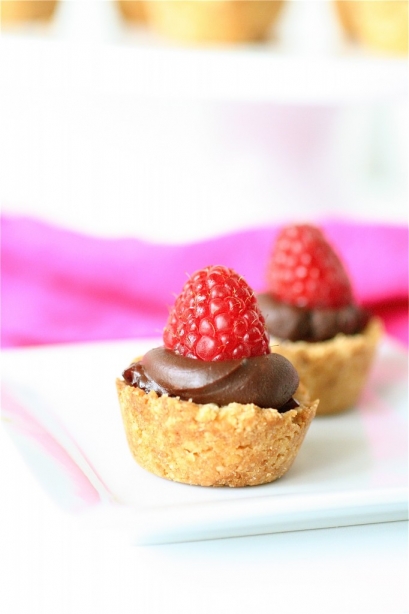 Instructions
1. For the shells: In the bowl of your food processor, process the hazelnuts until they reach the consistency of coarse sand.
2. In the bowl of your standing mixer fitted with the paddle attachment, cream the butter and brown sugar on medium high speed until light and fluffy, about 2 minutes.
3.  Reduce the mixer speed to low and carefully add the flour and chopped hazelnuts, scraping down the sides of the bowl as necessary.
4. Once the dough comes together, roll it into a ball and wrap tightly with plastic wrap.  Refrigerate for at least 30 minutes.
5. For the ganache: In a small saucepan over medium heat, bring the cream to a gentle simmer.  Meanwhile, place the chopped chocolate in a heatproof bowl.
6. Pour the hot cream over the chocolate and let sit for about 2 minutes; then whisk until smooth and uniform in color.
7. Refrigerate the ganache until ready to use.***This will help firm it up so it can be easily piped.
8. For baking the shells:  Preheat the oven to 350 degrees.  Generously butter a mini muffin pan.
9. Place about 2 teaspoons of dough into each muffin cup and, using your finger,  gently make an indentation in the center of each one to form the tart shape.
10.  Bake the tartlets until golden, about 10-12 minutes.  Let cool completely. ***Check them frequently.  The nuts will bake quickly.
11. To assemble:  Heat the raspberry preserves (either in a small saucepan over medium-low heat or in a heatproof bowl in the microwave at 10-second intervals) and stir until smooth.
12.  Spoon or pipe about 1/2 teaspoon of preserves into the center indentation of each tartlet.
13.  Using a piping bag and the pastry tip of your choice, pipe the chocolate ganache over the raspberry preserves.  **I found that I had to chill my still-warm ganache a little bit more before I could get a stiffer consistency to pipe.
14. Top each tartlet with a fresh raspberry.  Enjoy.

Source: Barely adapted from Yankee Magazine.