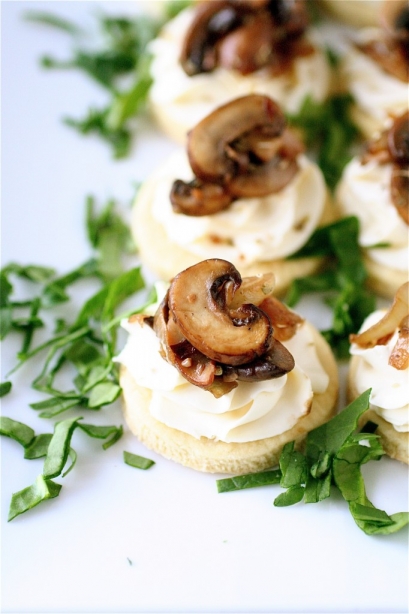 Today's post is in honor of one of my dear blogging friends, Courtney, of Cook Like A Champion.
You see, the food blogging world isn't all that big.  There are all sorts of ways food bloggers connect with one another-photography conferences, conventions (yes, there are conventions devoted to food blogging), and of course, the network of comments, threads, and fan pages.  I had the opportunity to first "meet" Courtney through Annie, and I quickly realized that she was a friendly and inspiring "face" among my favorite food bloggers.
The best part?  I have met Courtney in person.  And even better, I met her for the first time in the early days of her pregnancy.  On an impromptu trip back home to Indianapolis earlier this fall, I was able to meet Courtney and Annie (and brought along my dear friend Kelli) for a fantastic brunch at one of my favorite breakfast places in Indy.  It was so much fun to chat: chat about food, baking projects, ideas, the food blogging world, etc.  And when Courtney excitedly announced that she was expecting her first child, I couldn't contain my own excitement for her as she transitions into the world of motherhood.
Today, Josie is hosting the virtual baby shower in honor of Courtney's new arrival (an arrival coming very, very, very soon…..).  Baby C will be here before we know it, and today a fantastic group of food bloggers has come together to celebrate such a happy occasion.
For a complete round-up of the virtual shower, please visit both Josie and Courtney's websites to see a mouth-watering spread.
As far as my contribution?  I wanted to run with something savory for the occasion.  I happened upon these little tarts and couldn't pass them up.  I obviously love anything with the word "tart" in it, so a savory spin on something traditionally sweet was intriguing to me.  And anything with sweet and mild creamy mascarpone has me hooked.  And, well, anything with caramelized shallots and cremini mushrooms does as well.  All in all?  A great appetizer for an elegant baby shower.  (P.S.  While these should be served warm, I DID try a few cold, and they were pretty good, too.  A hint for someone short on time?  You can pre-assemble the tarts by piping the mascarpone and chilling in advance.  Simply top with the warm mushroom/shallot mixture before serving-this is easily re-heated in the microwave.)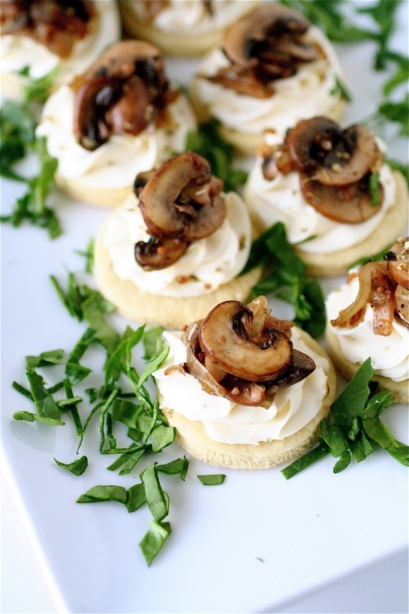 Mushroom and Mascarpone Tarts
Servings: approximately 16 tarts (I halved the original recipe when I made these and am posting that version here.  Please feel free to double this recipe if you need more.)
Ingredients
For the tarts:
1 and 3/4 cups all-purpose flour
1/4 teaspoon salt
1/2 cup (1 stick) unsalted butter, cubed and chilled
1 egg, lightly beaten
1/2 tablespoon fresh lemon juice
1/8 cup ice water, plus more if needed
For the topping:
1 tablespoon unsalted butter
1 tablespoon extra virgin olive oil
1 cup shallot, thinly sliced (about 3-4 medium shallots)
1 teaspoon garlic, minced (about 1 clove)
10 ounces cremini (baby bella) mushrooms, trimmed, cleaned, and sliced
1/4 ounce dried porcini mushrooms, (soaked in hot water for about 20 minutes and squeezed dry), thinly sliced
1 cup mascarpone cheese (or less depending on your personal/piping preference)
Sea salt and pepper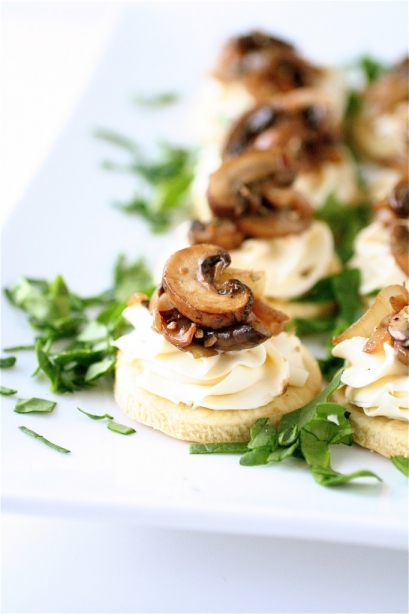 Instructions
1. For the tarts:  Combine the flour and salt in your food processor and pulse until combined.
2. Add the butter pieces, one at a time, through the feeder tube and process until the dough resembles coarse sand.
3. In a small bowl, whisk together the egg, lemon juice, and ice water.
4. With the motor running, slowly add the egg mixture to the dough, until the dough comes together in a solid mass.
5. Turn the dough onto a clean and floured surface and pat into a disk.
6. Wrap the dough tightly with plastic wrap and refrigerate until firm, about 2 hours or overnight.
7. Once the dough is firm, preheat the oven to 375 degrees.
8. Roll the dough out into a 1/8″-thick layer.
9. Using a 2″ biscuit cutter, cut the tart shapes out from the rolled dough, combining and rerolling the excess dough as necessary.  Place the cut tarts onto a baking sheet lined with parchment paper.
10.  Pierce each tart gently several times with a fork.
11. Bake the tarts until slightly puffed and lightly golden, about 15 minutes or so. Let cool completely.
12. For the topping: In a sauté pan over medium heat, combine the butter and olive oil.
13. Add the shallots and cook until lightly golden and softened, about 5-6 minutes, stirring frequently.
14. Add the garlic and cook until fragrant, about 1 minute.
15.  Add the cremini and the reconstituted porcini and cook, stirring frequently, until softened, about 5 minutes.
16. Season the mushroom/shallot mixture with salt and pepper.
17. For assembly: Using your desired piping tip (I used my standard Wilton 1M), pipe the mascarpone onto each tart.  Top with 1-2 teaspoons of the mushroom/shallot mixture.  Serve immediately.
Source:  Adapted from Williams-Sonoma.