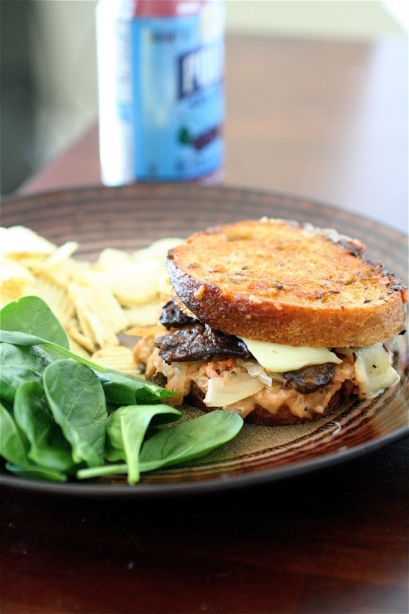 Sometimes I will get some sort of food or dish in my head, and it becomes a slight obsession until I can have it.  On my own terms.  Meat-free.
Take a Reuben sandwich, for example.  Growing up, my mom could make a mean corned beef/cabbage dish for a traditional New Year's Day dinner.  I would inhale it.  But even better, I would inhale the leftover Reubens that would inevitably come after that dinner.
So, I recently somehow got to thinking about a vegetarian version of that childhood favorite of mine, and then, it was almost taunting me everywhere I went.  Every restaurant menu seemed to have a Reuben on it, the Arby's commercial on TV would pop up….and I finally got to the point where I couldn't take it anywhere.  My normally healthy diet be damned.  Bring on the veggie Reuben.  I found a few recipes to base my version on-I knew I had to incorporate the caraway flavor in there somehow, and I loved the idea of making my own dressing to top the sandwich with.  I found a local sauerkraut that's made in Vermont, grabbed some Cabot Swiss cheese, some fresh King Arthur rye bread (can you tell I am totally loving all this New England local food????), and I was good to go.
Every single leftover was gone.  My palate has attention deficit disorder, so this is a big deal for me.
You can totally convert this to a vegan version, if you want.  Omit (or use alternative "cheese") and use a vegan substitute for the dressing.  The tempeh's flavor was to die for.  I DID try Lightlife's smoky flavored tempeh (think bacon-ish) flavor, and I actually thought that it went well for these sandwiches.  Next time I might try a non-flavored version of tempeh and see how that works instead.
It feels good to be meat-free and still be able to eat a Rueben.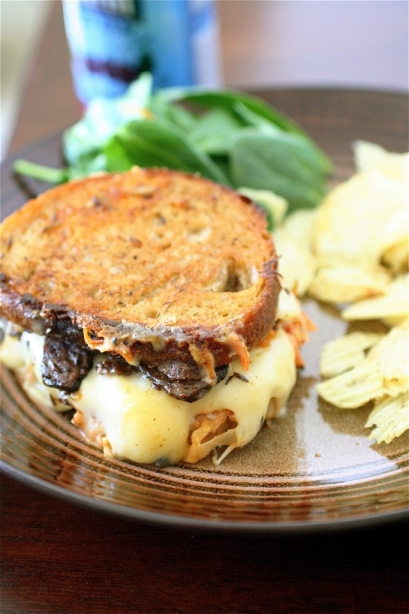 Vegetarian Reuben Sandwiches
Servings: 4
Ingredients
For the dressing:
4 tablespoons mayonnaise (use a vegan or low-fat substitute)
1 tablespoon tomato paste
1/4 cup dill pickle, minced
2 tablespoons onion, minced
2 teaspoons Sriracha (or to taste-I like mine spicy)
For the tempeh:
6 ounces tempeh, sliced (I used Lightlifes's smoky flavored)
1/4 cup cider vinegar
2 tablespoons soy sauce (I used low-sodium)
1 tablespoons whole black peppercorns, crushed
1 tablespoon caraway seeds
1 tablespoon olive oil
For serving:
1 and 1/2 cups fresh sauerkraut (I used a local kind made by a place called Holy Mackerel, in Vermont…so good!)
Swiss cheese
Rye bread, sliced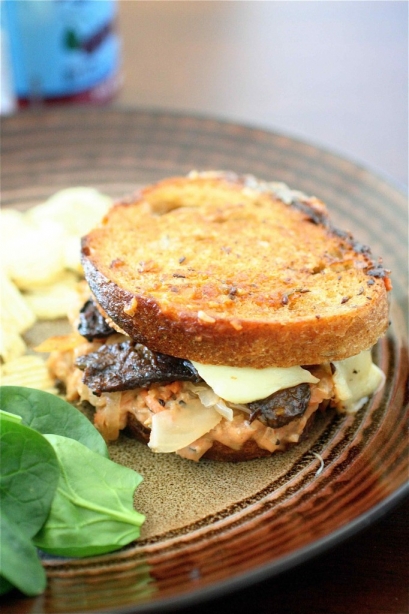 Instructions
1. For the sauce:  In a medium bowl, combine all of the ingredients. Cover tightly with plastic wrap and chill until ready to serve.
2. For the tempeh:  In a medium sauce pan over medium heat, combine the cider vinegar, soy sauce, crushed peppercorns and caraway, stirring frequently.
3. When the mixture is almost to a boil, add the sliced tempeh.
4. Decrease the heat to low, cover, and cook for another 15 minutes, stirring frequently.  (You will not have much liquid left.)
5. In a sauté pan over medium heat, heat the olive oil until shimmering.
6. Add the tempeh and sauté until lightly crisped, about 3-4 minutes.
7. To assemble and grill the sandwiches, lightly butter a frying pan (or use cooking spray.) over medium heat.
8. Assemble each sandwich as desired and place onto the hot surface, grilling each side for about 1-2 minutes.  (I had a little panini press that I have to push down on the sandwiches…it created a bit of a gooey mess in my frying pan, but, hey, it's a Reuben.)

Source:  Adapted from Recipe.com