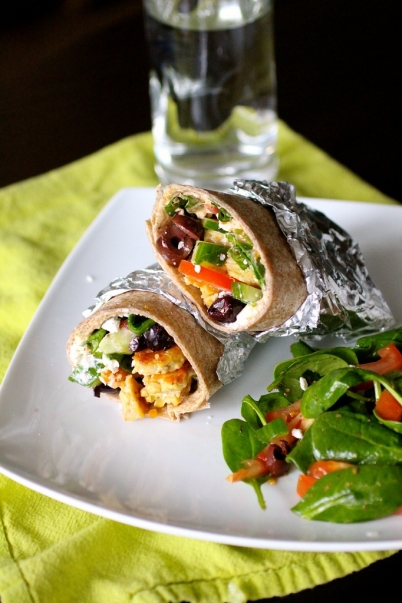 Uhhhhh, tempeh.  I have to admit, it's a love-hate relationship for me.  You'll see me standing in front of the "fake meat" section in Whole Foods (totally blocking the aisle with the massive carts…by the way, why is it that Whole Foods-or at least mine in particular-makes aisles that literally 1.5 carts can fit through with giant columns in the middle of the aisle…it's panic-inducing at times…especially after work, when you are in heels that you really shouldn't be wearing for your own safety…and there are a lot of people in a rush to go home and eat the green bell pepper they just purchased…)
Back to tempeh.  I look at it, trying to convince myself that it's a good substitute for my protein at times.  I turn the vacuum-packed plastic around and around in my hands, wondering if I should get the whole-grains or the soy-based version ("umm, excuse me, miss, can you please move your cart?")…really, what's the difference?  And which version would pair best with whatever dish I'm making that time. ("Oh, excuse me, I just need to get to the miso right there.  No worries.")  Can this stuff actually taste good…will it break apart if I try to cook it…it majorly needs some color.  Oh, screw this.  I'm just taking one package to try for this recipe.  Moving along to the cheese section where I hear the sirens calling me…..
I've made recipes with tempeh before.  And the thing is, I'm usually pleasantly surprised.  The reubens and the TLT's were pretty delicious, I have to say.  But, this recipe also looked promising.  Knowing that the tempeh would be sauteed in a lovely and light lemony sauce, I figured that this would provide a little oomph to the (in my humble opinion) usually pretty bland/slightly bitter tempeh flavor.  And, with the additions of salty feta, some briny Kalamatas, and a tangy paprika yogurt sauce (for a vegan version, omit the cheese and sauce entirely or use a vegan-appropriate alternatives…), I knew that any bland tempeh-ish flavors would be hidden.
And, so, tempeh, you win again. I was surprised at the combination of flavors, textures, and ease of preparing these guys.  I even took the leftovers for lunch (double points.)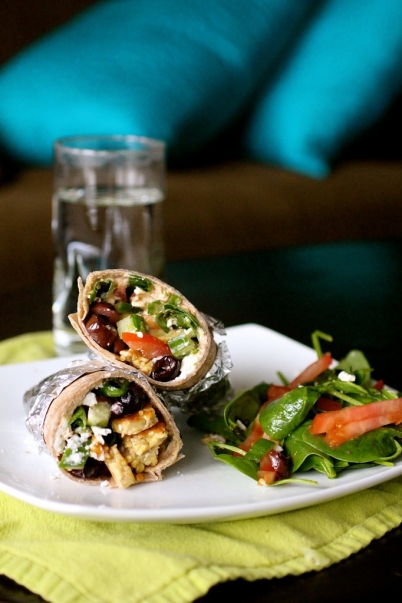 Greek Salad Tempeh Wraps
Servings:  enough for 4 small wraps
Ingredients
2 tablespoons extra-virgin olive oil, divided
One 8-ounce package tempeh, cut into 2 or 3-inch pieces (I ended up going with the soy-based, no particular reason why)
1 cup water
3 tablespoons fresh lemon juice, divided
2 tablespoons nonfat Greek yogurt
1 and 1/2 teaspoons dried oregano, divided
1 teaspoon freshly grated lemon zest
1/2 teaspoon paprika
1/4 teaspoon salt
1 clove garlic, minced
For the wraps: (adjust the amounts here to your own preferences)
Spinach, chopped  (I used about a cup here and found that this worked.)
Tomato, chopped
Cucumber, chopped
Feta cheese, crumbled
Kalamata olives, chopped
Whole wheat wraps or tortillas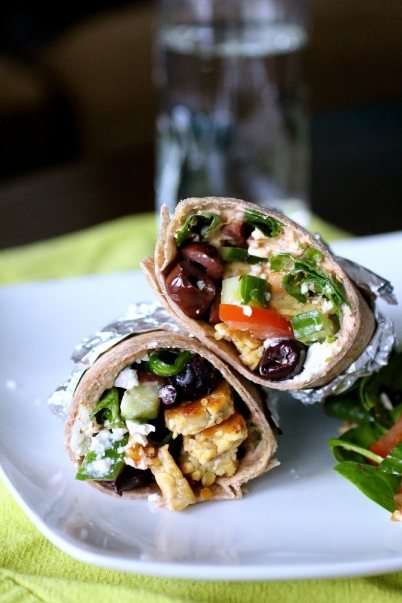 Instructions
1. In a skillet over medium-high heat, heat 1 tablespoon of the olive oil until shimmering.
2. Add the tempeh and cook, turning once, until lightly browned, about 4 minutes or so.
3. Add the water and 2 tablespoons of the lemon juice, stirring gently to thoroughly coat the tempeh pieces.
4. Decrease the heat to medium and simmer the tempeh, stirring occasionally, for about 10 minutes (or until most of the liquid has been absorbed).  Set aside but keep warm until you assemble the wraps.
5. Meanwhile, in a small bowl, whisk together the yogurt, 1/2 teaspoon oregano, the paprika, salt, and garlic.  Set aside.
6. In a medium bowl, combine the remaining 1 tablespoon of olive oil, 1 tablespoon of lemon juice, 1 teaspoon of oregano, and the spinach, mixing to coat the spinach thoroughly.
7.  To assemble the wraps:  Spread your desired amount of the yogurt blend onto each wrap.  Layer the remaining ingredients and roll up each wrap tightly.  Enjoy.
Source:  Slightly adapted from Cooking Light.