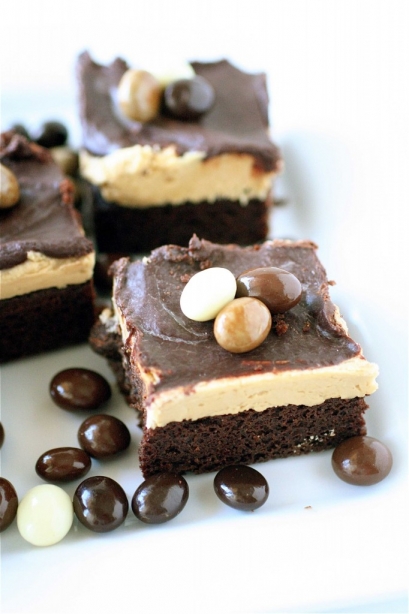 I know it's Pi Day.  I know.  But, I have a confession.  (I don't really like pie.) I'm a cake kind of girl.  Like, a big ole fat slice of rich chocolate cake with thick creamy frosting and maybe some sprinkles.  There.  I feel better now having gotten that out of my system.
I have another confession.  Are you ready?  I don't really care for coffee-flavored desserts all that much.  Now, a coffee drink to have WITH that big ole slice of chocolate cake?  Yep, I'm all for that.  But, not so much the coffee-flavored chocolates, ice creams, and cakes.  But, I'm working on this weakness (yes, I realize that it's a weakness.)
So, to *sort of* celebrate Pi Day (in my own, warped chocolate brownie way), I decided to run with some cappuccino-flavored brownies.  A three-layered brownie, that is.  A chewy and thick brownie with bittersweet chocolate chunks, a sweet espresso buttercream frosting, and a rich, chocolate ganache on top.  Topped with some chocolate-covered espresso beans (thanks to Jill who bought me those during a day-long shopping escapade….).  Ah, my opinion of coffee-flavored desserts may be changing (but I still need a nice serving of chocolate to go with it….)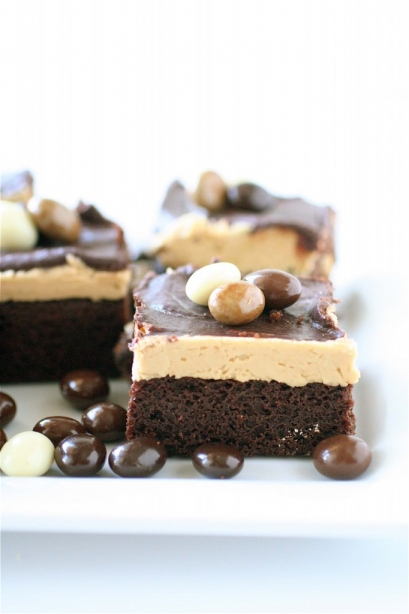 Triple Layer Cappuccino Brownies
Servings: One 8 x 8-inch pan of brownies
Ingredients
For the brownies:
1/2 cup (1 stick) unsalted butter
3 ounces unsweetened chocolate, in pieces
1 cup granulated sugar
2 eggs
1 teaspoon vanilla
2/3 cup all-purpose flour
1/4 teaspoon baking soda
2 ounces bittersweet chocolate chunks (or chips)
For the espresso buttercream:
1 teaspoon espresso powder (or instant coffee crystals)
1 tablespoon heavy cream
1 and 1/2 cups powdered sugar
2 tablespoons unsalted butter, at room temperature
For the chocolate ganache:
1 cup bittersweet chocolate chips
1/3 cup heavy cream
For garnish:
Chocolate-covered espresso beans, optional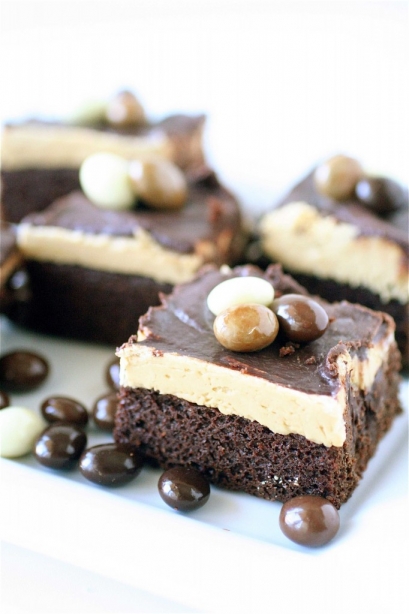 Instructions
1. For the brownies: Preheat the oven to 350 degrees.
2. Thoroughly coat an 8 x 8-inch baking pan with cooking spray.
3. In a large saucepan over low heat, melt the butter and the unsweetened chocolate until smooth, stirring frequently.
4. Remove the chocolate from the heat and let cool slightly.
5. Add the sugar, mixing well.
6. Add the eggs, one at a time, mixing well after each addition.
7. Add the vanilla.
8. In a separate small bowl, mix the flour and the baking soda.
9. Add the flour to the chocolate mixture and stir until just combined.
10. Add the bittersweet chocolate chunks to the batter and mix until combined.
11. Pour and evenly spread the batter into the pan and bake until a tester inserted into the center comes out clean, about 30 minutes. Let cool completely.
12. For the frosting: Dissolve the espresso powder (or coffee crystals) in the heavy cream.
13.  In the bowl of your standing mixer fitted with the paddle attachment (or using a hand mixer), beat the powdered sugar and the butter on medium speed until crumbly.
14. Reduce the mixer speed to low and add the coffee/cream mixture until smooth, adding more cream if necessary for your desired consistency.
15. Spread the frosting evenly over the cooled brownies.
16. For the chocolate ganache:  In a small saucepan, heat the cream and the chocolate chips over low heat, stirring frequently, until smooth and slightly thickened.  Let cool to room temperature before frosting (0r chill in the fridge until ready to use.)  Once smooth, frost the brownies with the chocolate ganache.  Top with chocolate-covered espresso beans, if using.

Source: Adapted from The Ultimate Cookie Book.