Discovering this recipe was a little like a Hallejuhah!  I had been craving tacos recently, but I didn't want to buy the "fake" ground beef for it. And I didn't want to do a simple bean taco, either.  When I initially saw this recipe, I was actually quite intrigued because the idea behind it is pretty awesome.  Take some canned black beans (ok, healthy enough).  Add some rolled oats (um, ok.  Extra fiber).  Add a little cornmeal for consistency (got it.)  And then add a whole bunch of spices, mash it all together, and then BAKE it.  Bake it so that it is crumbly, filling, and devoid of icky grease.  And believe me, it has enough flavor to it so that if you didn't want to add your own concoction of spices, it would still taste great (unlike some of those soy ground beef substitutes I have tried).
I tried the suggested red pepper and corn salsa to go with the tacos, but I added in some fresh tomatoes and extra flavors.  And, to keep it low-fat, don't feel like you have to fry the corn tortillas, either.  I sprayed a little cooking spray on mine, lightly toasted them in a frying pan, and then sprinkled a little flaky sea salt on top before assembling the tacos.  And, for leftovers, I made nachos with the bean mixture. Fantastic!  I also topped my tacos with Monterey Jack cheese, but you don't need the cheese if you are looking to make this a vegan recipe.
Is it Cinco de Mayo yet?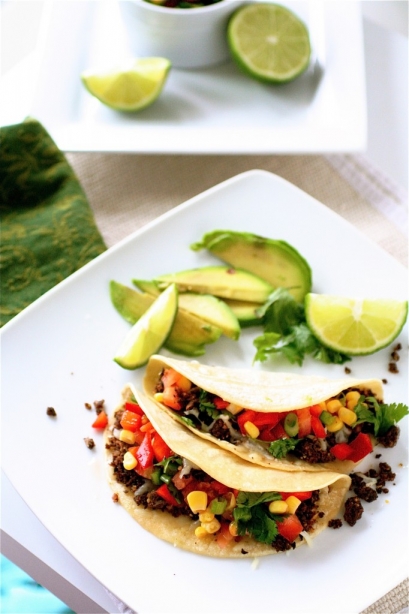 Black Bean Tacos with Red Pepper and Corn Salsa
Servings: 4
For the tacos:
3 cloves garlic, minced
2 15-ounce cans black beans, rinsed and drained
1/4 cup rolled oats
1/4 cup cornmeal
1 tablespoon chili powder
1 teaspoon salt, divided
1/2 teaspoon pepper, divided
8 corn tortillas (I used 6-inch)
For the salsa:
1 cup frozen corn, thawed
1 red bell pepper, seeded and chopped
1 jalepeno, seeded and chopped
1 medium tomato, chopped
3 scallions, chopped
Lime juice from two limes
1/4 cup cilantro, chopped
For the tacos:  cheese, sour cream, etc.
Instructions
1. For the tacos:  Preheat the oven to 400 degrees.
2. Generously spray a rimmed baking sheet with cooking spray; set aside.
3. Using your food processor, combine the garlic, beans, oats, cornmeal, chili powder, 3/4 teaspoon salt, and 1/4 teaspoon pepper, and process for about 1 minute, or until well-mixed.
4.  Crumble the bean mixture evenly over the baking sheet and lightly spray with cooking spray.
5. Bake for about 10-15 minutes.
6. After 10-15 minutes, lightly toss the beans to break up the crumbles more with a spatula.
7. Lightly spray the beans again with cooking spray and bake for another 10-15 minutes.
8. For the salsa:  Combine all of the ingredients in a large bowl, mixing well.  Cover until ready to use.
9.  For the tacos: Warm or lightly toast the tortillas as desired.  Fill each taco with a generous serving of the bean crumbles, followed by cheese (if using), and top with salsa.  Serve immediately.
Source:  Adapted from SELF magazine via Epicurious.
1