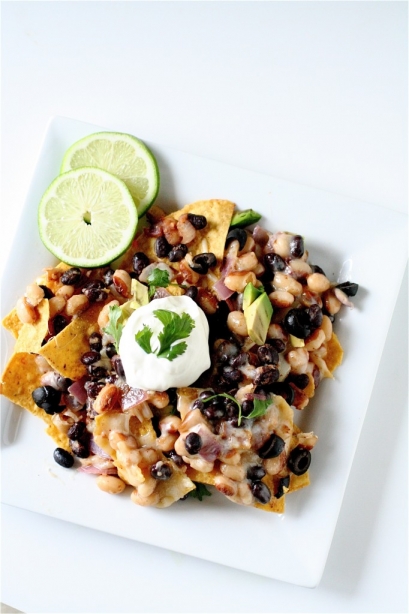 Cinco de Mayo is almost here.  But instead of doing something greasy and cheese-laden (although I will say I may have added a *teensy* bit more cheese to these bad boys than what was originally called for…oooppps….), I wanted to go with something that had a little more emphasis on protein.
Enter these nachos.
The original recipe calls for black-eyed peas, but, in a last minute decision at the market, I decided to run with these yellow-eyed beans instead (some people also refer to them as yellow-eyed peas).  I had never heard of them before but figured they would do.  I also decided to add in some black beans as well to up the protein content.  I DID buy the yellow-eyed beans dried, so I had to pre-cook them before baking the nachos (I soaked mine in water and boiled them-just cook them according to package directions.)
And, hellloooooooooo…love!  They turned out so well!  I even saved some and reheated them in the oven as leftovers the next day.  Next time I might add in some fresh tomatoes or salsa on top just to add a little more in the way of color, but overall the recipe is pretty amenable to whatever changes/substitutions you might prefer.
Yeah, they're still nachos and they may not be super food.  But, Cinco de Mayo comes once a year.  Now, where's my margarita?
Yellow-Eyed Bean Nachos
Servings: 4
Ingredients
1/2 tablespoon vegetable oil
1/2 cup onion, chopped
2 teaspoons garlic, chopped (about 2 cloves)
1 and 1/2 cups yellow-eyed beans, cooked according to package directions
One 15-ounce can black beans, drained and rinsed
1 teaspoon chili powder
Juice from one lime
Tortilla chips (I used about half of an 11-ounce bag)
8 ounces Monterey Jack cheese, shredded
One 2.25-ounce can sliced black olives, drained
1/4 cup fresh cilantro, roughly chopped
1 avocado, chopped
Sour cream, if desired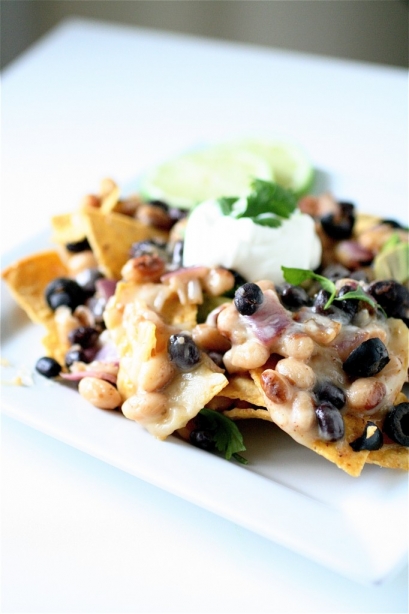 Instructions
1. Preheat the oven to 450 degrees.
2. In a sauté pan over medium heat, heat the vegetable oil until shimmering.
3. Add the chopped onion and cook, stirring occasionally, until softened, about 5 minutes.
4. Add the garlic and cook for another minute or so.
5. Add the beans, chili powder, and lime juice, mixing well.  Cook for additional 2-3 minutes.
6. Meanwhile, spread the tortilla chips evenly out onto a rimmed baking sheet.
7. Top the tortilla chips with the bean mixture and cheese.
8. Bake until the cheese is melted, about 8-10 minutes or so.
9. Top with black olives, cilantro, and chopped avocado.  Serve with sour cream, if desired.
Source: Adapted from Whole Foods.