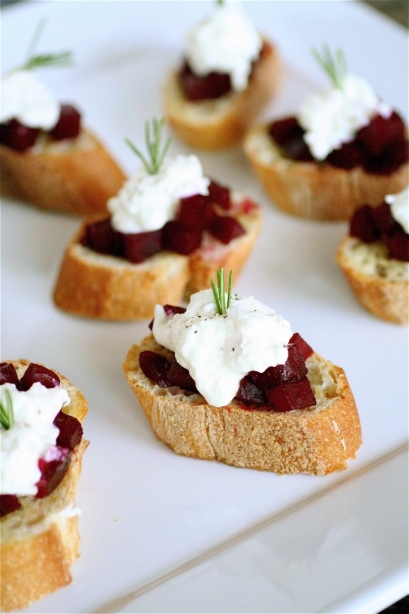 I haven't ever really tried cooking with beets.  Maybe it was the fear of pink-stained hands or a funky root vegetable taste that I wasn't sure if I would like.  I wasn't even sure of how to cook one.  I knew my mom liked them; I knew I had a friend back home who would bring a can opener to work and eat beets straight out of the can; I knew that they always looked so pretty with their deep fuschia hue, usually paired with the bright white contrast of some sort of cheese.
I saw this recipe in a recent issue of Food and Wine and immediately bookmarked it.  I've had the luxury of having access to fresh Burrata here in New England, and it has quickly become one of my favorite types of cheese.  Soft mozzarella with a creamy filling-I've been known to get a ball of it and eat it with some sea salt and crackers-in pure gustatory satisfaction.  It pretty much rules, people.
So, I figured I would try this one out, and if I didn't like the beets, then at least I could still eat the burrata on the French bread.  I wasn't disappointed.
The beets take on a tangy but sweet pickled flavor.  They are soft and slightly chewy in texture.  Combined with the contrast of the creaminess of the cheese and the slight crunchiness of the toasted bread, it's pretty much a match made in heaven.  I ate the leftovers (a sign of a success, in my book) as a small salad over some greens the following night since I had used all of the bread, so you could honestly just use this recipe as a nice salad topper if you are gluten-free or cutting back on carbs.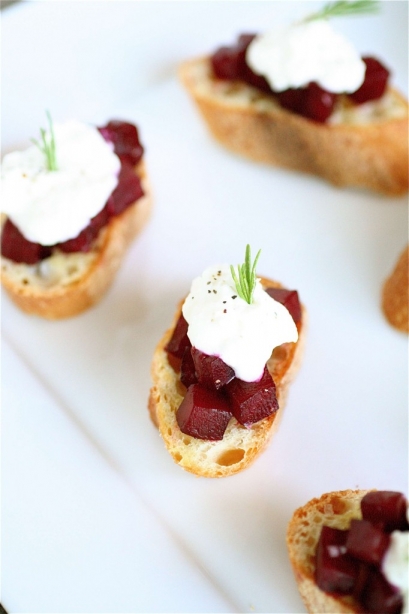 Glazed Beet and Burrata Toasts
Servings: 4 servings
Ingredients
3 beets (3/4 pound total)
4 sprigs of thyme
1 teaspoon black peppercorns
1 tablespoon red wine vinegar
1/2 cup sherry vinegar
2 tablespoons sugar
1 sprig of rosemary
Sea salt and pepper, to taste
One loaf of French bread (or bread of your choice), sliced diagonally, and lightly toasted
1/2 pound burrata cheese, cut into rough pieces
Fresh herbs, for garnish, optional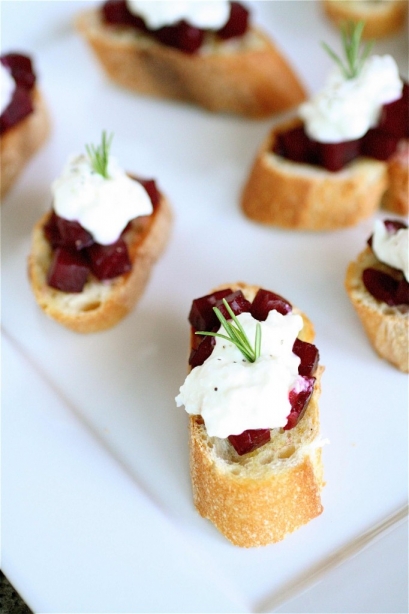 Instructions
1. In a large saucepan, cover the beets completely with cold water.
2. Add the thyme, black peppercorns, and red wine vinegar to the pot, and bring the mixture to a boil.
3. Simmer, partially covered, for about 45 minutes to an hour, or until the beets are soft, adding water if necessary.
4. Drain, and let the beets cool.  Once you are able to handle them, peel and cut them into a 1/4-inch dice.
5. Return the beets to the saucepan and add the sherry vinegar, sugar, rosemary, and 1/4 cup of water and bring to a boil.
6. Cook over medium-high heat until a thick glaze forms, about 12-15 minutes or so.  Season with salt to taste.  Discard the rosemary.
7. To assemble the toasts, place about a tablespoon of the beets onto each piece of bread.  Top with a piece of cheese and sprinkle with salt and pepper, and garnish with fresh herbs, if using.
Source:  Barely adapted from Food and Wine.