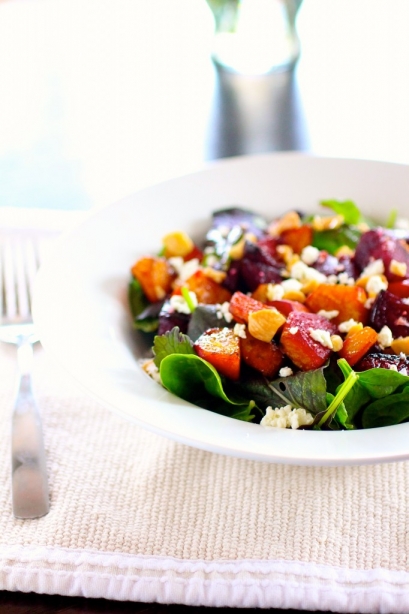 My vacuum cleaner broke today.  It happened when I was in one of those spontaneous "must clean everything" bursts of energy that come so rarely to me.  I could be sitting here, reading a nice book, when all of a sudden I feel the little prickly twinges of, dare I say, excitement?  To clean?  (Unless those prickly twinges are actually tiny little dust bunnies floating around…hey, living in a 2-bedroom apartment with three animals and my own head of hair which is rapidly shedding can produce insane quantities of dust.  It's gross.)
Regardless, I did laundry and actually put it away instead of folding it and then putting it back in the hamper because I'm too lazy to put it away in its proper place.  I dusted, including moving everything off my dresser and wiping the whole thing down instead of lightly dusting around things.  I wiped every nook and cranny of counter space with bleach.  I ran the dishwasher.  I swept the floor and made giant piles of dirt (including one lonely kibble of Scout's food…which she quickly discovered and ate before I could stop her).  And then it happened.  The vacuum sputtered and squealed and just….died.
Now, this vacuum has been with me for almost ten years now, I think.  It's moved across the country…to 5 different apartments/houses, and I'm sure it's been badly bruised in the process.  I did have to completely disassemble it last year (thank God for instructional YouTube videos) when a piece got clogged (don't ask), so I thought I could figure it out again.  But about a month ago, a little belt broke on it…and today it just gave up all hope for life.  It hadn't had the suction of a thousand tornadoes like it was supposed to anyways.  The old girl bit the dust…..literally.
After a stream of expletives, I just decided to go get a new one. Within a half hour, I was back home, assembling the latest and greatest vacuum (the suction of a million tornadoes, maybe?) with an obscene amount of Target gift cards that I had received as part a promotional deal for buying the vacuum (score).  The good news?  It works like a charm.  The bad news?  I realized how poorly of a job the previous one had been doing when I emptied the canister in the trash.  But now I feel all clean and dust-free.    It's nice.
On to the salad.  Beets.  Roasted beets.  I had never been a big fan of beets until about a year ago when I made this.  Recently, I was having brunch with a friend, and he decided to order a roasted beet salad for us to share.  I decided to make my own a few weeks later when I found myself having an odd craving for it.  I found this recipe and knew that a balsamic-maple reduction would be a perfect way to sweeten up the beets and serve as a salad dressing at the same time.  I used a combination of both golden and red beets here (use whatever you can get your hands on), chopped Marcona almonds (use whatever kind of nut you like…I think the original salad I had used toasted hazelnuts), and omit the cheese if you want a vegan version.  Serve the salad with the beets hot or cold (however you like it).  I liked mine a little warm.
They say (and by "they", I don't know who "they" are-it's just the collective "they" that everyone uses) that beets are really super good for you. Apparently they help your liver detoxify your blood better.  Which is good because I am on a mean cleaning streak right now.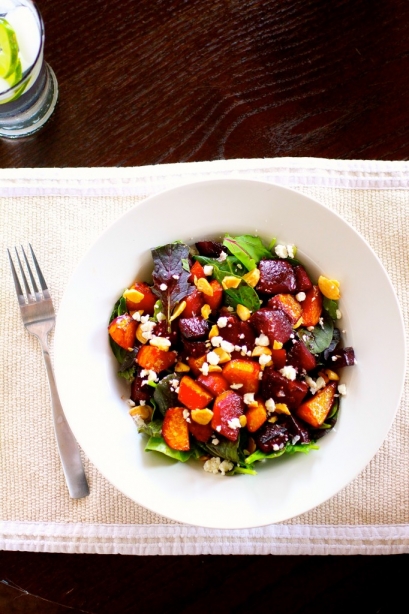 Roasted Balsamic Beet Salad
Servings: 4
Ingredients
For the beets:
About 3-4 pounds beets (I used two bunches-the beet sizes varied. I also used a mixture of red and golden beets here).
2 teaspoons salt
2 tablespoons extra-virgin olive oil
1/3 cup balsamic vinegar
1 tablespoon maple syrup
For the salad:
5-6 cups mixed greens (use whatever you like here)
1/2 cup chopped Marcona almonds
1/2 cup crumbled goat cheese
Flaky sea salt, to taste
Additional balsamic vinegar for drizzling over the salad, if desired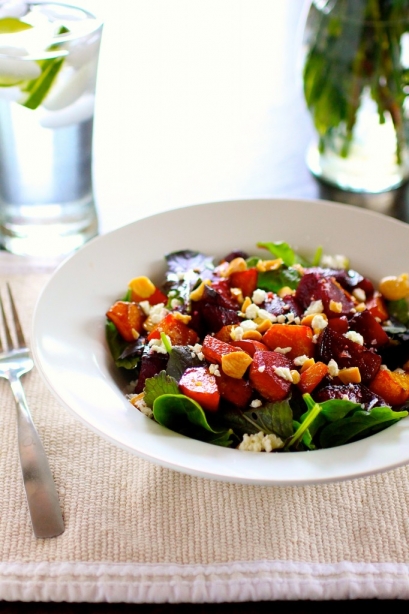 Instructions
1. For the beets:  Preheat the oven to 400 degrees and line a rimmed baking sheet with aluminum foil; set aside.
2. Peel the beets and chop them into 1-inch cubes.
3. In a medium bowl, toss the beets with the olive oil and salt.
4. Evenly spread the beets on the rimmed baking sheet and bake until the beets are softened and cooked through, about 30 minutes, flipping them over halfway through the baking time.  Let cool slightly before handling.
5. Meanwhile, in a small saucepan over medium-low heat, combine the balsamic vinegar and the maple syrup.  Cook the mixture over medium-low heat until it has thickened and has reduced to about half.  (It took mine about 5-6 minutes or so.) Remove the mixture from the heat and set aside.
6. Once the beets have cooled enough for you to touch them, transfer them to a bowl and lightly toss them with the balsamic vinegar/maple syrup mixture, until the beets are coated thoroughly.
7. For the salads:  Divide the salad greens evenly between your salad bowls.  Top each salad with a generous portion of the beets, sprinkling each salad with the almonds and goat cheese. Season with sea salt and drizzle with a little more balsamic vinegar, if desired.
Source:  Beets slightly adapted from Once Upon a Chef.