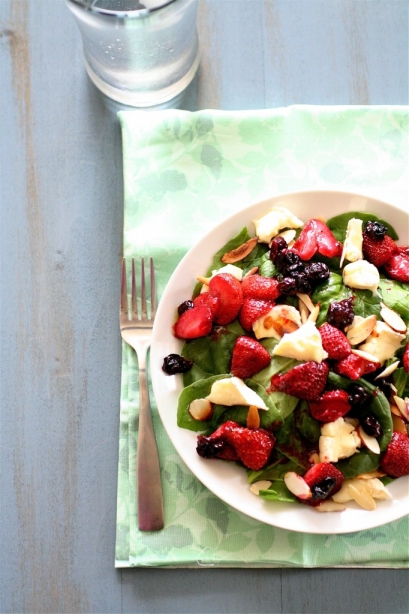 Have you ever roasted strawberries or blueberries?  If you have, you are a genius.  If you have not, let me introduce you to a new cooking secret that will make you wish you always have.  I had never tried this before (at least as far as I can remember), and let me tell you, this has to be one of the best ways to use up excess fruit.  Your kitchen will smell divine, you'll have little bits of sweetened warm berries on top of your salad (or bread or pancakes or whatever you want…), and you'll feel good about using up all that fruit before it went bad.
I found this recipe and knew immediately that I wanted to try it.  I had a lot of fresh baby spinach on hand, some strawberries that were about to go bad, and some blueberries I had gotten for my Greek yogurt.  I threw in some Brie, well, because….it's BRIE, and any salad is better with cheese.  But you could throw in any kind of cheese you want (or omit for a vegan-friendly version)-goat cheese would be very good as well.  And the sweet orange vinaigrette ties the whole thing together with a nice pretty, citrusy bow.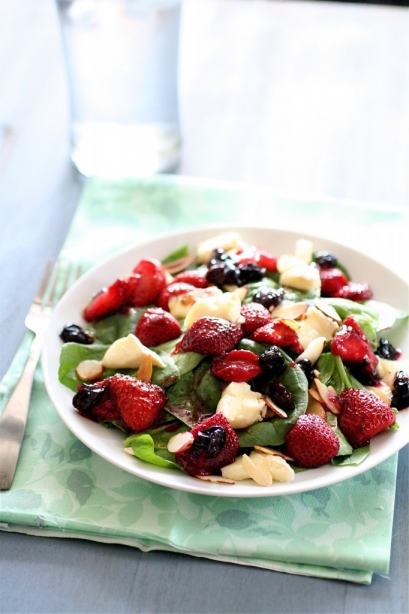 Roasted Berry and Brie Salad
Servings: enough for 2 large salads
Ingredients
For the roasted berries:
1 pound (or so) of strawberries, halved lengthwise
1/2 cup blueberries
4 tablespoons extra-virgin olive oil, divided
3 teaspoons sugar, divided
3/4 teaspoon sea salt, divided
Ground pepper, to taste
For the orange vinaigrette:
3 tablespoons red wine vinegar
1/8 cup orange juice
1/2 cup sliced almonds, toasted
4-5 cups fresh baby spinach
Brie, cut into bite-size pieces
Instructions
1. For the berries: Pre-heat the oven to 400 degrees.
2. Spread the strawberries and blueberries out evenly on a rimmed baking sheet.
3. Drizzle the berries with 1 tablespoon of the olive oil, 1 teaspoon of the sugar, 1/4 teaspoon sea salt, and ground pepper.
4. Gently toss the berries to coat completely and bake until softened and fragrant, about 10 minutes.  Set aside to cool.
5. For the vinaigrette: In a medium bowl, whisk together the red wine vinegar, orange juice, 2 teaspoons of sugar, 1/2 teaspoon salt, and ground pepper (to taste) until the sugar dissolves.
6. Slowly pour in the 3 remaining tablespoons of olive oil, whisking constantly, until emulsified.
7. To assemble the salads, place a handful or two of the baby spinach onto serving dishes, top with toasted almonds, roasted berries, Brie, and lightly drizzle with the vinaigrette.
Source:  Adapted from Williams-Sonoma.