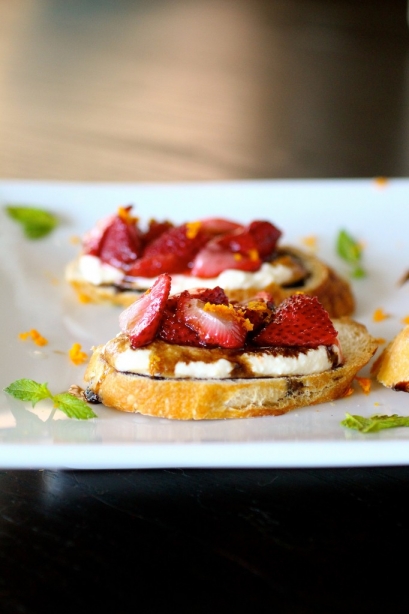 Here's a little slice of heaven.  Or several slices of heaven.
I bought some strawberries.  You know, the kind of strawberries that you can smell them before you see them-because they are so ripe and juicy and just beautiful.  I wasn't sure what to do with them, but in a moment of desperation because all of the chocolate in my apartment was gone (how'd that happen?), I decided to just go on the fly and come up with something on my own.
Enter the roasted strawberry.  Not a new concept (here's a great salad that uses them), but roasted strawberries are simply amazing.  The flavor changes into something out of this world, in my opinion.  And roasting them is super easy to do.  I had some leftover ricotta from another recipe I had made, but usually ricotta is one of those things that just sits in the fridge and goes bad.  So I decided to mix together some ricotta, honey, vanilla, and orange zest-just to see what happened.  What happened was me, standing in my kitchen, eating slice after slice of these little guys, perfectly content if the world ended in the next second..because this might be the best thing I've had in a while.  I reduced some balsamic vinegar to drizzle on top just for a little something extra.  In the end, I lost the toasted baguette and just ate the strawberries and ricotta out of the bowl while reading, so it truly was my version of heaven.
You can serve these up as a nice finger food for a summer party, but, honestly, these are great as a dessert.  My next addition to this recipe?  Getting my hands on some chocolate balsamic vinegar.
Thanks for visiting my happy place.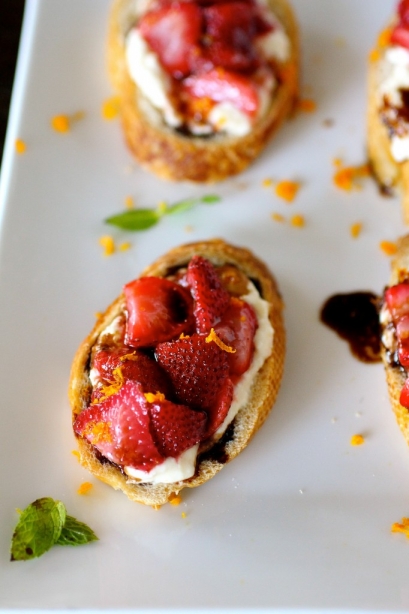 Roasted Strawberry and Ricotta Bruschetta
Servings: about 10 bruschetta
Ingredients
1 pound strawberries, cleaned, hulled, and halved lengthwise
1 tablespoon extra-virgin olive oil
1 teaspoon sugar
1/4 teaspoon flaky sea salt
1 cup ricotta (I used part-skim)
2 tablespoons honey
1 teaspoon vanilla
1/2 teaspoon orange zest (or more, depending on your own tastes), plus more for garnish
1/4 cup balsamic vinegar
1 baguette (I used a demi-baguette, so I wouldn't have leftovers), sliced into 1/4-inch thick slices and toasted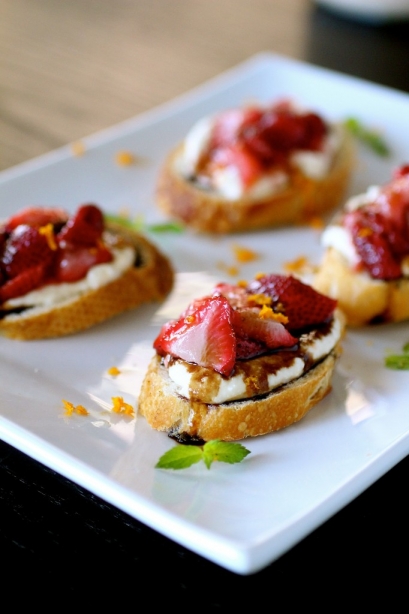 Instructions
1. For the strawberries: Preheat the oven to 400 degrees.
2. Line the strawberries in a single layer on a rimmed baking sheet lined with parchment paper.
3. Lightly drizzle the olive oil over the strawberries, gently tossing to thoroughly coat.
4. Sprinkle the sugar and salt evenly over the strawberries.
5. Roast the strawberries for about 10 minutes.  Remove from the oven and let cool.
6. For the ricotta mixture: In a medium bowl, combine the ricotta, honey, vanilla, and orange zest, mixing until combined.
7. For the balsamic reduction:  Place the balsamic vinegar in a small saucepan over medium heat.  Bring the vinegar to a boil, letting boil for about a minute or so.  Reduce the heat to low and simmer the vinegar until thickened and syrupy, about 3- 5 minutes or so (watch it closely-the cooking time will depend on the quality of the vinegar you use).  Remove from the heat and let sit until you are ready to use it.
8. To assemble:  Spread 1-2 teaspoons of the ricotta mixture over each crostini, top with strawberries, and drizzle with the balsamic vinegar. Garnish with orange zest, if using.  Serve immediately.
Source:  A Curvy Carrot original.