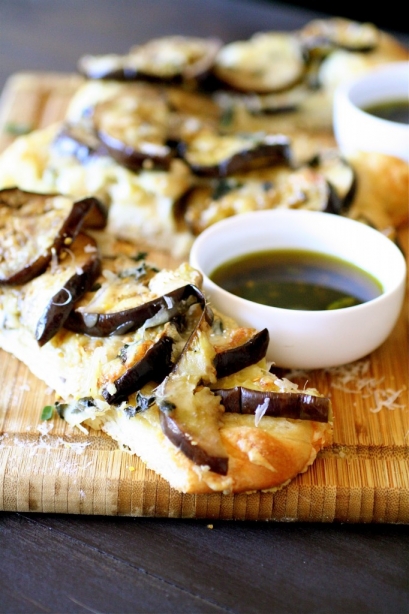 In the past, I haven't really been too big on product reviews, simply for the reason that I don't use that type of food or condiment in my cooking at all.  But olive oil?  Yep, I pretty much go through it like water.  I've drastically cut down on the amount of butter I use in my cooking (baking is still going to require the good stuff), and I have made a conscious attempt to switch over to more mono- and polyunsaturated fats (I recently learned that, at age 31, my cholesterol is a smidge high…which is simply unacceptable to me.)  So, more fiber. Less butter/cream/cheese. Increase in exercise.  I've actually noticed a difference in the mirror, which is great.
Anyways, back to the olive oil.  When the good people over at The Village Press contacted me to see if I would like a sample of their product to try (and review it, if I wanted to on this website-no commitment), I said, "why not?"  I've never really paid too much attention to the different types of olive oils in the store, but this one seemed like a little more sophisticated than the plastic bottled (and usually very cheap) version I buy.  It arrived a few days later (I recieved the Village Press Barnea Olive Bag 'n Box 1 liter), and I couldn't wait to try it out.
I decided to try an eggplant focaccia recipe, using the oil both in the recipe, as well as make an oregano dipping sauce to go with it.  I didn't want to lose the true flavor of the oil in the baking process.  So, first, I poured a little oil into a dipping bowl.  Thick, olive green, and heavy, but clear.  I tasted it: true heaven.  Almost buttery and velvety tasting.  Definite flavor.  Not the thin and pretty much flavorless oil I am used to.  It didn't need extra flavoring to be a good accompaniment to the focaccia, but since I had extra fresh herbs on hand, I went with it.
Looking at their website, there are a ton of other flavor varieties (orange and chili infused olive oil?  I can't even imagine how awesome that would be on grilled vegetables or even fish), as well as condiments (Dear Village Press, your harissa tapenade makes me drool every time I see the picture.)  They also have gift variety packs of different flavors for sampling.  And, on top of that, they have some pretty good recipes on their website (vegetarian and non-vegetarian).  You can order directly through their website, or, another source mentions that they are available for purchase in the US at Whole Foods (I completely spaced confirming this when I was there the other night).
As for me, this is like a little bit of liquid gold.  I'm trying to conserve the liter I have for special occasions, not for everyday cooking.  I'll stick to the cheap stuff for that, but for any kind of recipe that olive oil plays a pretty big role, like a viniagrette, for instance, this will be my new go-to.  Thanks to Rieni at The Village Press for introducing me (and hopefully a few of you out there) to a great product.
As for the focaccia, I'm not usually a big fan of eggplant (sidenote: if any of you out there have great eggplant recipes, please leave a comment.  I want to incorporate it more into my cooking, but I'm a little scared.)  Think of this focaccia like a super savory eggplant pizza.  I used my favorite homemade pizza dough recipe here, but you can use store-bought if you are short on time.  It was like a meal on its own, but I served it alongside a phenomenal pasta recipe (soon to follow).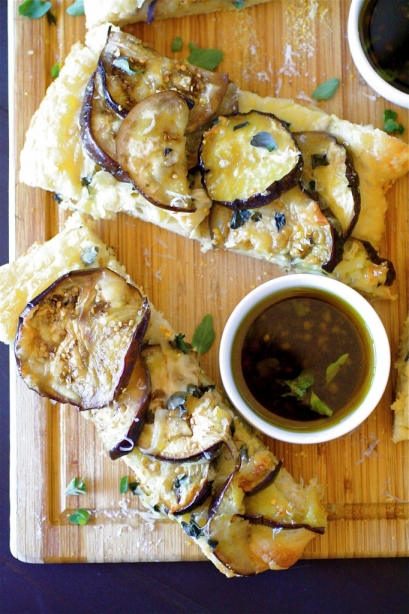 Eggplant Focaccia and The Village Press Dipping Sauce
Servings: about 4
For the focaccia:
1 medium eggplant, sliced into 1/4-inch slices
1 and 1/2 teaspoons salt
1 pound pizza dough **I used this super easy version of my favorite recipe.  I always keep some frozen in my fridge to keep on hand. Store-bought is fine, too.
2 tablespoons cornmeal
6 tablespoons extra-virgin olive oil
1 cup Emmentaler (or swiss or Gruyere) cheese, shredded
Fresh oregano, for garnish
For the dipping sauce:
1/2 cup extra-virgin olive oil
1 tablespoon garlic, minced
2 tablespoons balsamic vinegar
1-2 tablespoons fresh Parmesan cheese, to taste
1-2 tablespoons fresh oregano leaves, coarsely chopped, to taste
Sea salt and pepper, to taste
Instructions
1. For the focaccia:  In a large colander, toss together the sliced eggplant and the 1 and 1/2 teaspoons salt; let sit at room temperature for about 30 minutes.
2. Meanwhile, place a rimmed baking sheet in your oven and preheat it to 400 degrees.
3. Once the eggplant and salt have been at room temperature for 30 minutes, transfer the eggplant onto a thick, clean towel (or paper towel) and lay out in a single layer.  Cover the eggplant with another towel and lightly press to remove excess moisture.  Let sit while you prepare the rest of the ingredients.
4. On a clean and flat surface, carefully roll out your pizza dough to about 1/2″-thickness.
5. Lightly sprinkle the cornmeal over the surface of another rimmed baking sheet or flat, wooden board. **The purpose of this is to make sure that the dough doesn't stick to the baking sheet/board.  Use more cornmeal if this seems like that will happen.
6. Transfer the dough onto the baking sheet/board.
7. Lightly brush the surface of the dough with 3 tablespoons of the olive oil.
8. Sprinkle 1/2 cup of the shredded cheese over the olive oil in an even layer.
9.  Layer the eggplant (in a single layer, if you can-a little overlap is fine) over the cheese and drizzle the eggplant with the remaining 3 tablespoons of olive oil.
10. Sprinkle with fresh oregano, if using, and the remaining 1/2 cup of shredded cheese.  Let sit at room temperature for about 30 minutes.
11. VERY carefully, slide the dough onto the hot baking sheet and bake until lightly crisped and golden, about 20 minutes.
12. For the dipping sauce: Lightly whisk all the ingredients together and let sit at room temperature until ready to serve.  I had leftovers, so I just keep it in an air-tight container at room temperature and use it when I need to.
Source:  Focaccia from Martha Stewart, dipping sauce is a Curvy Carrot original.