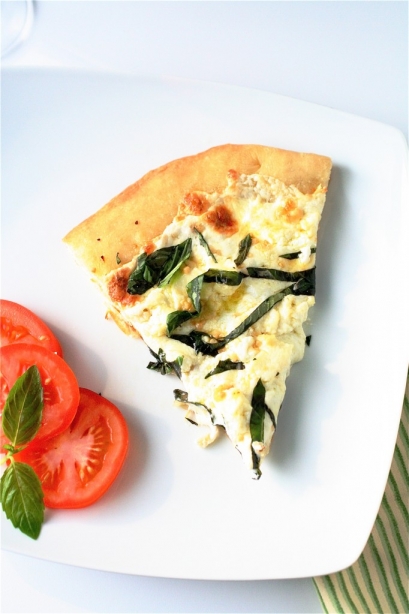 This will most likely be a long post.  I won't be offended if you skip all the writing.
But, The Curvy Carrot (my extracurricular baby) has just turned one.
I cannot believe that I started this blog one year ago.  I had just gotten back from the Food and Light Workshop in Boulder, Colorado with Annie.  I had been tossing the idea around in my head for a long time.  There I was, the ONLY participant at the workshop with these super talented and ingenious photographers/chefs/bloggers…and when I introduced myself, I was totally embarrassed to admit: "I don't have a blog….yet."  Suffice it to say, I think I have come a long way in a year, but I know I have so much more to learn.
A year ago, I was living with my parents, in the middle of a very intense period of my life:  finishing up residency, going through a divorce from a very unhealthy relationship, trying to sell a home in a super horrible market, but I simply decided to lay it all out there and start doing what I wanted to do.  No more limitations, no more disappointments, no more sacrificing what I wanted for anyone else. And what I wanted to do was channel my energy into something that would inspire me, lift me up, challenge me, and allow me to grow as a novice cook and blogger.  I was told so many times that I didn't know how to cook, I couldn't scramble an egg the right way, that my way was always the wrong way, that I chopped an onion wrong…just to name a few.  No more.  I wasn't listening to or believing that anymore.  Instead, I was going to start listening to that faint voice in my head that was echoed by one of my dearest friends very loudly (Annie, of course) who told me that I could do it.  Even if no one ever read this little blog….it was mine.  All mine.  And the pictures? All mine.  And the food? All made and tasted by me…and yes, I can cook.
I've reached several goals in a year.  I've posted every other day religiously, tried new foods, challenged my lack of creativeness, made both Foodgawker and Tastespotting (originally I was so intimidated to even submit anything!), made lots of new and amazing friends through the blogging world (you are the best-I know I don't return comments as frequently as I should, but I will try to be better, I promise!), figured out the do's and (definitely) do not's of the blogging world (but I am still learning, of course), and, all along the way, I am celebrating the power that lies within the ability to just stop saying why you can't do something….and suddenly figuring out that you most certainly can.
So, a year later, I am in a (very) tiny and (very) hot little one-bedroom basically studio apartment with two cats and one very tired doggy (who loves her new friends at "camp" everyday) with an oven that only fits one baking sheet at a time and an excruciatingly long pre-heat time.  I have really no counter space, and although I have overhead skylights, the harsh direct sunlight is very difficult to work with.  I'll be experimenting with diffusers, white boards, and props.  I'll be trying to branch out of my macro lens dependence.  I'm dedicated to making better (and hopefully healthier!) food and taking better (natural light) photos (but I am still going to throw indulgences in there every so often, you know).  Bear with me.  I'm planning a very fantastic upgrade to the website within the next few months to make it easier to navigate and more "professional" looking.  And as far as I am concerned, I am just getting started.
To celebrate my "blog anniversary", so to speak, I am putting links to ten of my most personal favorite posts over the past year.  My, what a fun ride it has been!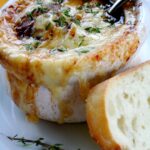 Henri's French Onion Soup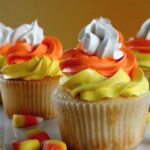 Candy Corn Cupcakes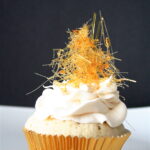 Champagne Cupcakes with Champagne Buttercream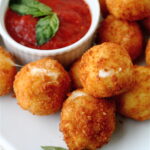 Fried Bocconcini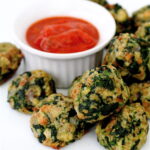 Savory Spinach Bites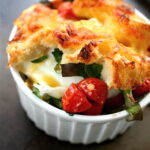 Deconstructed Egg and Cheese Sandwiches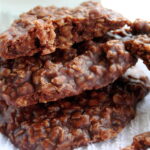 Chocolate No-Bake Cookies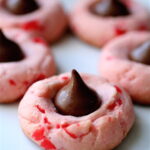 Cherry Chocolate Kisses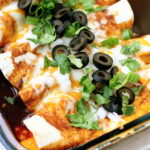 Cheese Enchiladas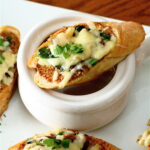 French Onion Soup Crostini
So, now, let's talk about this pizza.  I have made pizza dough before, but this particular pizza dough recipe is my favorite so far, thanks to Annie.  I followed both her tutorial (please visit her website for detailed instructions and photos) and recipe to a tee, and I couldn't have been happier.  Now I have pizza dough (it reminds me of Pizza Hut's Pan Pizza) in my freezer, waiting to be thawed and made into some great weeknight pizzas over the coming weeks…and seriously, what offers more creative liberty than making your own pizza?  And what makes better leftovers than pizza?
I have always been a fan of white pizzas, and with all these great options for cheeses out here,  I knew I couldn't go wrong with a four cheese pizza..with my favorite herb: basil.  The cheese choices could be easily substituted with your own favorites, but I personally loved the combination of both the softer ricotta and goat cheeses with the mozzarella and Parmesans.  I put a little red pepper flakes on mine and sprinkled a teensy bit of flaked sea salt on top.  SO GOOD!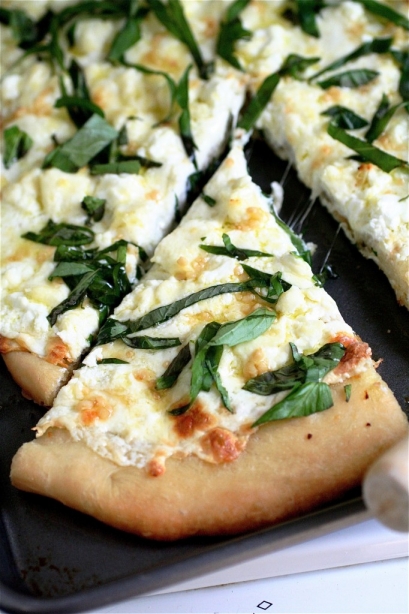 Four Cheese White Pizza
Servings: 1 pizza, approximately 6-8 slices
Ingredients
For the dough:***This recipe makes enough for two pizzas.
1/2 cup warm water
2 and 1/4 teaspoon (or one packet) of instant yeast
4 cups (22 ounces) bread flour, plus more for rolling out your dough
1 and 1/2 teaspoons salt
1 and 1/4 cup water, at room temperature
2 tablespoons olive oil
For the pizza:
3 tablespoons olive oil, plus more for brushing the pan
3 teaspoons garlic, chopped (about 3 cloves)
8 ounces (1/2 pound) fresh mozzarella, sliced and coarsely chopped
3 ounces fresh goat cheese, crumbled
1/2 cup part-skim ricotta
1/4 cup Parmesan cheese, grated
3 tablespoons thinly sliced fresh basil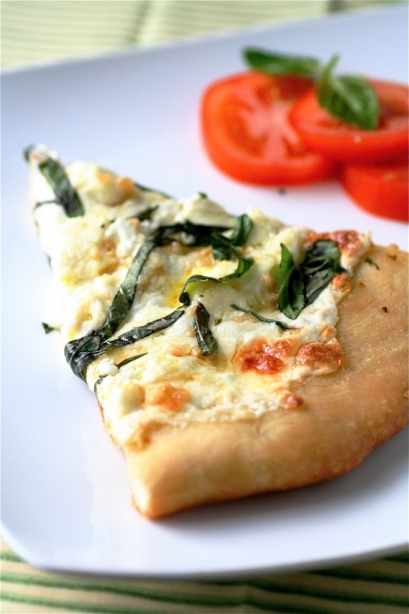 Instructions
1. For the dough:  In a 2-cup measuring cup, add your 1/2 cup of warm water.
2. Add the yeast to the warm water mixture and let sit at room temperature until the mixture is bubbly and creamy, about 5 minutes.
3. In the bowl of your standing mixer fitted with the paddle attachment, combine the flour and salt.
4. Add the 1 and 1/4 cup of room temperature water to the water/yeast mixture.
5. With the mixer running at low speed, slowly pour the water/yeast mixture and olive oil into the bread/salt mixture, and mix until the dough forms a cohesive mass.
6.  Switch to the dough hook and continue to knead the dough at low speed until elastic and soft, about 5 minutes.
7. Transfer to an oiled bowl (I used cooking spray), cover with a tea cloth or plastic wrap, and let rise until doubled in size, about 2 hours.
8. Once risen, punch down the dough to deflate it and transfer to a clean, lightly floured flat work surface.
9. Divide the dough into two equal portions. If you are freezing one portion of dough, tightly wrap it in plastic wrap and place in a freezer bag.  If using the dough immediately, let it rest for at least 10 minutes at room temperature (but no more than 30 minutes).
10. For the pizza: Preheat the oven to 450 degrees.
11. Brush a rimmed baking sheet with olive oil and set aside.
12. In a small bowl, combine two tablespoons of olive oil with the garlic, set aside.
13.  On a clean and lightly floured flat work surface, roll out the dough to your desired shape.  **Due to the shape of my baking pan and my lack of a pizza stone, I opted for a rectangle.
14. Transfer the dough to the baking sheet and brush lightly with your prepared olive oil/garlic mixture.
15. Layer the mozzarella and goat cheeses, making sure to leave at least a 1/2-inch border of exposed crust.
16. Crumble the ricotta cheese over the pizza, followed by the Parmesan cheese.
17. Bake the pizza until the cheese is melted and the crust is golden brown, about 18 minutes or so.
18. Once out of the oven, lightly drizzle the pizza with the remaining olive oil/garlic mixture.
19.  Sprinkle the pizza with the fresh basil, and serve immediately.

Sources:  Pizza dough directly from Annie's Eats, originally adapted from Baking Illustrated.  Pizza adapted from Bon Appétit, via Epicurious.