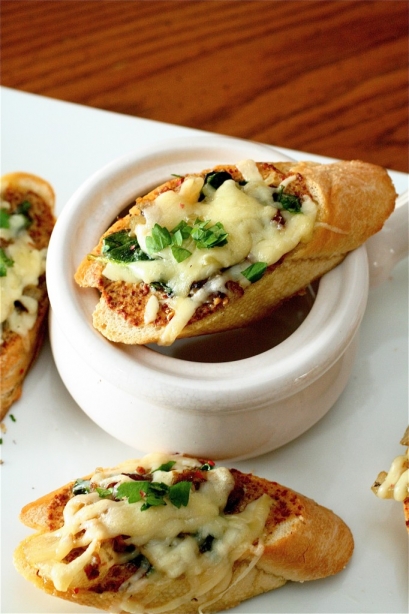 I love French onion soup, and, judging by the popularity of one of my earliest posts on a vegetarian version of the soup, so do you.
What's better than the mix of savory, earthy broth with the sweetness of those wonderfully caramelized onions?  And, of course, let's definitely not forget the melted cheese on top.  The soup version, though, does take a good deal of time to prepare (meanwhile making your entire kitchen smell like heaven…), so I have been looking for something that had all the flavor of French onion soup without all of the fuss.
Ladies and gentlemen, let me introduce you to these little French Onion Soup Crostinis.  Now, I know the name sounds weird, I will admit.  But I am calling them that because they TRULY do have all the flavor of the original soup.  I think that these would make an incredible appetizer for a more fancy get-together, or you could even pair them with the original soup.  All I know is that I made 12 of them, and I couldn't stop eating them.  They are great to reheat in the oven as well.  At first glance, the mix of ingredients may sound  little strange, but I beg you to give them a chance.  You might be surprised…..
French Onion Soup Crostinis
Servings:  approximately 12 individual crostinis
Ingredients
1 French baguette (preferably as fresh as possible), cut on the diagonal about 3/4-inch thick or so
2 tablespoons olive oil
1 large yellow onion, thinly sliced
2 large shallots, thinly sliced
2 teaspoons garlic, minced (about 2 cloves)
2 cups fresh spinach
1/2 teaspoon dried thyme
Salt and pepper, to taste
2-3 tablespoons stone ground mustard (the stronger the better, in my opinion)
2 cups Gruyère cheese, grated
Instructions
1. Preheat the oven to 425 degrees.
2.  In a large sauté pan over medium-high heat, heat the oil until shimmering.
3.  Once the oil is hot, add the shallots and onions.  Do not stir for about 3 minutes or so (you want them to start browning a little.)
4.  Cook the onions for another 10 minutes or so, stirring occasionally.
5. Add the garlic and cook for another 5-10 minutes, or until onions are well browned and caramelized.
6.  Add the thyme, salt, and pepper, mix well.
7.  Remove the onion mixture from the pan and place in a separate heatproof bowl.
8.  Return the pan to the heat and add the spinach, mixing well until wilted (about 1-2 minutes).  Remove the pan from the heat and set aside.
8. Spread your desired amount of mustard over each piece of bread and place each piece on a baking sheet.
9. Top each slice of bread with a few pieces of wilted spinach, onion mixture, and top with grated cheese.
10. Bake the crostinis for about 10 minutes, or until the cheese is completely melted.
Enjoy!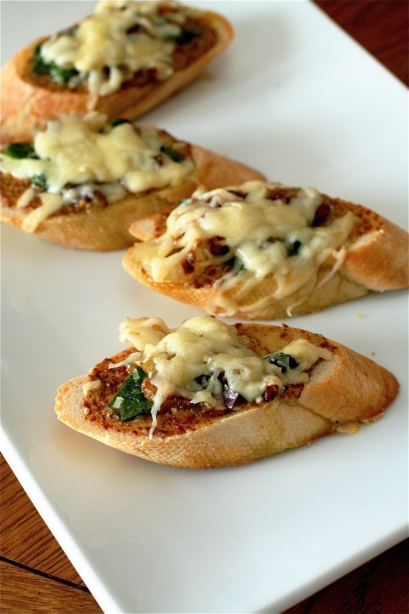 Adapted from Whole Food Market.