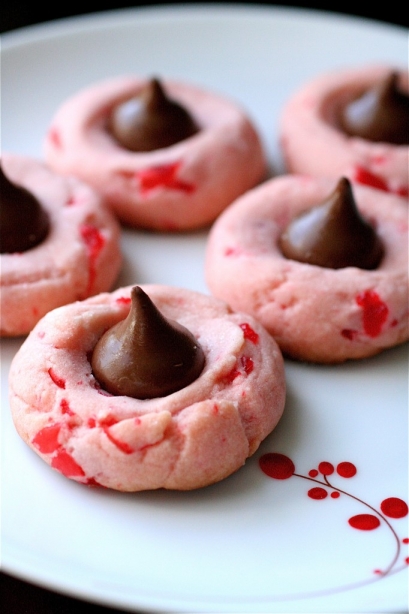 I love chocolate.  I love cherries.  I love chocolate and cherry combinations.
So it's about time that I shared a chocolate/cherry combination in cookie form that I came across recently.  Now, I realize I just posted a cookie recipe the other day.  I had planned to post this about a week and a half from now (you know, to spread the cookie love out a little), but, I'm starting to get the mentality of "why not?"  Why not post these super cute cherry shortbread thumbprint cookies for you if I can?  Because life is too short to go without the things in life that make you happy, that's why.  Now, bring on the cherry chocolate kisses!
These little cookies are really too simple to mix together-it's a basic shortbread recipe with a little added boost of chopped maraschino cherries in the batter with some almond extract.  I think the addition of mini chocolate chips to the shortbread might be on the list for next time, and I might up the cherry bits as well.  Since these are shortbread cookies, they are not in-your-face too sweet (the chocolate kiss on top helps with that)-but they definitely are a nice sweet treat to have on hand.
********Just as an FYI, these are a shortbread based cookie. They are not a typically sweet cookie. These are not like the traditional peanut butter-based version.  If you are looking for a sweet cookie, please consider increasing the amount of sugar. Some readers have commented that these are  bland-I would recommend adding more vanilla flavor or cherry  juice. Also, making sure that you use exact measurements is extremely important here.  Please note that this recipe was taken directly from the source listed below.
Cherry Chocolate Kisses
Servings: approximately 36 cookies
Ingredients
1 cup unsalted butter, softened, but still cool*****very important!
1 cup powdered sugar
1/8 teaspoon salt
2 teaspoons maraschino cherry "juice"
1/4 teaspoon almond extract
2 and 1/4 cups all-purpose flour
1/2 cup maraschino cherries, chopped
Granulated sugar, for sprinkling the cookies
36 milk chocolate kisses, unwrapped
Instructions
1. Preheat the oven to 325 degrees.
2. In the bowl of your standing mixer fitted with the paddle attachment, beat the butter at medium speed until creamy, about 1 minute.
3. Reduce the speed to the lowest setting and slowly add the powdered sugar and salt.
4. Add the cherry juice and the almond extract until combined.
5. With the mixer still on low, slowly add the flour, scraping down the sides of the bowl as needed.
6. Increase the mixer speed to medium and add the cherries.
7. Shape the dough into 1-inch balls, and place the balls on a baking sheet, approximately 2 inches apart.
8.  Using your thumb, gently press each cookie in its center until the cookie is about 1/2-inch thick.
9.  Sprinkle each cookie with a little granulated sugar.
10.  Bake the cookies until the bottoms are lightly browned, about 14 minutes.
11. Once removed from the oven, immediately press a chocolate kiss into each cookie's center.
12.  Transfer the cookies to a wire rack to cool completely.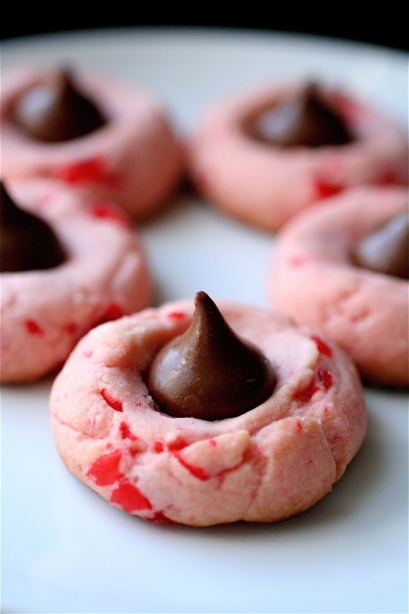 Source: directly from The Ultimate Cookie Book.