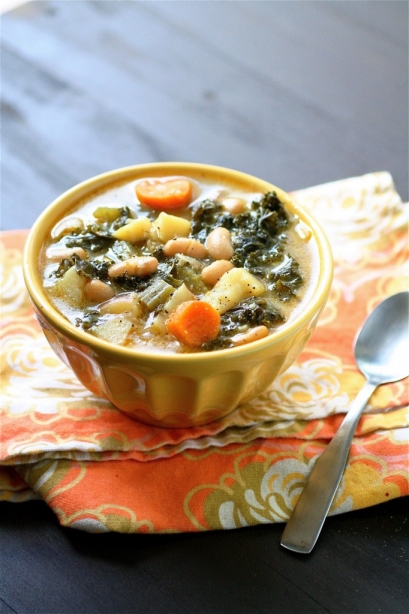 This soup, well, it's my soul food.  It's my favorite soup to make on a rainy night.  Or snowy afternoon.  Or really, just about any time.  There are freezer bags of it in my freezer.  I usually make it in bulk.  And each time I have made it, I have changed the ingredients around and tried to make it healthier each time.  It's a pretty forgiving soup: you can put whatever you want in it, and I still think it's incredible.
Originally, I had tried to recreate the infamous soup at Olive Garden: the Zuppa Toscana.  (a little hard to do without sausage and all that jazz). I cooked some veggie sausage and popped it in once-it was all right, but even better without it (at least I thought so).  I used a ton of cream and made it really heavy that time.  Ever since, I have been steadily decreasing the amount of heavy cream I add in, gradually decreasing it to only 1/4 cup for the whole batch.  (To keep this vegan-friendly, just omit the cream. I love it both ways, but I admit I like the added richness to the soup with the cream.)
It's cheap to make.  It's über healthy.  It has healthy dose of fiber from all those white beans.  And this incredible, buttery, almost velvety texture that is just as good after freezing.  And it's absolutely perfect for a cozy fall afternoon.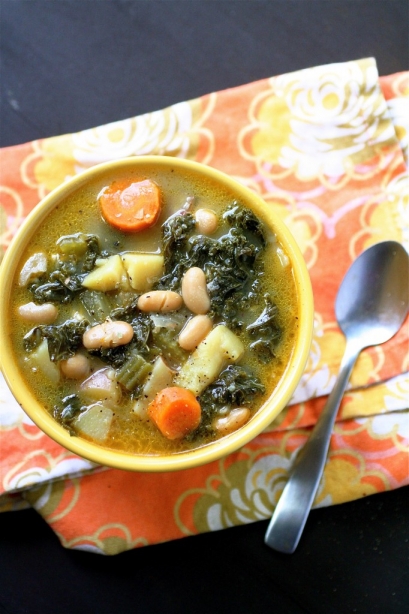 White Bean and Kale Soup
Servings: about 8
Ingredients
1-2 teaspoons extra-virgin olive oil
3 stalks celery, chopped
1/2 cup carrots, chopped (about 1-2 medium carrots)
1 medium yellow onion, chopped
2 cloves garlic, minced
4 cups water
4 cups vegetable broth
5-6 red potatoes, chopped (I leave the skins on!)
Two 15-ounce cans cannellini beans (white kidney beans), or 5 cups fresh cooked beans
One large bunch kale (any type-I've used all kinds, but I like lacinato for this), deveined and torn into pieces
1/4 cup heavy cream, optional
Salt and pepper, to taste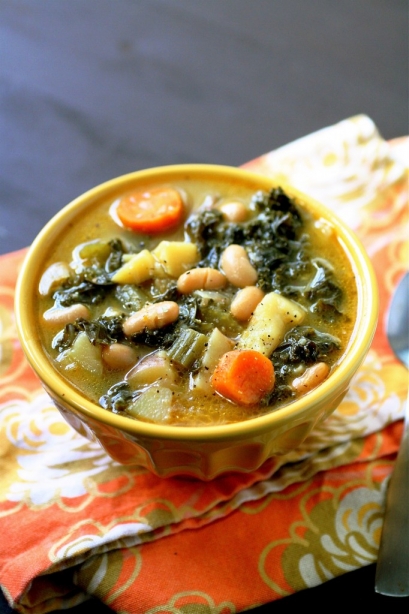 Instructions
1. In a sauté pan over medium heat, heat the olive oil until shimmering.
2. Add the celery, carrots, and onion, and cook, until the onions are softened, about 4-5 minutes or so.
3. Add the garlic and cook, stirring constantly, for another minute or so.  Remove from heat and set aside.
4. Meanwhile, in a large saucepot over medium-high heat, bring the water and the vegetable broth to a boil.
5. Add the cooked vegetables and the potatoes to the boiling water/broth mixture.  Reduce the heat to medium-low and let simmer for about 20-30 minutes (or until the potatoes are cooked through).
6. Add the beans, kale, and the cream (if using) and cook, stirring frequently, until completely heated through and the kale is wilted, about 10-15 minutes.  Season with salt and pepper to taste.
Source:  A Curvy Carrot original.