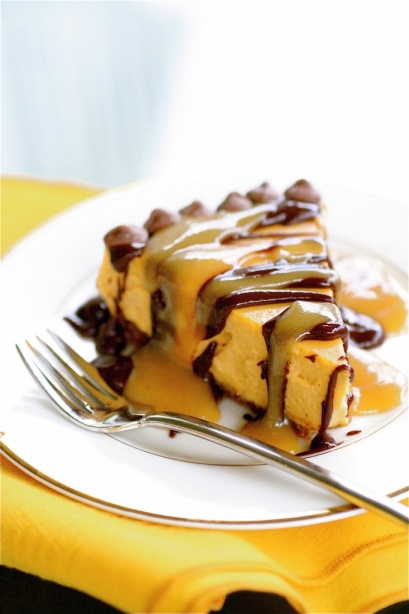 Pretty long title, huh?  Well, there's a lot going on in this post.
First things first:  I turned 32 years old last week. It was a birthday extravaganza, needless to say.  I had a lot to celebrate this year:  three moves (one cross country, one involving a truckload of boxes of my belongings taking up a parking space temporarily in my parents' garage for almost three weeks, and one involving a brand new (amazing) condo in a brand new city.)  A new job (my ultimate dream job) which symbolized the end of nine years of pretty intense post-graduate education and the fact that I am supposed to now become a grown-up.  I've had my heart broken (at least twice, so at least I know it still works), but I've also filled my heart with many new friends and memories in the past year that make up the difference.  All in all, it's been a pretty good year.
Which is why I am posting a butterscotch cheesecake (sadly, as I type this, I am beginning my first phase of P90X training, so desserts like these are off limits for a few months).  Don't be intimidated by this cheesecake.  It's not hard to make at all-in fact, I was a little astonished by how simple it was since I haven't made a cheesecake in a really long time.  And, of course, you can omit the butterscotch sauce and chocolate ganache, too, but really, these are both so quick and easy to make, that it would be a shame if you didn't.  Butterscotch is one of my very favorite flavors in the whole entire world, and in cheesecake form?  Well, let's just say it's a smidge like Heaven on a plate.
Perhaps one of the best things about this post (besides that sinful cheesecake) is the Millstone Coffee Giveaway that I am hosting with it.  Millstone contacted me about a month or so back and asked if I would be interested in hosting a giveaway to support their Experience the Bean to Cup Journey. It's new feature on their website that shows you what happens in the coffee making process (obviously from bean to cup)-it's actually pretty cool.  I'm not a huge fan of giveaways on food blogs (I'm also not a huge fan of how many food bloggers entice people to submit double entries-I would much rather you come to my site for the food/photos/writing/like me on Facebook/find me on Pinterest/Flickr/Twitter because you have a genuine interest in the content-not because you can win a cookbook. There.  I said it.)  So, no worries.  Everyone gets a single shot at winning.  Maybe it's because I'm a libra and think that everyone should be equal.
Off the soap box now.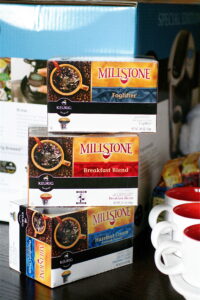 Regardless, this giveaway from Millstone is pretty impressive.  You shall receive: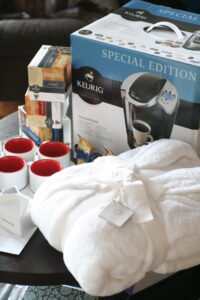 Millstone Coffee Bean to Cup Tasting Kit (ARV $250):
·         Millstone K-Cup Portion Packs
·         Millstone Pre-Pack Samples
·         Keurig Elite Brewing System (did you see this???  A coffee maker-mine is going in my office at work tomorrow.)
·         Crate and Barrel Coffee Mugs with Tray
·         Crate and Barrel Embossed Cream and Sugar Containers
·         Luxury Bathrobe (p.s.  THIS BATHROBE IS FROM POTTERY BARN AND I HAVE BEEN LIVING IN MINE FOR THE PAST TWO DAYS.  Best. Bathrobe. Ever.)

·         $25 gift card to redeem for magazine subscriptions of your choice
This is an insanely awesome giveaway-no lie.  The bathrobe alone is worth leaving a comment here.
So here's how you can win:  Simply leave a comment here on this post, telling me how you like your coffee.  If you don't like coffee, tell me how you like your tea.  If you don't do coffee/tea, just tell me what your favorite drink is.  I'll be leaving this post up all week and will officially close entries at 11:59 pm on Friday, November 2 (CST).
And now, for the cheesecake.

Butterscotch Cheesecake
Servings: 1 cheesecake
Ingredients
For the cheesecake:
For the crust:
1 cup graham cracker crumbs (I used one sleeve of crackers, about 8 big ones and used my food processor to grind them-make sure you break them up a bit before putting them in the food processor-this helps a lot.)
2 tablespoons flour
2 tablespoons sugar
4 tablespoons (1/2 a stick) unsalted butter, melted
For the filling:
12 ounces butterscotch chips (I used one whole bag of Toll House butterscotch chips-wasn't exactly 12 ounces,but it worked.)
1/4 cup heavy cream
16 ounces (two 8-ounce bricks) cream cheese, at room temperature
1/2 cup light brown sugar, packed
4 large eggs, at room temperature
1 cup sour cream, at room temperature
2 tablespoons flour
1 tablespoon vanilla
For the butterscotch sauce:
4 tablespoons unsalted butter
1/2 cup light brown sugar
1/2 cup heavy cream
1/2 teaspoon (or so, to taste) flaky sea salt
1 and 1/2 teaspoons vanilla (you can add more, to taste)
For the ganache:
4 ounces bittersweet chocolate chips
1/2 cup heavy cream
1 tablespoon unsalted butter, at room temperature

Instructions
1. For the cheesecake:  Preheat the oven to 325 degrees.
2. Lightly butter or spray a springform pan; set aside.
3. For the crust: In the bowl of your food processor, process the graham crackers until they are crumbled.  Add the flour and sugar and pulse until combined.
4. With the food processor running, slowly pour the melted butter down the feed tube and process until the mixture resembles coarse sand.
5. Using the back of a spoon or your fingers, gently press the crust into the prepared pan, allowing the crust to come up along the sides, about one-quarter of the height of the pan.
6. Bake the crust for about 15 minutes; set aside to cool.
7. For the filling: Meanwhile, in a heat-proof bowl set over a pot of simmering water, stir the butterscotch chips and heavy cream together until completely melted and smooth.  Remove the bowl from the heat.
8.In the bowl of your standing mixer fitted with the paddle attachment, beat the cream cheese and brown sugar together on medium speed until smooth.
9.  Add the eggs, one at a time, mixing well after each addition, scraping down the sides of the bowl frequently and as necessary.
10. With the mixer still on medium speed, add the sour cream, flour and vanilla, and mix until thoroughly combined.
11. Reduce the mixer speed to low and add the butterscotch mixture, scraping down the sides of the bowl as necessary.
12. Pour the filling into the springform pan and gently smooth the top.
13.  Fill a 2-quart baking pan (or a large roasting pan) halfway with water and place it on the bottom rack of the oven.
14. Place the cheesecake on the middle rack of the oven and bake for one hour.
15. Once an hour has passed, turn the oven off and keep the door closed.  Leave the cheesecake in the oven for one more hour.
16. Remove the cake from the oven and cool on a wire rack until it comes to room temperature.
17. Cover the cake tightly and refrigerate for at least 4 hours or overnight.
18. For the butterscotch sauce (this can be made in advance and gently reheated on either the stove or in the microwave when you are ready to drizzle it over the cheesecake.):  In a heavy-bottomed saucepan over medium heat, melt the butter.
19. Add the brown sugar, heavy cream, and salt, whisking until combined.  Bring the mixture to a slow boil and cook for about 5 minutes or so, whisking frequently.
20. Remove the pan from the heat and add the vanilla, adjusting both the salt and the vanilla to your tastes.  Use as desired.
21. For the chocolate ganache: In a small saucepan over medium heat, bring the cream to a very gentle simmer (do not boil!)
22.  While the cream is warming up, place your chocolate chips in a separate medium-sized bowl.
23.  Once the cream is hot, pour it over the chocolate and let sit for 1-2 minutes.
24.  Gently whisk the mixture until smooth.
25. Add the butter and continue to whisk until completely incorporated and smooth. (Again, this will begin to cool and thicken.  Use immediately or you can gently reheat it on the stove or in the microwave before drizzling-you may need to add additional cream to get it to have a runnier consistency.)
Sources:  Cheesecake from Food.com, butterscotch sauce from Smitten Kitchen, chocolate ganache from Annie's Eats.