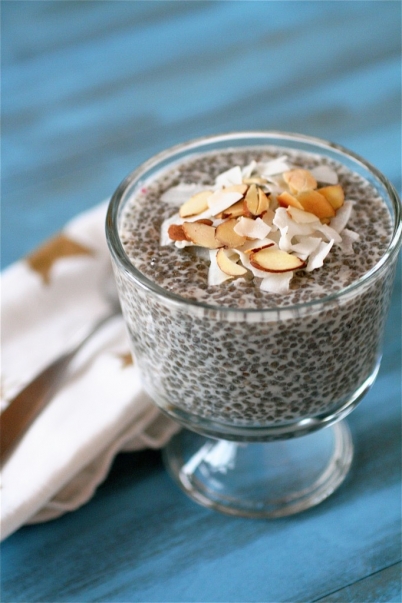 One of the best things about writing a totally random food blog is getting a little experimental in the kitchen.  I'm trying new recipes-things I wouldn't have necessarily tried before.  Which actually has been a pretty positive thing for me, too.   The other positive thing about writing a food blog?  Oh, just trying all the new trendy-ish food fads that pop up on all the main stream sites (p.s.  The Curvy Carrot is finally joining the 21st century and is now on Pinterest-check it out!)
This time it was the lovely chia seed.  I had seen it around Whole Foods, and I knew that I could sprinkle the little wonder seeds over things like cereal and oatmeal without any issues.  Packed full of omega-3 fatty acids and fiber (and about a billion other important things), I wanted to immediately maximize my exposure to these guys….and then I read that I could do this by putting it in dessert form.  Hallelujah!
Never having been a fan of puddings before, I was a little hesitant about the texture here.  But, after a recent exposure to some amazing tapioca pudding in Mexico (don't ask-long story.  Never did I think I would be eating a delicious serving of tapioca pudding in Mexico….talk about random), I decided to give it a go.
So, think about tapioca texture here, because that's basically what you'll get.  The little seeds swell and gel up, becoming super soft but also a little gummy in the process.  Flavored with milk alternatives, this was a great guilt-free vegan dessert.  The one down side?  It's an overnight kind of dish (you need to let it chill at least four hours, but I highly recommend chilling it overnight), so make sure that you plan to make it in advance.  And the variety of flavors/add-ins here are pretty endless-this is just a nice base recipe to have on hand.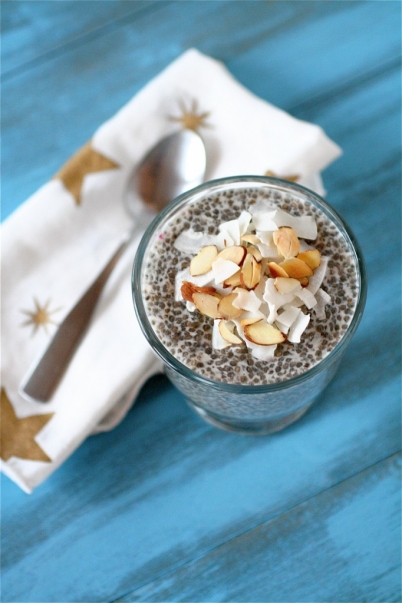 Coconut-Almond Chia Seed Pudding
Servings: 4
Ingredients
1 and 1/4 cups almond milk
1 and 1/4 cups coconut milk beverage (I used So Delicious dairy-free brand)
3 tablespoons agave nectar
1/2 cup chia seeds
For topping:  toasted sliced almonds, shredded unsweetened coconut
Instructions
1.  In a 1-quart jar, combine the almond milk, coconut milk beverage, and the agave nectar, mixing well.
2. Add the chia seeds, close the jar tightly with a lid, and shake well to combine.
3. Refrigerate overnight (the original recipe says at least 4 hours, but I thought mine definitely needed more time, so check yours if you are on a time crunch.)
4. Top with toasted almond slices or shredded coconut.  Enjoy.
Source:  Adapted from Food and Wine.