This smoothie is out of this world.  I was excited to experiment with chia seeds again since the Chia Seed Pudding I posted a few weeks ago was actually a pleasant surprise for me.
While I don't normally like to "drink" my calories (I'm a firm believer in eating the whole fruit or vegetable…call me old school…) because I usually don't find that juices/smoothies keep me satiated for very long, this one is definitely an exception.  Made with tofu, the chia seeds, and an extra boost of protein powder (I used a vanilla whey, but for a vegan version, just use your favorite appropriate alternative), I was full for a few hours after drinking it.  And there is such a great flavor combination here-I love the mixture of subtle coconut and blueberries.
Now, a caveat: as with anything made with chia seeds, these smoothies will start to thicken if you let them sit for too long. If you like that texture, then feel free to make a large batch in advance.  Otherwise, stick to your desired amount only here.  I found that blending the chia seeds (as was suggested by one of your fellow readers) also helped to decrease the rate of texture change substantially.
You have to love recipes with one line instructions.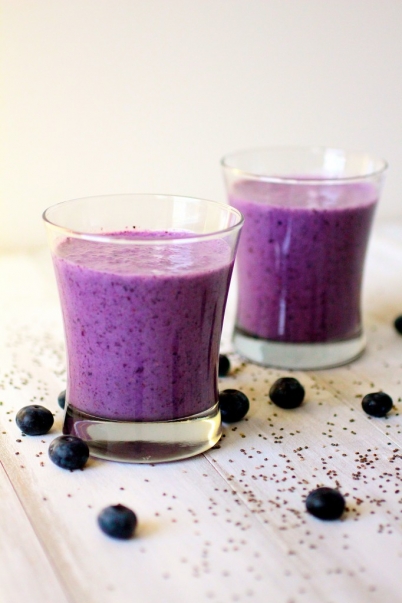 Blueberry Chia Blast Smoothie
Servings: 2
Ingredients
1 and 1/2 cups coconut milk beverage (I used So Delicious brand here)
1/2 cup soft silken tofu
1 tablespoon honey
2 tablespoons chia seeds
1 scoop (about 1-2 tablespoons) vanilla whey protein powder
1 cup frozen blueberries
Instructions
1. Combine all of the ingredients in a blender and blend until smooth.  Serve immediately.
Barely adapted from Vegetarian Times.