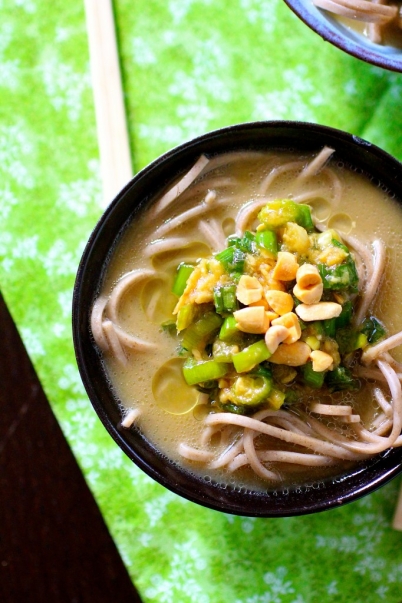 A while back, Lukas sent me his new cookbook, and there were quite a few recipes that I was dying to try.  After being packed away for a move which transported me halfway across the country, I was ecstatic to rediscover this cookbook while doing some spring cleaning a few weeks ago.  Immediately, I turned to a dog-eared page I had apparently marked as a "must-do" months ago, and, finding that I already had many of the ingredients on hand (after buying an extra carton of mushrooms that were on super sale), I decided to give it a go.
This has to be one of my most favorite dishes I have ever made.  I made it on a snowy/rainy weekend, and having a noodle bowl in hand, on the couch, watching a good movie, I was pretty much at peace with everything in life.
Be adventurous here.  Add in extra veggies if you want.  Make sure to taste as you go-the salt here can add up quickly and easily become a little too much if you aren't careful.  And, to cut down on time, it's more efficient to make the Ginger-Scallion Sauce first since it has to sit for an hour to let the flavors meld together.  Enjoy.  Life is good.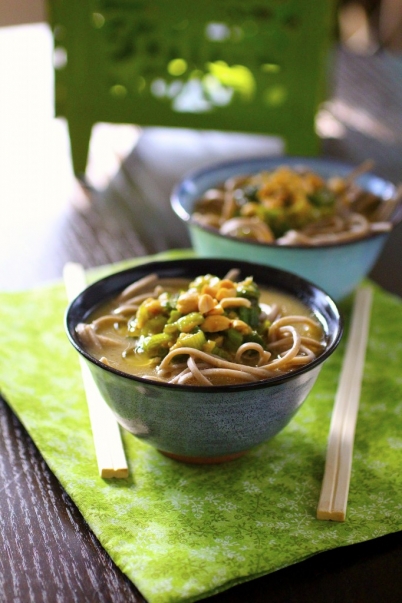 Soba Noodles in Mushroom-Ginger Broth
Servings: 2-4
Ingredients
For the Mushroom-Ginger Broth:
1 tablespoon peanut oil (or other neutral oil, such as canola, vegetable, or grapeseed oil)
8 ounces mushrooms, chopped
1/2 yellow onion, chopped
1/2 cup water
5 dried porcini mushrooms (or shitake…whatever you like)
One 1-inch piece of ginger, sliced into strips
2 garlic cloves, minced
4 and 1/2 cups water
1/4 teaspoon salt
3 to 4 tablespoons miso (your choice of type here..I used a mellow white miso.)
For the Ginger-Scallion Sauce:
1 bunch scallions, white and green parts, thinly sliced
2 tablespoons grated ginger
1 garlic clove, minced
3 tablespoons peanut oil (or other neutral oil, such as canola, vegetable, or grapeseed oil)
1 teaspoon low-sodium soy sauce
3/4 teaspoon sherry vinegar
1/2 teaspoon salt
1/2 teaspoon toasted sesame oil
For the noodle bowls:
One 8 to 10-ounce package of soba noodles
Mushroom-ginger broth (see above)
1/4 cup Ginger-Scallion Sauce (see above)
For garnish: roasted unsalted peanuts, coarsely chopped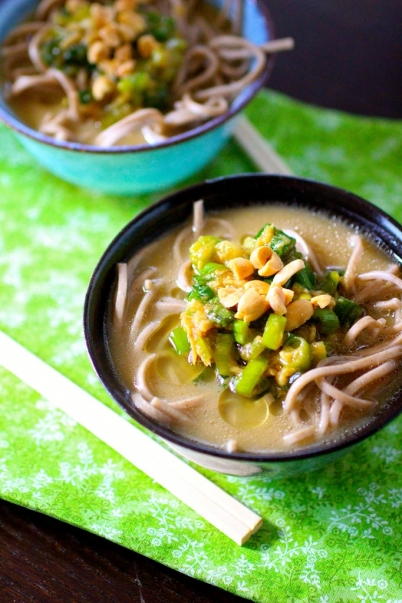 Instructions  (Remember, if you are short on time, make the Ginger-Scallion Sauce first so it can sit while you are preparing the rest of the ingredients.)
1. For the Mushroom-Ginger Broth:  Heat the oil in a 2-quart saucepan over medium-high heat until shimmering.
2. Add the mushrooms and the onion and stir until thoroughly covered in the oil.
3. Cover the pot and cook until the vegetables lose some of their moisture, about 5 minutes or so.
4. Add the 1/2 cup water, scraping the bottom of the pan, and then add the dried mushrooms, ginger, garlic, and remaining 4 and 1/2 cups of water.
5. Bring the mixture to a boil and stir in the salt (if using).  Lower the heat and simmer until reduced by about 1 cup, about 35-45 minutes or so.
6. Strain out and discard the solids and return the broth to the saucepan.
7. Transfer about a cup or so of the broth to a medium bowl and gently whisk in about 3 tablespoons of the miso paste, adding more miso if desired.
8. Transfer this mixture back to the saucepan, stirring to combine.  Cover and keep the broth at a simmer until ready to serve.
9. For the Ginger-Scallion Sauce:  Combine all of the ingredients together in a medium bowl, adjusting the seasonings to your own taste.  Let stand at room temperature for at least one hour prior to serving.
10. For the noodle bowls:  Cook the soba noodles according to package directions.  Drain and rinse well under cold running water.
11.  Divide the soba noodles among 4 serving bowls (or two very large bowls, if this is a main course and you are incredibly hungry).  Pour the broth over the noodles, top with the Ginger-Scallion Sauce, and garnish with peanuts.  Serve immediately.
Source:  Slightly adapted from Vegetarian Entree That Won't Leave You Hungry by Lukas Volger.