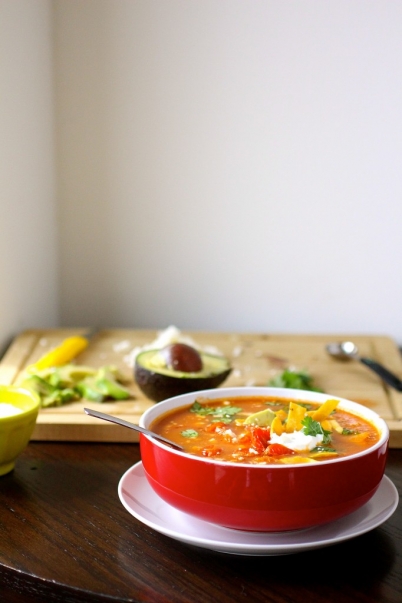 Whenever I happen to be in Indiana, visiting with my family, we will usually end up going out to dinner for Mexican…and my mom will inevitably end up ordering tortilla soup.  I always want some-it looks so good topped with crunchy tortilla chips and some fresh avocado.  But, inevitably, it will always be a chicken-broth base, and I will make a mental note to find a nice vegetarian (vegan here, if you omit topping it with cheese) version to enjoy on my own.
And this one certainly delivers.  Made with a tomato/onion base and some vegetable broth, it packs a fresh, earthy flavor.  The mixture of spices here can be tweeked a bit to siut your own likings: I used a chipotle smoky southwestern spice to give it a little kick, but you can make this as spicy (or not spicy) as you like.  If you are short on time, you can skip roasting the grape tomatoes (they are only used as a topping here) all together for a quick weeknight meal.  I wouldn't skip baking the tortilla chips, though-they are a really nice addition to this dish. You can add in some more veggies to the mix, too, if you would like. And, as with any homemade soup, the flavors were even better the next day.
I think this version is probably better than any restaurant chicken-broth based version.  🙂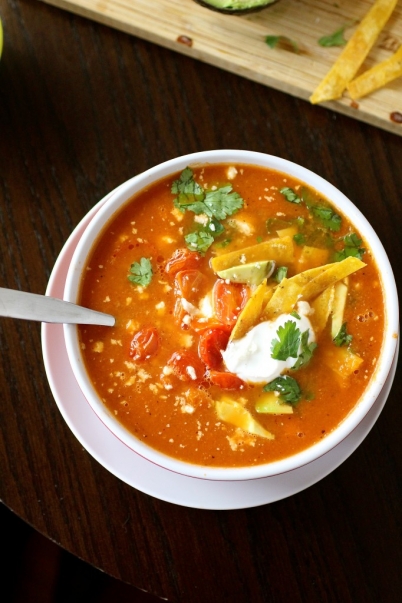 Vegetarian Tortilla Soup
Servings: about 4-6
Ingredients
For the tortilla chips:
6 corn tortillas, cut in half and then sliced into thin strips (Using a pizza cutter helps here.)
1 tablespoon extra-virgin olive oil
1/2 teaspoon salt
For the roasted tomatoes:
2 cups grape tomatoes, sliced lengthwise
1 tablespoon extra-virgin olive oil
Pinch salt
For the soup:
1 tablespoon extra-virgin olive oil
4 cloves garlic, minced
1 large yellow onion, chopped
1 teaspoon ground cumin
2 teaspoons ground coriander
1 teaspoon chipotle seasoning blend (optional)
Pinch cayenne pepper
1 14-ounce can crushed fire-roasted tomatoes
6 cups vegetable broth
For garnish:  Greek yogurt, queso fresco, avocado, cilantro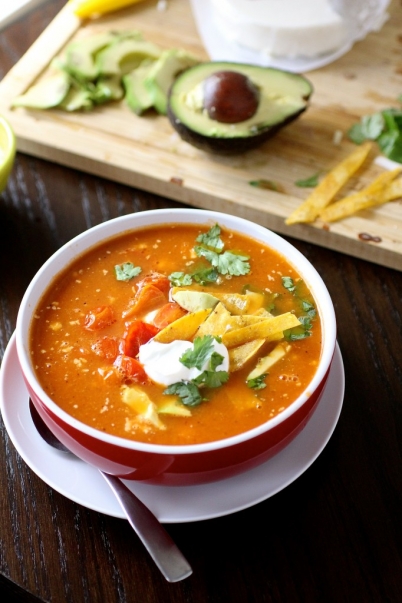 Instructions
1. For the tortilla chips:  Preheat the oven to 350 degrees.
2. In a medium bowl, gently combine the tortilla strips, the olive oil, and the salt, tossing to thoroughly coat.
3. Arrange the tortilla strips in a single layer on a rimmed baking sheet, and bake until golden and crispy, about 10 minutes or so. Keep the oven set at 350 degrees to roast the tomatoes. Set aside.
4. For the roasted tomatoes:  Arrange the tomatoes in a single layer in a small baking dish.
5. Lightly drizzle the olive oil over the tomatoes and sprinkle with salt, to taste.
6. Bake the tomatoes at 350 degrees until the tomatoes are shrunken and lightly golden around the edges, about 40 minutes.  Set aside.  (These can be made a day or two in advance and stored in the refrigerator.)
7. For the soup: In a Dutch oven or large saucepot set over medium heat, heat the olive oil until shimmering.
8. Add the garlic and onion, stirring, until slightly softened, about 1 minute.
9. Add the spices and the canned tomatoes, mixing to combine.  Let cook for about 5 minutes.
10. Remove the mixture from the heat, and add one cup of the vegetable broth.
11. Using an immersion blender (or in small batches with a blender), carefully puree the mixture until smooth.
12. Add the remaining 5 cups of vegetable broth and puree the mixture until smooth.
13. Return the soup to medium heat and simmer until heated through, about 10-15 minutes.
14. Serve the soup with the tortilla chips, roasted tomatoes, and any other garnishes you desire.
Source:  Slightly adapted from 101 Cookbooks.