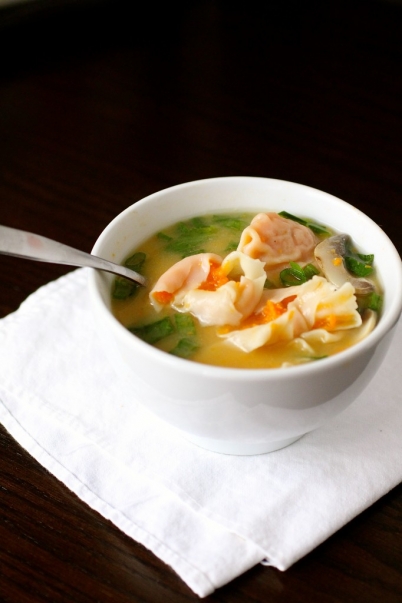 I got an incredible surprise this past weekend.  I am coming off of a pretty busy two weeks which have been incredibly fun and social: humane society fundraiser, theater group silent auction, work-related dinners, appointments, etc. I was looking forward to having a semi-quiet weekend at home; I wanted to head out Friday night to a gallery night in my neighborhood and Saturday night I had some dinner plans.
I had literally just walked into my condo on Friday after work, absent-mindedly fed my animals, and was opening some mail when my little sister called.  Finding it a little odd that she was calling (considering we had just texted about an hour prior about bridesmaids' dresses for her upcoming wedding), I wondered what was up.  She said she wasn't up to anything and asked what I was doing.  I immediately started complaining about how my wi-fi signal wasn't working, when she interrupted me with, "Can you do me a favor?"  Thinking something was seriously wrong, I was like, "of course!"  Then she said, "Can you come out on your balcony for a sec?"
That's when my jaw dropped.  I ran outside to find her and my mother with a giant bouquet of flowers and champagne right below my balcony.  They had been planning a secret trip for weeks, trying to figure out what my weekend plans were and made the near-5 hour drive to my place, all without my knowledge.  Best. Surprise. Ever.
So we had a great weekend…reminiscing a lot about growing up as sisters with a 10-year age difference (there's another sister…and a brother, too, but they couldn't make the trip.)  It's so funny to us how two sisters who didn't want anything to do with one another while growing up are so close now.  And it makes me thankful and happy to know how much relationships can grow and change over time.  The cherry on top?  She "officially" asked me to be her maid of honor next summer (the irony of this is not lost on us, as our roles were reversed less than 10 years ago), and I couldn't be happier or prouder (which will probably all be catalogued in the future as the wedding date approaches).
So we giggled, drank champagne (and wine), and laughed.  We shopped, and we ate a lot of cupcakes and chocolate. We took my mom shopping and relaxed afterwards with homemade popcorn and more wine.  We watched completely heinous reality TV.
And it was the best weekend I have had in a long, long time.
So now, after deciding that this week I will participate in a little detox regimen, I wanted to post something healthy, light, and completely guilt-free.  It's still a little gloomy and cold where I am, so this soup comes as a welcome reprieve.  Completely vegan, you can adapt this recipe in any way you like.  Throw in some tofu, add in some extra veggies, add a little bit more spice.  And you are set.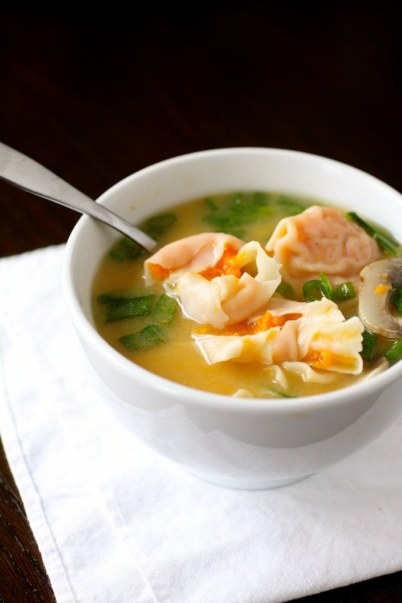 Miso Soup with Sweet Potato Dumplings
Servings: 4 large servings
Ingredients
1 large sweet potato, pricked all over with a fork
1 tablespoon olive oil
2 cloves garlic, minced
1 shallot, chopped
Pinch red pepper flakes
1/2 teaspoon salt
1/4 teaspoon freshly ground black pepper
1 baby bok choy, sliced
8 ounces mushrooms, sliced
6 cups water, divided
12 wonton wrappers (or more, depending on how much filling you use.  I used about 20 wontons because I filled mine with less)
3 tablespoons white miso, plus more to taste
3 scallions, thinly sliced
Instructions
1. For the sweet potato filling: Pre-heat oven to 375˚.
2. Bake the sweet potato until soft, turning once, about 45 minutes to 1 hour.
3. Cool the potato, then peel and mash it; set side in a medium bowl.
4. Heat the olive oil in a skillet over medium heat.
5. Add the garlic and shallot to the oil, stirring, until fragrant, 1 to 2 minutes.
6. Add the red pepper flakes, salt, and pepper, mixing to combine. Remove the mixture from the heat and add the shallot/garlic mixture to the mashed and cooled sweet potato, mixing well.
7. For the soup: Place the bok choy and mushrooms in a large pot or Dutch oven with 2 cups water and set aside.
8. To assemble the dumplings: Lay 1 wonton wrapper in palm of hand. Drop a heaping tablespoon of the potato mixture in the center and squeeze the edges of the wonton together to tightly seal (I found that having my fingertips slightly wet with water helped a lot here.)Repeat with remaining wrappers and filling.
9. Set the dumplings on top of the vegetables in the pot, and, over medium heat, bring the mixture to a boil.
10. Cook, covered, until wrappers are translucent, 3 to 6 minutes.
11. Divide the dumpling mixture among your servings bowls.
12. Add the remaining four cups of water to the pot, and bring to a boil.
13. Remove from heat.
14. Add the miso, stirring until it dissolves. Divide among your prepared serving bowls.
15. Garnish with scallions.
Source:  Adapted from Self.