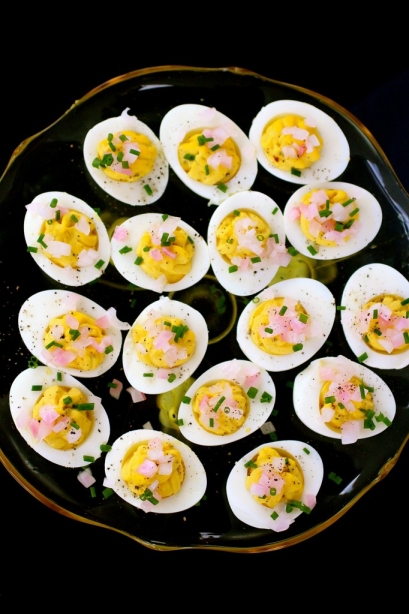 If you are like me or any one of my various family members, a cook-out is not considered complete without a nice helping of deviled eggs.  In fact, this was one of the first recipes I ever posted on this blog, back in the baby days…my secret recipe for the family favorite.  But, my, have we come a long way.  Especially when it comes to tweaking recipes to still get a lot of taste and flavor, but without ginormous helpings of mayonnaise.
***Speaking of mayonnaise, has anyone else out there watched Here Comes Honey Boo Boo?  I know it's super controversial, but I love that little girl dearly.  And it's hard to believe that her mother is my age-I could not imagine being a grandmother already.  But, I digress.  I just wanted to say that the episode when Mama June's incredible fear/disgust for mayonnaise had me rolling on the floor with laughter.  I love them.  And now I will forever associate this condiment with Mama June and feel a bit of a sympathetic warm fuzzy for her.
All right.  So, back to deviled eggs.  Relatively cheap, easy to make, and a finger food that practically announces the arrival of warm weather and sunny days (just make sure to keep them refrigerated and not out in the hot sun here….right?  Right.  Food safety first, people.)
As part of my contribution to the Cooking Light Bloggers Connection this month, I decided to try a more sophisticated, lighter version of the family favorite…which was a huge gamble, I will admit.  My brother-in-law usually inhales my regular eggs and asks in advance if I will be serving them at any family get-together…so I knew if these weren't up to par, it would be a big disappointment.  The idea of pickling the onions on top was interesting-I wasn't sure if I would like it, but oh well……and the substitution of Greek yogurt for a lot of the traditional mayonnaise component was a no-brainer.
What can I say?  They were a hit.  Minus a lot of unhealthy things.  Minus the large amount of jiggly, scary mayonnaise.  The pickled onions on top mixed with the chives gave them a little color and Spring-like quality.  My brother-in-law loved them.  There were no leftovers, which I will take as a good thing.
I didn't really tweak the original recipe (see source below) except I used 0% Greek yogurt instead of 2%.  I bet if you wanted to omit the canola mayo entirely, you could (if you also have an intense phobia) and just increase the amount of yogurt instead.
Happy Memorial Day weekend!
**And good luck to my soon-to-be-brother-in-law, Andy, who is working at the Indy 500 today with Ed Carpenter….who is in the pole position!  Good luck to Ed and the entire Fuzzy Vodka team!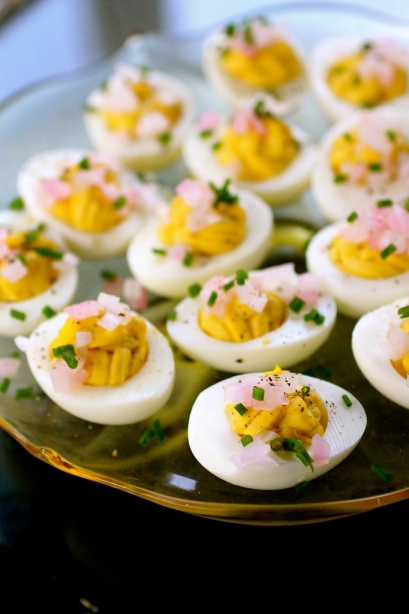 Not-So-Devilish Deviled Eggs
Servings:  about 16 deviled eggs
Ingredients
8 large eggs
1/4 cup water
1/4 cup cider vinegar
1 tablespoon sugar
1/4 cup red onion, finely chopped
2 tablespoons plain 0% fat Greek yogurt
2 tablespoons canola mayonnaise
2 teaspoons Dijon mustard
1/2 teaspoon Sriracha
Salt and pepper, to taste
Chives, for garnish
Instructions
1. Cover the eggs with cold water in a large pot and bring the water to a boil over high heat.
2. Let the eggs boil for about 2-3 minutes.
3. Remove the eggs from the heat, cover, and let sit for ten minutes in the hot water.
4. After ten minutes, transfer the eggs to a large bowl filled with ice water and let sit for five minutes.
5. Peel the eggs, slice them in half, and transfer 6 of the egg yolks to a medium bowl, discarding 2 of the egg yolks or reserving them for another use.  Mash the egg yolks with a fork until soft.
6. In a 2-cup glass measuring cup or microwave-safe bowl, combine 1/4 cup water, vinegar, and sugar.
7. Microwave the mixture at HIGH for about 2 minutes or until boiling.
8. Stir in the onion, and let stand at room temperature for 15 minutes, then drain.  Set the pickled onions aside for garnishing later.
9. In the bowl with the egg yolks, combine the yogurt, mayonnaise, mustard, and Sriracha, stirring well to combine and adding salt and pepper, to taste.  **You can add some of the pickled onions directly to this mixture if you would like.  I didn't, because I was going to use a piping tip to pipe the mixture directly into the eggs…and the onion would have clogged up my piping tip.  So I just used all of the onions as a garnish instead.
10. Spoon or pipe the  mixture into egg white halves. Garnish with the pickled onion and chives.
Source:  Barely adapted from Cooking Light.