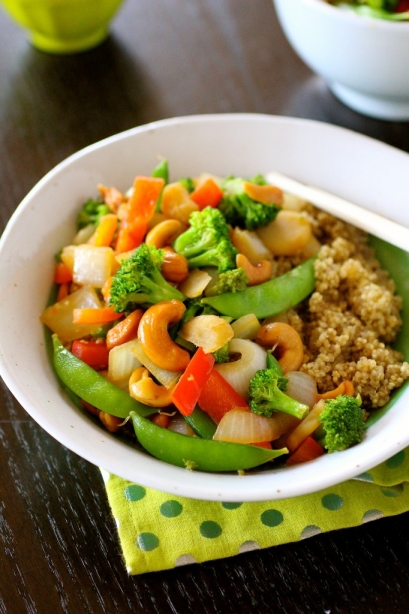 I can 100% claim here that I am no expert on stir frying.  I do not have a wok (I want one, though), and I have made a few stir fries in my day, but they probably couldn't qualify as real stir fries.  There's a science behind this method of cooking.  You want the vegetables cooked but crisp on the outside; you want a sauce that's not too overpowering or thick; you want the veggies to be bite-sized; you want to pre-chop the vegetables and make the sauce before you get started, and you want a finished end product that's not a gooey mess.
I'm pretty sure that this dish does all these things.
And, thankfully I had a little help with this one.  Remember my recent post about Pacific Foods and their pretty awesome company?  (oh, yeah, and there was a delicious Mexican Pizza, too.)  Their company was generous enough to send me a ginormous box of a few more of their products, including a variety of their broths/soup bases (score!!!  Because I literally go through vegetable broth like water).  I was pretty pumped when they decided to send me a few samples of their Vegetarian Pho soup base.  Ummmm, yeah.  So, have you ever had pho?  Well, I haven't, but apparently it's an amazing, brilliant thing.  (and can be made vegetarian/vegan quite easily).  It's traditionally made with rice noodles, tofu, and plenty of garnishes like lime, onions, bean sprouts, etc.  (P.S. There's a recipe for pho on the back of the box).
But, basically, this broth is a mixture of a lot of good things:  "A savory combination of organic mushrooms, aromatic spices including star anise, cinnamon, and ginger".  And it was.
But, aside from cheating a little and just making the recipe from the back of the box, I decided I wanted to branch out a little bit with this product in particular and make something non-soupy.  Enter the concept of a stir fry made with quinoa.
I decided to cook the quinoa in the pho base itself to add a lot of flavor (it did, and I highly recommend always doing this in the future).  And then, to use more of the soup base, I decided to use it as a component in the sauce that I coated the vegetables with.
The end result?  A great meal-lots of flavor, healthy, and 100% vegan.  And, as with any stir fry, you can use whatever types of vegetables you like.  Add in some tofu.  Add in some greens.  Add a little crushed red pepper.  Do whatever you like and enjoy.  And now, I will go use their soup base to finally try some real pho.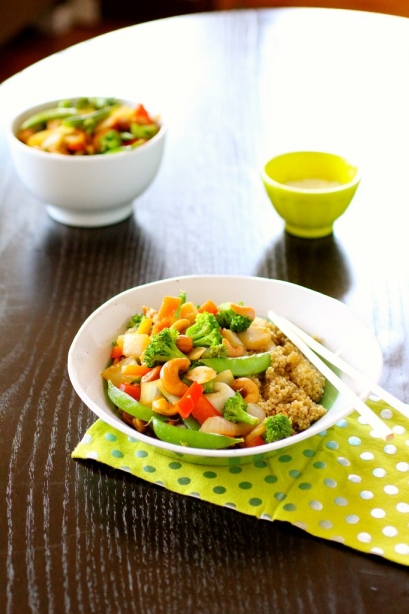 Vegan Quinoa Stir Fry
Servings: 4-6
For the quinoa:
1 cup dried quinoa
2 cups Vegetarian Pho Soup Base
For the stir fry:
2 tablespoons peanut oil
2 tablespoons minced garlic
1 small yellow onion, chopped (about 1 cup)
1 red bell pepper, chopped
1-2 small heads of broccoli florets (about 1-2 cups)
One 4-ounce can water chestnuts, drained
1 cup whole cashews (I used roasted and salted)
1/2 cup snap peas
For the sauce:
1/4 cup Vegetarian Pho Soup Base
1/8 cup tamari or soy sauce
1 teaspoon toasted sesame seed oil
Instructions
1. For the quinoa: Combine the dried quinoa and the soup base in a medium saucepan set over medium heat.
2. Bring the quinoa to boil, and let boil gently for 5 minutes.
3. Remove the quinoa from the heat; cover, and let sit for 15 minutes.
4. For the sauce:  In a small bowl, whisk together the soup base, soy sauce/tamari, and sesame seed oil until combined.  Set aside.
5. For the stir fry:  In a wok or saute pan, heat the peanut oil over medium-high heat until shimmering.
6. Add the garlic and cook until fragrant, about 10-15 seconds.
7. Add the onion, red bell pepper, broccoli, water chestnuts, cashews, and snap peas, stirring to ensure even cooking and making sure not to crowd the pan.  (If you have to do this batches because of the size of your pan, please do so.)  Cook until the broccoli and snap peas are bright green and heated through, about 2-4 minutes (depending on how large you have cut the pieces-if you have to cook it a few minutes more, that's ok.)
8. Slowly pour the sauce mixture over the vegetables and stir to coat.  Let the stir fry cook for another 1-2 minutes.
9. Serve the vegetables over the cooked quinoa.
Source:  A Curvy Carrot original.