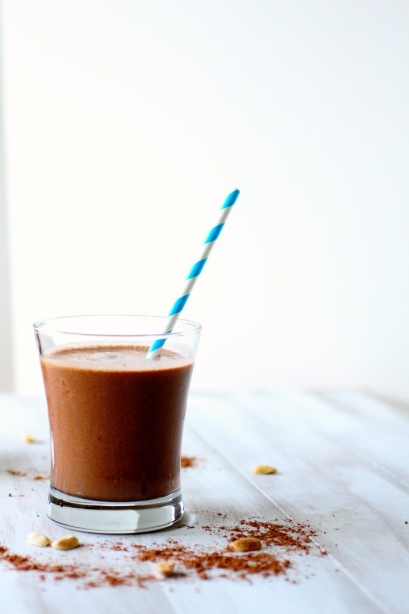 One of my last posts seemed to really resonate with some of you.  Which makes me incredibly happy and grateful and gives me all sorts of warm fuzzies.  One of the reasons why I started this blog in the first place was to make it a safe, happy place…not just for food, photos, writing, etc, but mostly to make some sorts of connections in the great world outside my geographic locale.
I'm a little amazed at how many personal emails (and phone calls from guy and girl friends alike) I've gotten from some of you regarding your thoughts on not settling.  And, ladies (since most of you are ladies who read this), I want to tell you something:
You deserve the absolute best.  Yes, you.
In the grand scheme of this universe, as menial as this may sound, your conscious existence probably doesn't even qualify as a blip on a radar.  But that's why it's up to you to live your life to the absolute fullest.  The choices are yours to make.  There is absolutely no reason why you can't have (or shouldn't have) what you want.  There's an infinite capacity of love in this world…so you finding and reveling in what you love doesn't take anything away from me finding what I love/want to revel in.  In fact, if you find what you love/revel in, it only helps me find what I love/revel in.  Ever heard of Einstein's theory of relativity? I believe it.
Growing up in the Midwest (and not to knock the Midwest), I was modeled to go to college, find a husband, and be married by age 25. Because that's what the mold is.  That's what your peers do.  That's just how it is.  Get the degree, get the ring, get the house/fence/dog/job, have two children by age 30.  This works for so many people, and I see the joy/wonderment of so many of my friends who have experienced the miracle of pregnancy/raising a child; this all makes me happy.  I see my nephews growing and learning, and it makes me happy, too.
But my path, as I have found, is actually a different one.  For a long time, I thought it was a bad thing.  I felt like I was trying to fit a square where only a circle went.  And for a long time, when my friends back home would look at me cock-eyed and ask, "Is there a Mr. Shanon yet?", it would really hurt.  A bit shaming, in a way.  Honestly, what I wanted to say was, "No, but there's a Dr/Ms/food blogging/vegetarian/space-loving/documentary-watching/non-fiction-reading/spiritual/music addict/animal loving Shanon.  And that's pretty much all I need."
Listen, you don't need a man or woman to define/complete you.  I've been through a lot in my life (we all have), but one of the most important things I have learned is that there is only one person that you can 100% rely on in your life.  And that person is you.   All things are temporary; things change, even you.  But through it all, the only person you can totally trust is yourself.  So eat the damn cake, drink the champagne "just because", and go travel if you get an opportunity.  If you feel like dancing in your kitchen with your pajamas on, do it.  Talk to yourself.  Buy the lipstick and wear it proudly.  Spread your joy.  And don't worry about not having someone there with you if you don't (that's shifting your awareness to the negative-don't go there-you don't need to.)  Be happy because you are having the experience.  And only you can have that.
Again, this is one of those situations where I feel I have kind of bared my soul a little (sheepish grin), and now I have to talk about a smoothie.  It's a little awkward.
But you get it.
Who doesn't love the whole chocolate/peanut butter combination?  And add in a banana?  Ok.  Mix it all in a blender, push the "on" button, and you have a protein-packed smoothie in less than 5 minutes.  I played around here with the proportions of the ingredients, so add/remove them as you see fit.  Use a whey-free protein powder if you are looking for a vegan option.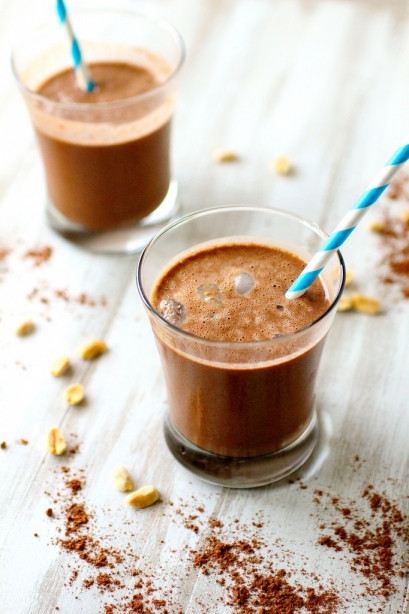 Chocolate Peanut Butter Banana Smoothies
Servings: Two 8-ounce servings
Ingredients
1 banana
2 tablespoons unsweetened cocoa powder
1 tablespoon vanilla-flavored protein powder
1/4 cup chunky peanut butter (if you prefer smooth, go for it.  I like chunky.)
1 and 1/2 cups vanilla-flavored milk alternative (use almond, soy, etc-or milk)
Handful ice cubes
Instructions
1. Place all of the ingredients in a blender, and puree until smooth.  Enjoy.**How do you like that?  One step instructions (*win*).
Source:  A Curvy Carrot original.