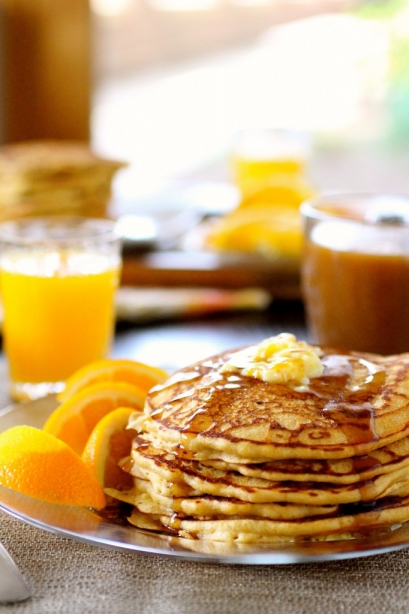 I kind of had one of those moments where you see a recipe and picture (the photo is just amazing) in a food magazine and realize that you must have whatever it is.  Immediately.  And so this was one of them.
I saw the picture in October's Cooking Light and literally squealed.  Not being the biggest fan of anything super sweet for breakfast, this was kind of a big deal.  And, after a marathon work-out session in the morning, some carb binging seemed only appropriate for me. (right?  I mean, I guess I should be doing the whole lean protein with appropriate carbohydrate ratio, but whatever.  I'll save that for my upcoming P90X days. Which means I need to start gearing up for another round of Tony Horton, Pam, and that damn Dreya once I have to work out inside again.  Bring it!)
I don't know-these might be my favorite pancakes yet (next to the pumpkin ones, of course.)  Because they sit out for a while before cooking, the leaveners get to do their thing and you end up with some ultra-fluffy pancakes.  (Sidenote:  I recently discovered Portlandia, which might be up there as one of my favorite sketch comedy shows, and the scene with Bobby Flay and the marionberry pancakes reminded me a lot of these pancakes.  If you like stupid humor, you will like this show.  Also, I might have a crush on Fred Armisen.  It's the glasses…and his impeccable delivery.  This is a simple taste of a clip that just keeps getting funnier each time I see it.)
All right.  Here they are.
Oh, and by the way, happy October.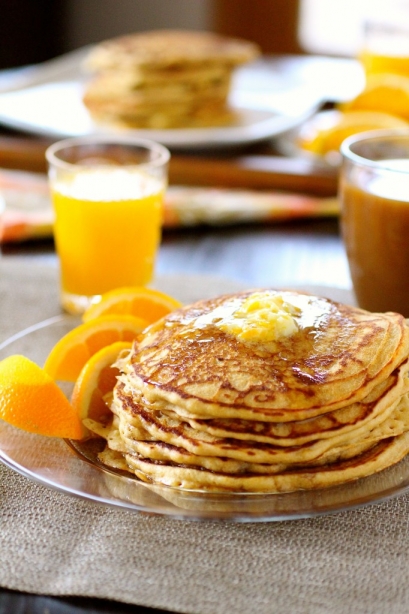 Whole Wheat Buttermilk Orange Pancakes (with Orange Butter)
Servings:4-6
Ingredients
For the orange butter:
2 tablespoons unsalted butter, softened
1/4 teaspoon grated orange rind
3/4 teaspoon orange juice
For the pancakes:
3/4 cup white whole wheat flour
3/4 cup whole wheat pastry flour
2 tablespoons sugar
1 and 1/2 teaspoons baking powder
1/2 teaspoon baking soda
1/2 teaspoon salt
1 and 1/2 cups low-fat buttermilk
1/4 cup orange juice
1 tablespoon canola oil
1 large egg
1 large egg white
For serving: maple syrup, additional orange zest, etc
Instructions
1. For the orange butter:  In a small bowl, add the softened butter, orange rind, and orange juice together, mixing until combined.  Set aside (or chill, if you like your butter cold.  Some people do.)
2. For the pancakes: In a large bowl, combine the flours, sugar, baking powder, baking soda, and salt, mixing until combined.
3. In a separate medium bowl, whisk together the buttermilk, 1/4 cup orange juice, canola oil, and 1 whole egg in a small bowl.
4. Add the buttermilk mixture to the  flour mixture, stirring just until moist; let stand 15 minutes at room temperature.
5. Place the egg white in a medium bowl; beat with a whisk  (or, a hand mixer if you don't want to kill your wrist) until medium peaks form.
6. Gently fold the egg white into the pancake batter, mixing until just combined.
7. Coat a nonstick cooking pan with cooking spray and heat the pan over medium heat.
8. Gently scoop out 1/4-cup of the batter and place the batter in the pan, cooking for about 3 minutes on each side. (about 6 minutes total-you want the edges to be bubbled and lightly golden when you flip the pancakes.)  Repeat with the rest of the batter.
9. Serve the pancakes with the orange butter.
Source:  Barely adapted from Cooking Light as part of my monthly contribution to the Cooking Light Bloggers' Connection.