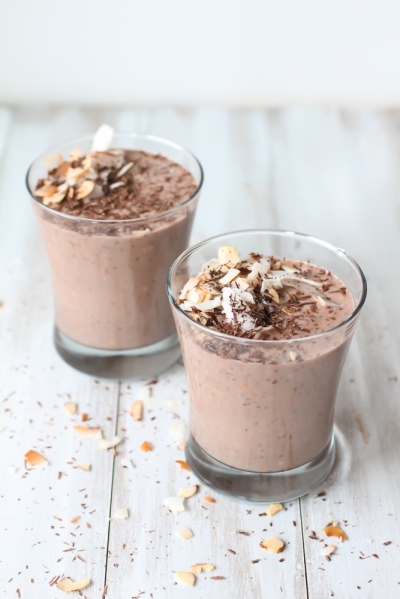 Smoothie time.
I have recently fallen in love with a chocolate almond milk-it's like a secret treat in my fridge.  I've been eating it with cereal, in oatmeal, or even just plain (I never was a big milk drinker, even as a kid, so, for me, a whole glass of this stuff is a big deal.)  It's also an incredibly good post-workout fuel.
Anyways, since I had some extra coconut flakes on hand from making these cupcakes recently, I figured I would try to come up with another breakfast smoothie recipe.  Inspired by one of my all-time favorite smoothie recipes ever, I decided to use some silken tofu as the base (Please don't shy away from tofu.  I know it's kind of icky looking and feeling, but if it's prepared well, it's really fantastic.)  Plus, knowing that I wanted a thicker, creamier texture, I figured adding the tofu might help.  And, of course, I added in some chia seeds….because smoothies are pretty much a perfect vessel (see here or here) for getting these little nutritional powerhouses in my system (otherwise, they just sit in my pantry, untouched.)  As a side note, though, if you're not familiar with using the chia seeds, they will thicken relatively quickly and form almost a pudding-like consistency of whatever liquid you put them in.  So, if you don't plan on drinking the smoothies right away, I would hold off on putting them in until you are ready.  I also used a sweetened chocolate almond milk and an unsweetened coconut milk beverage, so you can play around with the sweetness component here as well.
I played with this recipe and adjusted everything to taste as I went along.  Now, some people might have textural issues, but I actually like my smoothies to be thick and kind of chunky, in a way.  So I added in some toasted almonds and flaked coconut to the liquid base before I blended it-I personally really liked the addition of those things here, but I realize it's not for everyone.  For a vegan version, substitute a vegan-friendly protein powder.
Otherwise, sit back, relax, and enjoy your dessert-like chocolate drink.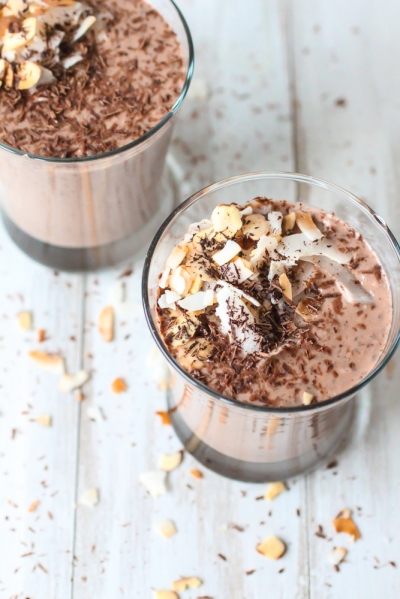 Almond Joy Chia Smoothies
Servings: 2
Ingredients
1/2 cup silken tofu
3/4 cup sweetened chocolate almond milk (I used Almond Breeze.)
3/4 cup unsweetened coconut milk beverage (I used So Delicious Dairy Free)
1 scoop (1-2 tablespoons) vanilla protein powder (I used whey protein.)
1 tablespoon cocoa powder
1-2 tablespoons chia seeds, depending on your desired thickness/consistency
2 tablespoons toasted sliced almonds
1/2 cup unsweetened flaked coconut
For the topping:  toasted almonds, coconut, and bittersweet chocolate shavings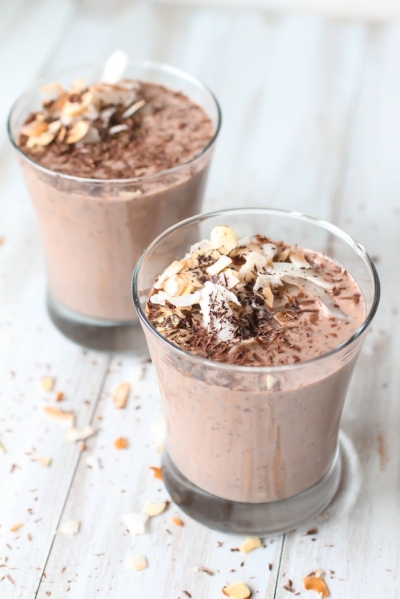 Instructions
1. In a blender, combine all of the ingredients.  Blend until smooth.  Enjoy.
Source:  A Curvy Carrot original.