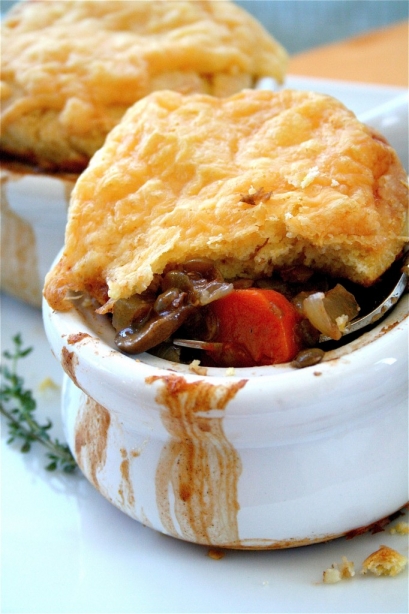 This is the perfect main course for a vegetarian Thanksgiving.  I had been toying with the idea of a vegetarian pot pie for a while. I actually had found quite a few recipes.  But then, as usual, Bon Appétit came through with flying colors.  Their November issue provided quite a few vegetarian options, but this pot pie recipe stood out firmly in my mind.  And, by the way, the original name for this recipe was Mushroom and Lentil Pot Pies with Gouda Biscuit Topping, in case you are trying to find it.  I just shortened it a bit.
I've never really cooked with lentils before.  I had seen them in the grocery store, dried and inexpensive.  I know that they are good for me-iron, vitamins, and minerals galore, right?  But for some reason, they just sounded unappealing.  I felt somewhat safe putting them in the pot pies since they would be mixed with a background of lots of other vegetables.  But, let's be honest here.  The main reason why I wanted to make this recipe was because of the gouda biscuit topping.  Anything with melted cheese is an instant win for me, so I was looking forward to seeing if these pot pies lived up to their potential.
Well, they did.  They were not hard to put together at all.  Chopping the vegetables and grating the gouda (I was pretty generous with the gouda…I may have added a little more than what the recipe calls for….) was the most time-consuming part of the recipe, for the most part.  I also loved the cornmeal biscuit topping as an alternative to the usual pastry/flaky crust of regular pot pies.  And, the lentils were earthy and savory.  So I have been turned on to lentils.  Who would have thought?
Vegetarian Pot Pies
Servings: 4
Ingredients
For the filling:
1/2 cup lentils
1/4 teaspoon salt
1 ounce dried porcini mushrooms
2 tablespoons olive oil, divided
6 ounces fresh mushrooms, sliced
1 medium onion, chopped
1 carrot, cut into 1/4-inch-thick rounds
1 and 1/2 teaspoons dried sage
1/4 teaspoon dried thyme
1 large garlic clove, minced
2 tablespoons all purpose flour
2 medium Yukon gold potatoes, peeled, cut into 1/2-inch chunks
4 teaspoons soy sauce
1 tablespoon tomato paste
For the topping:
1 cup plus 2 tablespoons all purpose flour
6 tablespoons yellow cornmeal
1 and 1/4 teaspoons baking powder
1/2 teaspoon salt
4 teaspoons chilled unsalted butter, diced
1/2 cup buttermilk
3/4 cup coarsely grated Gouda cheese (about 3 ounces)
Instructions
1. For the filling: Combine 3 cups cold water, lentils, and 1/4 teaspoon salt in a medium saucepan; bring to boil.
2.  Reduce heat, cover, and simmer until lentils are tender, 25 to 30 minutes.  Drain and set aside.
3.  In the meantime, pour 3 cups boiling water over the porcini in a medium bowl; soak 25 minutes.
4.  Remove the porcini from the soaking liquid, squeeze dry, and chop coarsely.  Make sure you save the soaking liquid.
5. Heat 1 tablespoon oil in heavy large skillet over medium-high heat.
6. Add fresh mushrooms and sauté for 3 minutes.
7. Add 1 tablespoon oil, onion, carrot, sage, and thyme.  Sauté for 4 minutes.
8.  Add the garlic and sauté for 30 seconds.
9. Reduce the heat to medium-low.
10. Mix the flour into the vegetables and cook for 1 minute.
11. Add the porcini soaking liquid.
12. Mix in porcini, potatoes, soy sauce, and tomato paste.
13. Cover; simmer until potatoes are tender, stirring occasionally, 13 to 15 minutes.
14.  Add the lentils; season with salt and pepper.
15.  Divide the filling among 4 2-cup ovenproof bowls.
16. For the topping: Preheat the oven to 400 degrees.
17. Combine the flour, cornmeal, baking powder, and salt in a food processor and blend for 5 seconds.
18. Add butter; pulse until mixture resembles coarse meal.
19. Add buttermilk; pulse until dough forms moist clumps.
20. Turn dough out onto lightly floured surface.
21. Divide into 4 equal pieces; shape each into a 2/3-inch-thick disk.
22. Set rounds atop filling; top with cheese.
23. Bake pot pies on a baking sheet until tester inserted into biscuit topping comes out clean, about 30 minutes.
Source: Bon Appétit, November 2010.