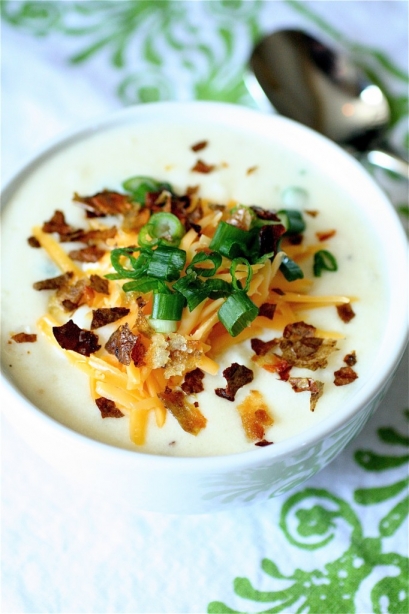 I have finally found "the" potato soup recipe.  It's this one.
You know those thick and creamy, filling potato soups that taste like a loaded baked potato?  Yeah. Those.  I could never ever find a recipe that even came close to those-the ones I have tried in the past were always too runny or lacking in flavor.  And then I decided to try this one via my friend, Annie. JACKPOT!
It was a cold and dreary day, and the people of Indianapolis were thinking that there might be a possibility of yet another round of snow (even though the day before we had beautiful blue skies, sunshine, and thoughts of flip flops…go figure.  Welcome to Indiana weather.)  Anyways, I was craving a soup like this for days..savory and satisfying with green onions and cheese on top.  And, no.  Those are not bacon bits on top.  They are baked potato skins!!!  They added a little bit of crunch and were a great way to use leftover potato skins…I added a little sea salt and pepper to them, and I ended up eating several right off of the baking sheet. Since I like my potato soups to be a little chunky, I only "smashed" about half of the baked potatoes, and I ended up chopping the remainder into 1/2-inch pieces.  I found that the skins came off quite easily after I baked them, and they were fully cooled (there were only a few casualties consisting of smashed potato bits all over my fingers and a few curse words on my end when the skins didn't peel off so well).
Enjoy this recipe.  It's a keeper.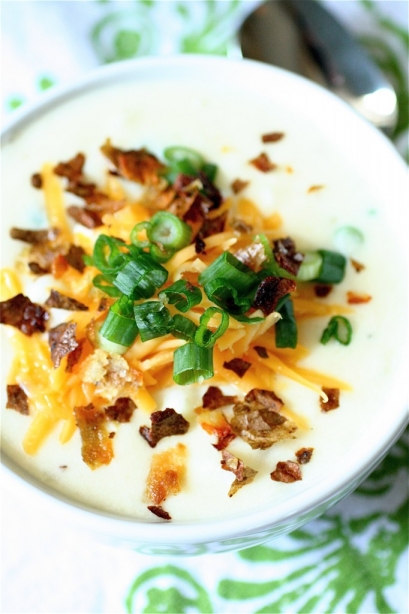 Baked Potato Soup
Servings: 6-8
Ingredients
For the soup:
5 russet potatoes, scrubbed well and dried
4 tablespoons (1/2 stick) unsalted butter
1/2 cup all-purpose flour, divided into two 1/4-cup portions
6 cups whole milk
2 teaspoons salt
1/4 teaspoon ground black pepper
3/4 cup white cheddar cheese, shredded
1/2 cup green onions, chopped
1/2 cup sour cream
For the potato skins:
Reserved potato skins (from above)
Canola oil, for brushing
Sea salt and pepper
For topping: Additional cheese (I used an extra sharp cheddar), sour cream, green onion
Instructions
1. For the soup: Preheat the oven to 400 degrees.
2.  Poke tiny holes in each potato multiple times with a fork, and place the potatoes on a baking sheet.
3. Bake the potatoes until fully cooked and softened, about 1 hour.
4. Once fully cooked, remove the potatoes from the oven and let cool completely (about 1 hour or so).
5. Once cooled, slice each potato into two pieces and carefully peel back the skins, removing the skins intact as best as possible. (If you plan on using them for the crunchy potato skins, this is helpful.  If you don't plan on using them, just discard the skins.)
6. Place half of the potato "insides" in a separate large bowl.  Using a potato masher or large wooden spoon, mash the potato into small pieces.
7. Slice the remaining potato halves into 1/2-inch (or bitesize) pieces.
8. In a large saucepan or Dutch oven over medium heat, melt the butter.
9. Add 1/4 cup of the flour to the melted butter, whisking constantly until lightly golden brown, about 2 minutes.
10.  Slowly add the milk, whisking constantly and scraping the bottom of the pan well.
11. Add the remaining flour and whisk to combine.  Cook the mixture until thickened, about 8 minutes.
12. Add the potato bits and pieces and stir well.
13.  Add the salt, pepper, and white cheddar, stirring well until the cheese is fully melted and incorporated.
14.  Remove the pan from the heat, and add the green onions and sour cream.  Serve immediately.
15. For the potato skins: Preheat the oven to 375 degrees.
16. Place the reserved, intact potato skins (or, if you are like me, irregular jagged bits of potato skins……) onto a baking sheet.
17. Using a silicone brush, lightly brush each skin with a little canola oil.
18. Sprinkle the pieces with salt and pepper (or other seasonings, if desired).
19. Bake for 15 minutes or so, or until potato skins are crispy. ***I would advise checking them quite often since oven temperatures may vary.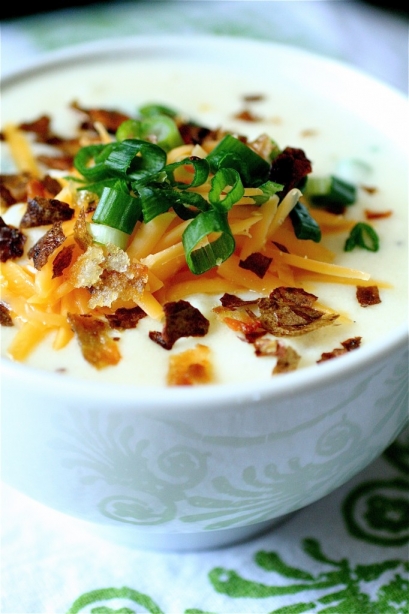 Source: Barely adapted from Annie's Eats, originally from For the Love of Cooking.