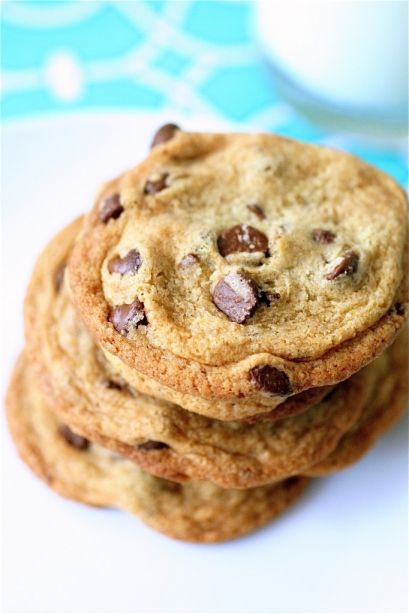 I love chocolate chip cookies…..and I pretty much relied on ONE recipe to make them. (Yes, I am shamefully hanging my head.)
What was I thinking?  I mean, seriously.  Chocolate chip cookies are, like, the most well-known cookie on the planet.  I usually go for the thick, chewy ones, but in a moment of spontaneous inspiration in the kitchen (which usually turn out to be the best moments, I might add), I decided to give this recipe a whirl.  I needed some homemade cookies stat-not only to satisfy my handsome little nephews…but to satisfy my cravings as well. I had all the ingredients on hand (which is turning out to be a rarity these days), I had already posted the other chocolate chip cookie recipe (so I had to try something new), and my nephew, Elliott, was asking for "Aunt Shanon to make something with chocolate in it." I mean, look at this face: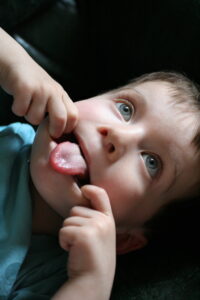 How could you deny this face?  Oliver decided to help me out in the kitchen by opening all the cabinet doors, placing the colander on his head, and giggling nonstop.   He also loved watching the cookies bake in the oven and stood there with his hands behind his back, eyes wide open as he looked through the glass at the baking cookies. (***Insert warm fuzzies.)  I love these boys more than anything and will miss them tremendously when I move 1000 miles away in a month!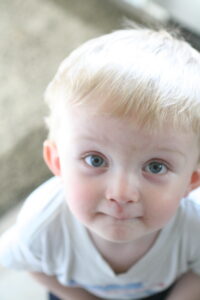 As far as these cookies go, they are very easy to mix together.  I followed the recipe exactly-no changes here.  I would trust Baking Illustrated with my life, and I don't tend to stray from their time-tested recipes.  The cookies were amazing.  Even though they were thin, they weren't *too* crispy.  They actually were a little chewy, even on the second day. The flavor was buttery and light.

I may have changed my preference on how I like my cookies-these are a top contender for my favorite now.  I sent some home to my sister after I had finished babysitting the boys, and the leftovers were gone in a day.  They make an excellent study food.  😉

Thin and Crispy Chocolate Chip Cookies
Servings: approximately 30 cookies
Ingredients
1 and 1/2 cups all-purpose flour
3/4 teaspoon baking soda
1/4 teaspoon salt
8 tablespoons (1 stick) unsalted butter, melted and cooled
1/2 cup granulated sugar
1/3 cup packed light brown sugar
2 tablespoons light corn syrup
1 large egg yolk
2 tablespoons milk**I used whole milk, because that is what I had on hand
1 tablespoon vanilla extract
3/4 cup semisweet chocolate chips

Instructions
1. Preheat the oven to 375 degrees.
2.  Line your cookie sheets with parchment paper or spray generously with cooking spray.
3. In a medium bowl, whisk together the flour, baking soda, and salt.
4. In the bowl of your standing mixer fitted with the paddle attachment, mix the butter, granulated sugar, brown sugar, and corn syrup together on medium speed for about 1 minute.
5.  Add the egg yolk, milk, and vanilla, mixing well until combined, scraping down the sides of the bowl as necessary.
6.  Reduce the mixer speed to low, and slowly add the flour mixture.
7.  Add the chocolate chips and mix until just combined.
8.  Using a cookie scoop or a tablespoon, scoop the dough onto the prepared baking sheets, spacing the dough about 2 inches apart.
9.  Bake the cookies for about 12 minutes, rotating the baking sheets halfway through the baking process.
10.  Remove from the oven, and cool on a wire rack.

Source:  directly from Baking Illustrated.