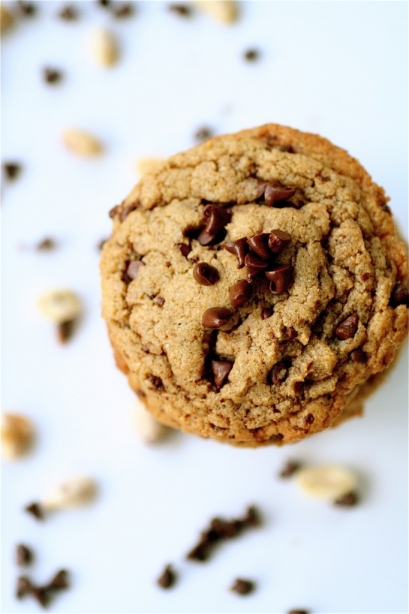 I love peanut butter.  I really do.  And I love chocolate.  So these cookies are what I would call pure perfection. 😉
I know I just recently posted the chocolate chip cookies, but I've been in a cookie mood lately.  And I figure you can never have too many cookies.  Right?  Right!
These are drop cookies-which happen to be my favorite kind of cookie.  Which really means a low maintenance kind of cookie.  The kind where you just mix everything together in a bowl and "drop" the cookies onto the baking sheet.  No use of cookie cutters.  No special frostings or sprinkles.  No "let it chill until firm" (my least favorite kind of cookie, by the way, because I like instant gratification when it comes to sweets….). Just plain old-fashioned cookies that are ready in 15 minutes.
I was surprised when I read the list of ingredients and realized that there was no butter in this recipe.  Yes, there is lots of peanut butter, but no butter.  Which was great because I only had one stick left in the refrigerator and knew that I would probably need it in the coming days. And I decided to use my mini chocolate chips up, but you could add any kind of chocolate chip you like.  Bits of real peanuts would be good, too.  The cookies are moist and chewy…and absolutely wonderful with some milk.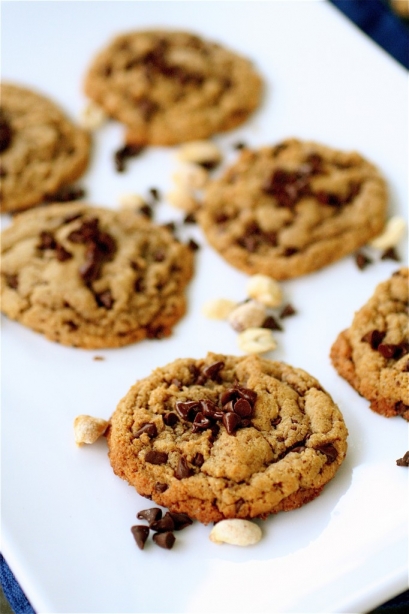 Super Peanut Butter Drops
Servings: 24 cookies
Ingredients
1 cup peanut butter **I used creamy
1/2 cup granulated sugar
1/2 cup packed brown sugar
1 teaspoon baking soda
2 eggs
1/2 cup all-purpose flour
1 cup miniature chocolate chips, plus more for garnish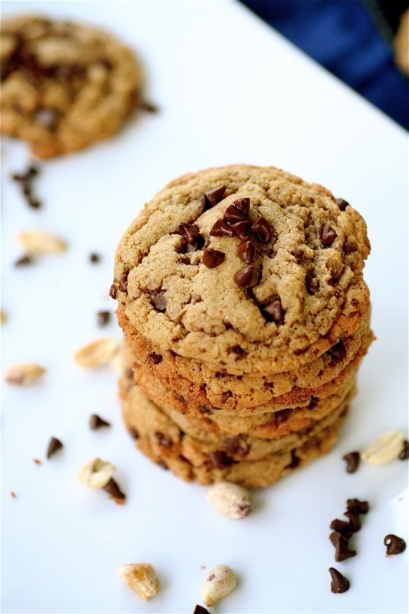 Instructions
1. Preheat the oven to 325 degrees.
2.  In the bowl of your standing mixer fitted with the paddle attachment, combine the peanut butter, granulated sugar, brown sugar, and baking soda until well mixed.
3.  Add the eggs, one at a time.
4. Add in the flour, mixing until well combined.
5. Stir in the chocolate chips.
6. Using a cookie dough scoop or your hands, form the dough into 1 and 1/4-inch balls, slightly flattening each one, and place onto an ungreased cookie sheet.
7. Bake the cookies for about 10 minutes or until the cookies are slightly puffy and light brown around the edges.
8. Let cool on a wire rack.
9. Garnish with additional chocolate chips, if desired.

Source: The Ultimate Cookie Book.