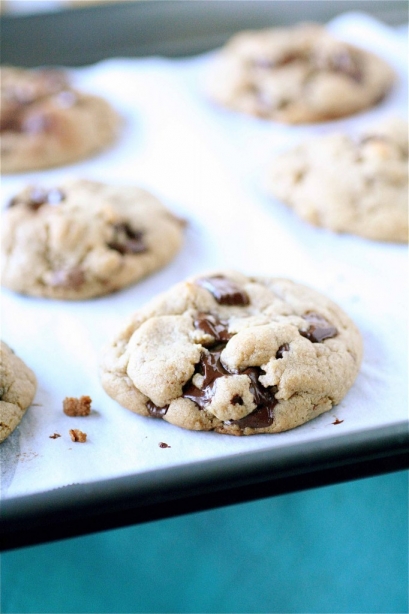 This cookie is not an original one.  I will tell you, however, that it's one of my favorite go-to peanut butter cookie recipes.  The base recipe is soft, peanut buttery, and chewy.  I had originally posted an M&M version of this cookie a few months ago, and they were a giant hit.  So, when I realized that I had half a bag of Reeses miniature cups in my pantry that I needed to use before I singlehandedly ate them in one sitting, I figured I would try to make this delightful little peanut butter cookie a little bit more peanut buttery with those chopped Reeses cups. Oh, and some extra semisweet chocolate chunks because…well…you know.  What's better than chocolate and peanut butter together?
Like I said, this base recipe is pretty amenable to any sort of add-in that you may want.  The dough holds up well, doesn't spread around too much, and has a great flavor to complement any kind of extra addition:  M&M's, nuts, candy, you name it….it's all good.  I'm sure I will be adding to my armamentarium of peanut butter cookie varieties with this one.  It's a keeper.
Peanut Butter Chocolate Chunk Reeses Cup Cookies
Servings: about 24 cookies
Ingredients
1 and 3/4 cups all-purpose flour
1/2 teaspoon salt
1 teaspoon baking soda
1/2 cup (1 stick) unsalted butter, at room temperature
1/2 cup granulated sugar
1/2 cup brown sugar
1/2 cup creamy peanut butter
1 egg
1 teaspoon vanilla
2 tablespoons milk
One 6-ounce bag semisweet chocolate chunk pieces
6 ounces (1/2 bag) miniature Reeses cups, chopped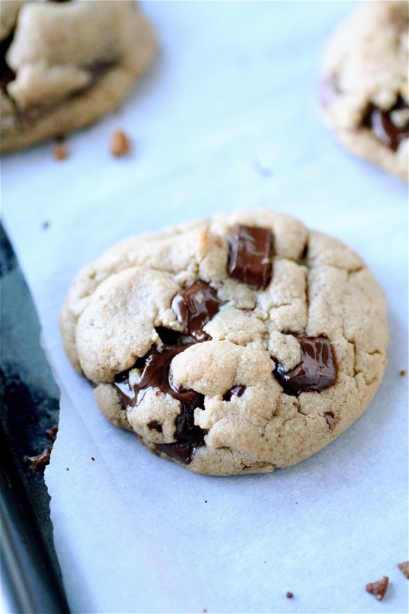 Instructions
1. Preheat the oven to 350 degrees.
2. Line two rimmed baking sheets with parchment paper; set aside.
3. In a large bowl, combine the flour, salt, and baking soda, whisking until combined.  Set aside.
4. In the bowl of your stand mixer fitted with the paddle attachment, cream the butter on medium high speed until smooth, about 1 minute.
5. Add the sugars and peanut butter, mixing until smooth, about 2-3 minutes.
6. Reduce the mixer speed and add the egg, vanilla, and milk, mixing until completely combined.  Slowly add in the dry ingredients, mixing until thoroughly combined.
7. Using a rubber spatula, gently stir in the chocolate chunks and the chopped Reeses cups.
8. Drop the cookie dough by rounded tablespoons onto the prepared baking sheets and bake the cookies until lightly golden around the edges, about 10 minutes.  Let cool completely.
Source:  Adapted from Pennies on a Platter, originally adapted from Baking Junkie.