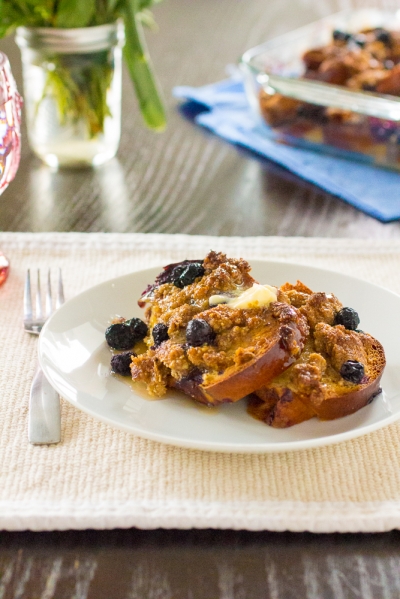 I love dishes like this one.  Something that, while it does have to soak for an extended amount of time, can be divided into two simple, quick steps:  prepping and baking.  Something that allows me to multitask-which has somehow become my way of life as things have gotten so incredibly busy.  Tonight is the first night in a long time that I don't have an after-work obligation-which is great, considering most days I'm  already pretty tired after a long day in the office and all I really want to do is go home and read a book.  (Which I am doing after I finish this post, by the way.)
Sidenote:  if any of you have any really great book recommendations, I would love to hear.  I finished The Signature of All Things recently by Elizabeth Gilbert as well as Whistling Past the Graveyard by Susan Crandall (who happens to be the mother of one of my best old friends/boyfriends from high school…tee hee), and I'm in need for another fiction reality departure.
So this dish-completely amenable to your own needs/desires.  The original recipe called for a pecan topping, but you can substitute with whatever you have on hand-I had a ton of walnuts needing to be used up.  As far as the fruit goes, apples would be great, too.  I even thought about adding in some orange zest-but then quickly forgot (what can you do?).  It's great because it takes very little time to get the custard ready.  Simply soak the bread overnight and then all you have to do in the morning is preheat the oven and bake.
So, you know, you can have time to add more things to your schedule.  :)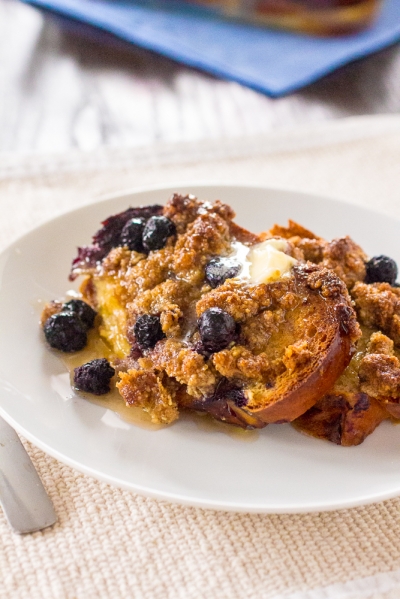 Baked Walnut Blueberry French Toast
Servings: 8
Ingredients
For the French toast:
1 pound loaf challah, sliced 1" thick
4 eggs
4 egg yolks
2 cups heavy cream
2 cups whole milk
¼ cup sugar
1 teaspoon vanilla extract
½ teaspoon ground cinnamon
½ teaspoon ground nutmeg
½ teaspoon sea salt
For the topping:
½ cup walnuts
2 tablespoons chilled unsalted butter, cut into pieces
2 tablespoons light brown sugar
¼ teaspoon sea salt
1 cup blueberries (you can use fresh or frozen here)
Instructions
1. For the French toast:  Spray a 13×9-inch baking pan with cooking spray.
2. Arrange the bread slices in the baking pan (they will overlap a bit, and that is ok.)
3. In a medium bowl, whisk together the eggs, egg yolks, cream, milk, sugar, vanilla, cinnamon, nutmeg, and salt.
4. Pour the mixture over the bread, making sure to cover the bread as best as you can.
5. Cover and chill at least 2 hours, or preferably overnight.  You can also make the walnut crumble at this point and store in a tightly sealed container until ready to use.
6. For the topping:  In the bowl of your food processor, pulse together the walnuts, butter pieces, brown sugar and salt until the walnuts are coarsely chopped.
7. Preheat the oven to 375 degrees.
8. Sprinkle the topping  and blueberries over the bread.
9. Place your baking pan on a rimmed baking sheet and cover tightly with foil.
10. Bake for 25 minutes.
11. Carefully remove the foil and bake until deeply golden, 35–40 minutes longer.
Source:  Adapted from Bon Appetit.